MARSH KING'S DAUGHTER, THE
(director: Neil Burger; screenwriters: Elle Smith, Mark L. Smith, based on the book by Karen Dionne; cinematographer: Alwin H. Kuchler; editor: Naomi Geraghty; music: Adam Janota Bzowski; cast: Daisy Ridley (Helena Pelletier), Ben Mendelsohn (Jacob Holbrook), Joshua Peace (ATV driver), Garrett Hedlund (Stephen Pelletier), Caren Pistorius (Helena's mother Beth), Brooklynn Prince (Young Helena), Joey Carson (Mangold Pelletier), Yanna McIntosh (Agent Lorna Illing), Gil Birmingham (Clark, Sheriff); Runtime: 108; MPAA Rating: R; producers: Keith Redmon, Teddy Schwarzman, Mark L. Smith; Lionsgate/Roadside Attractions; 2023)
"On the positive side, the acting is good and the atmospheric setting is visually pleasing."
Reviewed by Dennis Schwartz

The formulaic thriller is based on the 2017 novel by Karen Dionne. It's directed by Neil Burger ("Voyagers"/"The Upside") and is written by Elle Smith and Mark L. Smith.

It's set in the swamps of Michigan's Upper Peninsula.

The young Helena (Brooklynn Prince) lives here with her family, and we're at first led to believe she finds this remote area a paradise. Her hunter father, Jacob (Ben Mendelsohn), raised her to love it here. But she has daddy issues and grows up unhappy living in such isolation.

One day, in an ATV, a stranger (Joshua Peace) approaches the family cabin, and Beth (Caren Pistorius), Helena's mom, runs to him and pleads for help. She says her husband Ben has forced them to stay for years with him in the wilderness retreat. It results in Ben's arrest.

The film picks up 20 years later and an adult, tattoo covered, Helena (Daisey Ridley), is an office worker, now happily married to Stephen (Garrett Hedlund), and has a young child, Marigold (Joey Carson). But even though she now has a good life, she is still traumatized by her weird childhood.

When she learns that Jacob broke out of prison, Helena becomes haunted by the ghosts of her past. Fearing he will again come after her, she decides to go after him in the marshland by using the hunting skills he taught her. She's also helped by the local sheriff (Gil Birmingham).

That Helena will eventually find and confront her monster father, should have triggered some kind of significant payoff instead of its contrived ending. On the positive side, the acting is good and the atmospheric setting is visually pleasing.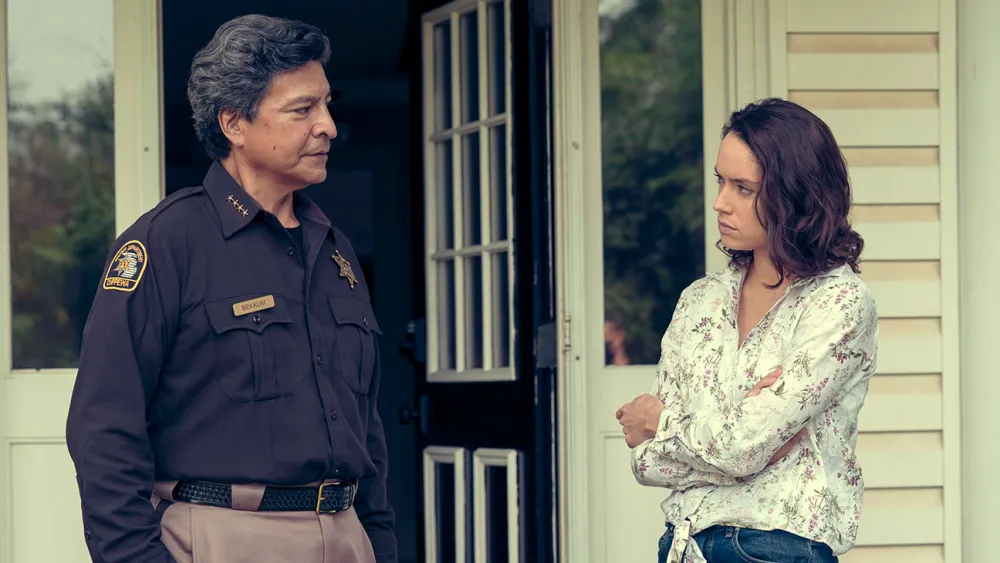 REVIEWED ON 11/7/2023  GRADE: B-