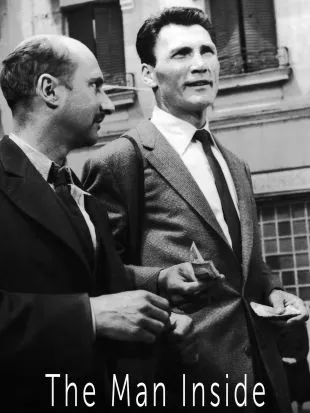 MAN INSIDE, THE
(director/writer: John Gilling; screenwriters: John Gilling/Richard Maibaum/David Shaw/from the novel by M.E. Chaber; cinematographer: Ted Moore; editor: Bert Rule; music: Rodney Bennett; cast: Jack Palance (Milo March), Anita Ekberg (Trudie Hall), Nigel Patrick (Sam Carter), Anthony Newley (Ernesto), Bonar Colleano (Martin Lomer), Sean Kelly (Rizzio), Sid James (Franklin), Donald Pleasence (Organ-grinder), Eric Pohlmann (Tristao), Angela White (Pamela Pritchard), Josephine Brown (landlady); Runtime: 90; MPAA Rating: NR; producers: Irving Allen/Albert R. Broccoli; Columbia Pictures; 1958-UK)
---
"It was painful watching such an unenterprising thriller lay an egg."
Reviewed by Dennis Schwartz
A splendid cast can't make this poorly executed caper flick work. Director John Gilling ("The Bandit of Zhobe"/"Idle on Paradise"/"The Night Caller")keeps it dull, unbelievable and leaden. It was painful watching such an unenterprising thriller lay an egg.It's based onthe novel by M.E. Chaber and is written by Gilling, Richard Maibaum and David Shaw. It was filmed in black-and-white, at several locations in NYC and Europe.
In NYC meek British bookkeeperSam Carter (Nigel Patrick)steals the famous diamond known as the Tyrahna Blue, worth $700,000, from the same jewelry company he works for. The possessed man, planning this robbery for the last fifteen years, kills the building elevator operator while escaping. The insurance company rep, Franklin (Sid James), hires Dallas resident Milo March (Jack Palance) to recover the stolen gem and offers a reward of $25,000 upon its return.
The investigation leads Milo to Lisbon, but too late to nab the suspect who just knocked-off the blackmailing passport forger (Eric Pohlmann) after getting a fake passport. Later Carter will run down with a truck the forger's organ-grinder brother (Donald Pleasence), who was working with Milo to get the killer. Carter then flees to Madrid, with Milo on his trail. In Madrid, Milo gets assistance from friendly and worldly Spanish cabbie Ernesto (Anthony Newley), around for comic-relief, and they team up to hunt down the diamond thief. Things become murky in Madrid when Milo finds the sexy wannabe diamond thief Trudie Hall (Anita Ekberg)in Carter's hotel room. Milo also found her in Carter's NYC apartment. The two begin a cautious romance, and the question becomes does Trudie love Milo more than the diamond.To add to the muddled plot line, bumbling but dangerous professional jewel thieves Martin Lomer (Bonar Colleano) and Rizzio (Sean Kelly) are also pursuing the stolen diamond and are armed with guns and knives.It leads to some more adventures in Paris, before concluding with a train ride to London.The big yuk is where Carter is hiding the diamond.
A miscast Palance is dreadful in this tawdry melo as the dashing dick, while Newley is grating in a dumb supporting role. It's a film burdened with a weak screenplay and a director who can't even get the basics of pacing a film right.
REVIEWED ON 11/8/2011 GRADE: C