MAN WITH THE ANSWERS, THE
(director/writer: Stelios Kammitsis; cinematographer: Thodoros Mihopoulos; editors: Aggelos Mantzios, Giannis Ageladopoulos; music: Francesco Cerasi; cast: Vasilis Magouliotis  (Victoras), Stella Fyrogeni (Angeliki, Victor's mother), Anton Weil (Matthias), Mauro Racanti (Tommaso), Marc Pistono (Patrick),  Chiara Ore Visca (Helga), Brando Rossi (Policeman), Anita Lorusso (Maid of Honor), Pierpaolo Vitale (), Antonis Katsaris (Funeral Contractor), Rinio Dragasaki (Lady on the Boat), Thodoros Mihopoulos (Furniture Factory boss); Runtime: 81; MPAA Rating: NR; producers; Vicky Miha, Fenia Cossovitsa, Luca Legnani, Stelios Kammitsis: Peccadillo Pictures/Asterisk; 2021-Cyprus/Italy/Greece) in English, Greek, German Italian, with English subtitles when needed)
"Easy to take as an unpretentious love story."
Reviewed by Dennis Schwartz

A cutesy LGBT road movie written-directed by Cypriot filmmaker Stelios Kammitsis ("Jerks"). He's a former assistant to the late great Greek filmmaker Theo Angelopoulos (a director I much admired)..

Victoras (Vasilis Magouliotis) is a shy worker in a furniture factory, who is an ex-championship diver living with his grandmother in Greece. When she dies he drives to Bavaria to reunite with his estranged mother (Stella Fyrogeni), whom he has not seen for over 6 years.

On the trip, he meets on the ferry the young upbeat eccentric German student backpacker Mathias (Anton Weil). Mathias' upbeat attitude opposes Victoras' quiet demeanor. After Mathias gets a ride with Victoras, they get off to a bad start and get on each other's nerves. Victor is also upset when Mathias steals stuff from a gas station.

But opposites attract (which is the theme here). It leads to a sensitively crafted love scene.

The camera work is only so-so, the story is ever so slight and nothing much happens but what is predictable. The car ride takes us through scenic parts of Italy, Cyprus and Greece, which made the viewing more bearable for me. But the acting is good and it works fine as a coming-of-age film that's easy to take as an unpretentious love story.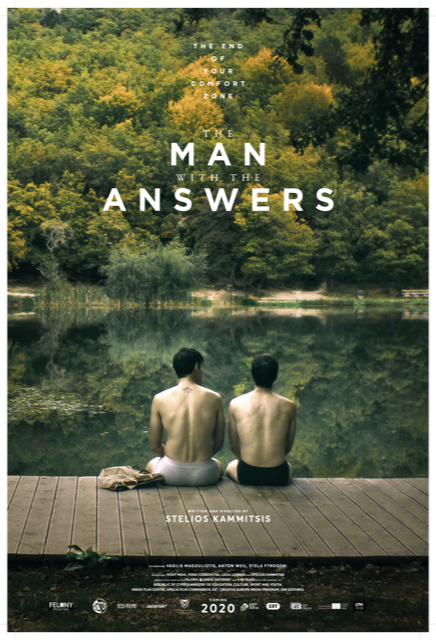 REVIEWED ON 10/21/2021 GRADE: B-