MAD ABOUT MUSIC
(director: Norman Taurog; screenwriters: Bruce Manning/Felix Jackson/original story by Marcella Burke & Fred Kohner; cinematographer: Joseph Valentine; editor: Ted Kent; music: Charles Previn/Frank Skinner; cast: Deanna Durbin (Gloria Harkinson), Herbert Marsall (Richard Todd/Mr. Harkinson), Gail Patrick (Gwen Taylor), Marcia Mae Jones (Olga), Arthur Treacher (Tripps), William Frawley (Dusty Turner), Elisabeth Risdon (Annette Fusenot), Nana Bryant (Louise Fusenot), Ann Bupp (schoolgirl), Jackie Moran (Tommy), Helen Parrish (Felice), Christian Rub (Pierre), Charles Peck (Henry), Sid Grauman (Himself), Cappy Barra's Hamonica Band; Runtime: 98; MPAA Rating: NR; producer: Joe Pastermak; Universal; 1938-b/w)
"Fully catches the innocence of teenagers and their need for parental love."
Reviewed by Dennis Schwartz




Fully catches the innocence of teenagers and their need for parental love, as school girls on bicycles ride through a fairy-tale Swiss village singing the I Love to Whistle song. Though the story in this musical comedy makes no sense and is corny as hell, under the calm direction of Norman Taurog ("Spinout"/"The Caddy") it's highly entertaining.

Writers Bruce Manning and Feljx Jackson base it on the story by Marcella Burke and Fred Kohner.

This was the third film, all box-office hits, by the 16-year-old singing sensation from Canada, Deanna Durbin, who plays a 14-year-old, Gloria Harkinson, whose famous Hollywood actress mother Gwen Taylor (Gail Patrick), a widow who under the advice from her cunning manager Dusty (Frawley), has shipped her daughter off to an elite girls boarding school in Switzerland so the public won't know about her daughter and therby reject the glamorous actress for having a grown kid which according to Dusty crush her booming career. The school, run by two sisters (Elisabeth Risdon & Nana Bryant), is also unaware of her parental situation.

Crushed by having no contact with mom for a long time and not having a father, Gloria crosses her fingers as she pretends her father is a big-game hunter who sends her gifts such as elephant tusks, as she reads the letters to the school girls that she sends to herself that she passes off as written by her father. Her best friend is the sweet Olga (Marcia Mae Jones), her Swedish roommate, while her arch enemy is the American student Felice (Helen Parrish), who openly questions if she has a father.

To prove to Felice she has a father, she tells the headmistress (Elisabeth Risdon) her father is coming to town on a short visit and she gets permission to visit him. In town she talks a dapper bachelor English composer, Richard Todd (Herbert Marshall), into pretending to be her father. When he goes along with her, he gets everyone in the school to believe the fib. Finally, when he and Gloria meet her mom in Paris, as she's there for her film opening, everything goes so well he marries her mom and really becomes her father (if you can believe such hokum!).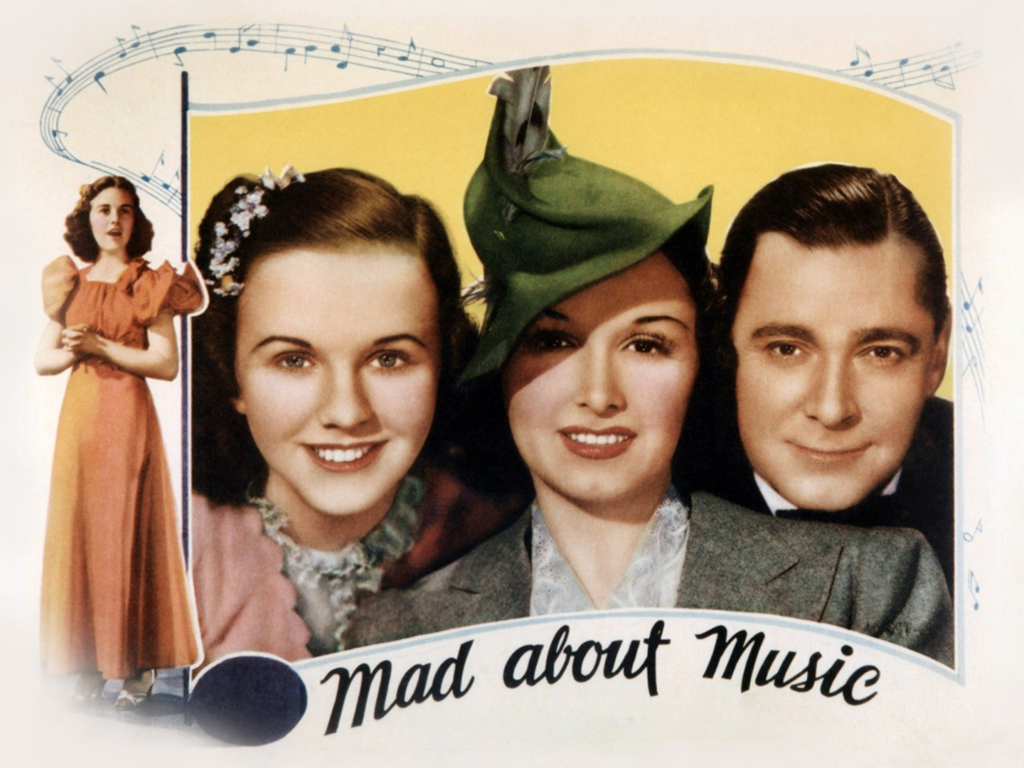 REVIEWED ON 9/15/2022 GRADE: B