MA RAINEY'S BLACK BOTTOM
(director: George C. Wolfe; screenwriters: Ruben Santiago-Hudson/based on the play by August Wilson; cinematographer: Tobias A. Schliessler; editor: Andrew Mondshein; music: Branford Marselis; cast: Chadwick Boseman (Levee), Viola Davis (Ma Rainey), Glynn Turman (Toledo),  Colman Domingo (Cutler), Michael Potts (Slow Drag), Jonny Coyne (Sturdyvant), Taylour Paige (Dussie Mae), Jeremy Shamos (Irwin), Joshua Harto (Policeman); Runtime: 94; MPAA Rating: R; producers: Dany Wolf/Todd Black/Denzel Washington; Netflix; 2020)
"A powerful film that captures the rhythms of the blues atmosphere and the tenor of the times."
Reviewed by Dennis Schwartz

It's based on the 1982 August Wilson play about the exploitation of black musicians and is set in 1920s Chicago during the recording of the titular track in a sweaty basement studio during the summer.
The stage director George C. Wolfe ("You're Not You"/"Lackawanna Blues") passionately directs and it's elegantly written by Ruben Santiago-Hudson. This is the last film for the late Chadwick Boseman, the actor playing the Black Panther part in his successful superhero film, who plays here the ambitious, volatile and charismatic trumpeter Levee in the band run by the bawdy Black singer known as the "Mother of the Blues," Ma Rainey (Viola Davis).
Levee, aspiring to be the frontman of his own band, changes up the musical arrangement of Black Bottom without Rainey's permission and digs Ma's girlfriend (Taylour Paige), causing quite a stir on both accounts.

The African-American musicians work for the incompetent white studio bosses, who gather together with the band in 1927 to make an album in the studio with the tensions rising among the band.

The filmmaker makes us aware that the blues are a result of suffering and the joy it gives the musicians to express themselves. During the course of the narrative sexual, artistic and religious tensions arise, as do the always-present matter of racial inequality.

It's a powerful film that captures the rhythms of the blues atmosphere and the tenor of the times, and the struggles of the Black blues jazz musicians to keep the integrity of the blues intact. Rainey's sneaky white manager Irvin (Jeremy Shamos) and the materialistic-minded studio engineer, Sturdyvant (Jonny Coyne), have no compulsion to keep the music honest (think Paul Whiteman's all-white soulless jazz band, who stole its music from from black jazz).

 Just trying to make a living and doing their musical thing in an honest way are Rainey's loyal band: Toledo (Glynn Turman), Cutler (Colman Domingo) and Slow Drag (Michael Potts), while their more ambitious outlier member, Levee, with his flashy trumpet, tries to go his own way in a career move.

Ma has a fit over Levee's new arrangement, refusing to get upstaged by the newcomer and his plan to launch his career at her expense.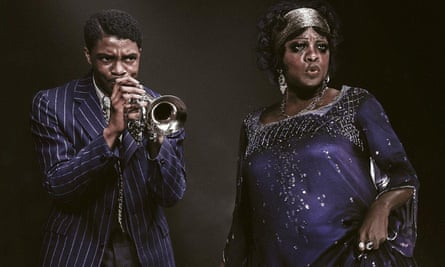 REVIEWED ON 12/8/2020 GRADE: B+