LOVERS ROCK
(director/writer: Steve McQueen; screenwriter: Courttia Newland/story by Steve McQueen; cinematographer: Shabier Kirchner; editor: Chris Dickens/Steve McQueen; music: Mica Levi; cast: Amarah-Jae St. Aubyn (Martha), Micheal Ward (Franklyn), Shaniqua Okwok (Patty), Ellis George (Cynthia), (Daniel Francis-Swaby (Bammy); Runtime: 68; MPAA Rating: NR; producers: Anita Overland/Michael Elliott; Amazon Prime; 2020-UK)
"Wonderfully looks back at the black British experience from the '60s though the '80s, as rooted in reggae."
Reviewed by Dennis Schwartz
It first appeared on Amazon Prime in November 20, 2020. This is the second chapter of the five-film Small Axe in which black Brit filmmaker Steve McQueen  ("Hunger"/"Shame") wonderfully looks back at the black British experience from the '60s though the '80s, as rooted in reggae. The film takes its name from the musical genre Lovers Rock, a more sentimental spin on reggae created and popularized in mid-70s England by the young first generation of British citizens born to Caribbean immigrants and Caribbean-born immigrants.

It's set in a house in London's West Indian community in the early 1980s, where it shows the events of a house party as influenced by the music of Lovers Rock. The dance floor is the place to be, as the DJ does his thing and the beat fills the house. The atmosphere is filled with music, sex and excitement. There's even a threat of violence. It sets a mood to tell us about the community experience and what they do to let go and be themselves.

The events include the meeting and attraction between the church girl, living with her folks, Martha (Amarah-Jae St. Aubyn), and the nice guy Franklyn (Micheal Ward). Martha came to the party with her friend Patty (Shaniqua Okwok), but Martha'a attraction to Franklyn forces the friends apart at the event. The birthday girl Cynthia (Ellis George) is irked at Franklyn's advances on Martha, therefore she takes to the aggressive and dangerous Bammy (Daniel Francis-Swaby).

Because many white-owned nightclubs in London refused the Blacks admittance,  their private parties became a social necessity.

Music legend Dennis Bovell, the writer of "Silly Games-which was sung by Janet Kay," a sound system aficionado from that period, appears at the party singing and dancing. He also consulted on the film's authencity. It was co-written by McQueen and Courttia Newland, that was based on a McQueen story. The well-choreographed dance sequences are eye-popping.
The film does a great job with such sparse dialogue.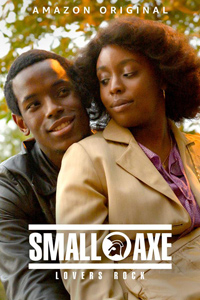 REVIEWED ON 1/23/2021  GRADE: A–