LONE WOLF MCQUADE
director: Steve Carver; screenwriters: story H. K. Dyal & B.J. Nelson/B.J. Nelson; cinematographer: Roger Sherman Jr.; editor: Anthony Redman ; music: Francesco De Masi; cast:  Chuck Norris (J. J. McQuade), David Carradine (Rawley Wilkes), Leon Isaac Kennedy (Jackson), Robert Beltran (Kavo), Barbara Carrera (Lola Richardson), L. Q. Jones (Dakota), Sharon Farrell (Molly), Dana Kimmell (Sally McQuade), Daniel Frishman (Falcon), William Sanderson (Snow); Runtime: 107; MPAA Rating: PG; producers: Steve Carver/Yoram Ben-Ami; MGM; 1983)
"The macho modern-day cowboy character played by Norris should appeal to men who just love him shirtless in a shoot-out."
Reviewed by Dennis Schwartz
A rubbish Chuck Norris action pic helmed by Steve Carver ("The Wolves"/"Big Bad Mama"). The macho modern-day cowboy character played by Norris should appeal to men who just love him shirtless in a shoot-out. It's based on the story by H.K. Dyal and B.J. Nelson, with Nelson writing the action only screenplay. It's ludicrous to believe that this ludicrous movie might be Norris at his best, in arguably one of his best roles and his biggest box office hit. It's styled as a spaghetti western.

Tough guy Texas Ranger J.J. McQuade (Chuck Norris) is the lone wolf who polishes off a ruthless gang of Mexican horse rustlers. His next assignment requires the lone wolf operator to partner with the rookie Hispanic Texas Ranger (Robert Beltran), and they're to work with the African-American FBI agent (Leon Isaac Kennedy) tracking down gun-runners of stolen Army equipment. The evil arms dealer for the terrorists is the cartoonish oily senator Rawley Wilkes (David Carradine), and his big boss is a dwarf (Daniel Frishman). Chuck will not only take out the baddie senator but steal his girlfriend, the sultry Barbara Carrera.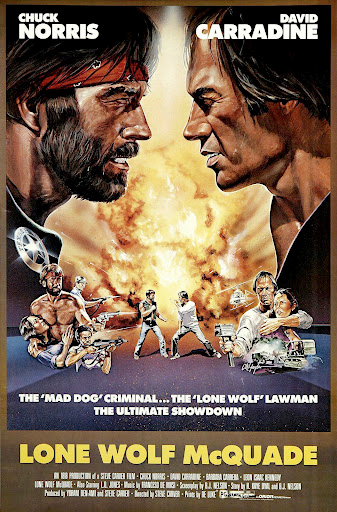 It's the kind of mindless film where senseless violence is glorified.


REVIEWED ON 4/27/2017 GRADE: C