LOGAN LUCKY
(director: Steven Soderbergh; screenwriter: Rebecca Blunt; cinematographer: Peter Andrews; editor: Mary Ann Bernard; music: David Holmes; cast:  Channing Tatum (Jimmy Logan),  Adam Driver (Clyde Logan),  Riley Keough (Mellie), Daniel Craig (Joe Bang), Seth Macfarlane (Max Chilbane), Katie Holmes (Bobbie Jo Chapman), Katherine Waterston (Sylvia Harrison), Dwight Yoakam (Warden Burns), Sebastian Stan (Dayton White), Brian Gleeson (Sam Bang), Jack Quaid (Fish Bang), Hilary Swank (Special Agent Sarah Grayson), Jesse White (Jesco), David Denman (Moody Chapman), Farrah Mackenzie (Sadie Logan), Charles Halford (Earl), Macon Blair (Special Agent Brad Noonan), Mark Mccullough (Bobo), Jim O;Heir (Cal), Ann Mahoney (Gleema Purdue), Deneen Tyler (Prison Nurse); Runtime: 119; MPAA Rating: PG-13; producers: Gregory Jacobs, Mark Johnson, Channing Tatum, Reid Carolin; Fingerprint Releasing; 2017)
"A very funny heist film."
Reviewed by Dennis Schwartz

A very funny heist film that has the inventive Steven Soderbergh("Magic Mike"/"Ocean's 11") return to directing films after announcing his retirement in 2013, after shooting Side Effects. A great but forgettable screenplay is turned in by Rebecca Blunt, that glides smoothly along with this well-conceived, well-acted and executed nonsensical film.

A likable divorced father who dotes on his little girl (Farrah Mackenzie) and walks with a limp and did his army service during the Iraq War, is the former high school football legend Jimmy Logan (Channing Tatum), from West Virginia, who unfairly gets fired for his limp from his construction job as a heavy equipment operator and thereby schemes to rob on Memorial Day, in nearby Charlotte, N.C., the NASCAR Coca-Cola 600 race at the Charlotte Motor Speedway. He recruits his Iraq War hero one-armed bartender younger brother Clyde (Adam Driver), wearing a prosthetic arm, who lost his left hand in the war; his quick thinking feisty hairdresser sister Mellie (Riley Keough, Elvis's grand-daughter) and the hard-assed incarcerated criminal Joe Bang (Daniel Craig) for his expertise in explosives needed to break into the track's underground system. Jimmy then must recruit Joe's two dim-witted brothers (Brian Gleeson & Jack Quaid) and organize a temporary jailbreak for Joe and return him after the robbery so he can complete the five months left on his sentence. With all the hillbillies involved the caper film looks as if it's another of the director's "Ocean's" films, but with a Southern flavor.
A terrific supporting cast includes Katie Holmes as Channing's ditsy ex-wife, who has sole custody of the kid; Katherine Waterston as a caring health worker; Seth MacFarlane as the obnoxious British race car driver; Dwight Yoakam as the haughty jail warden and Hilary Swank as the efficient FBI agent who won't let go of the case.

Even if all is familiar, including the mechanics of the robbery and the twists, this heist film is a blast.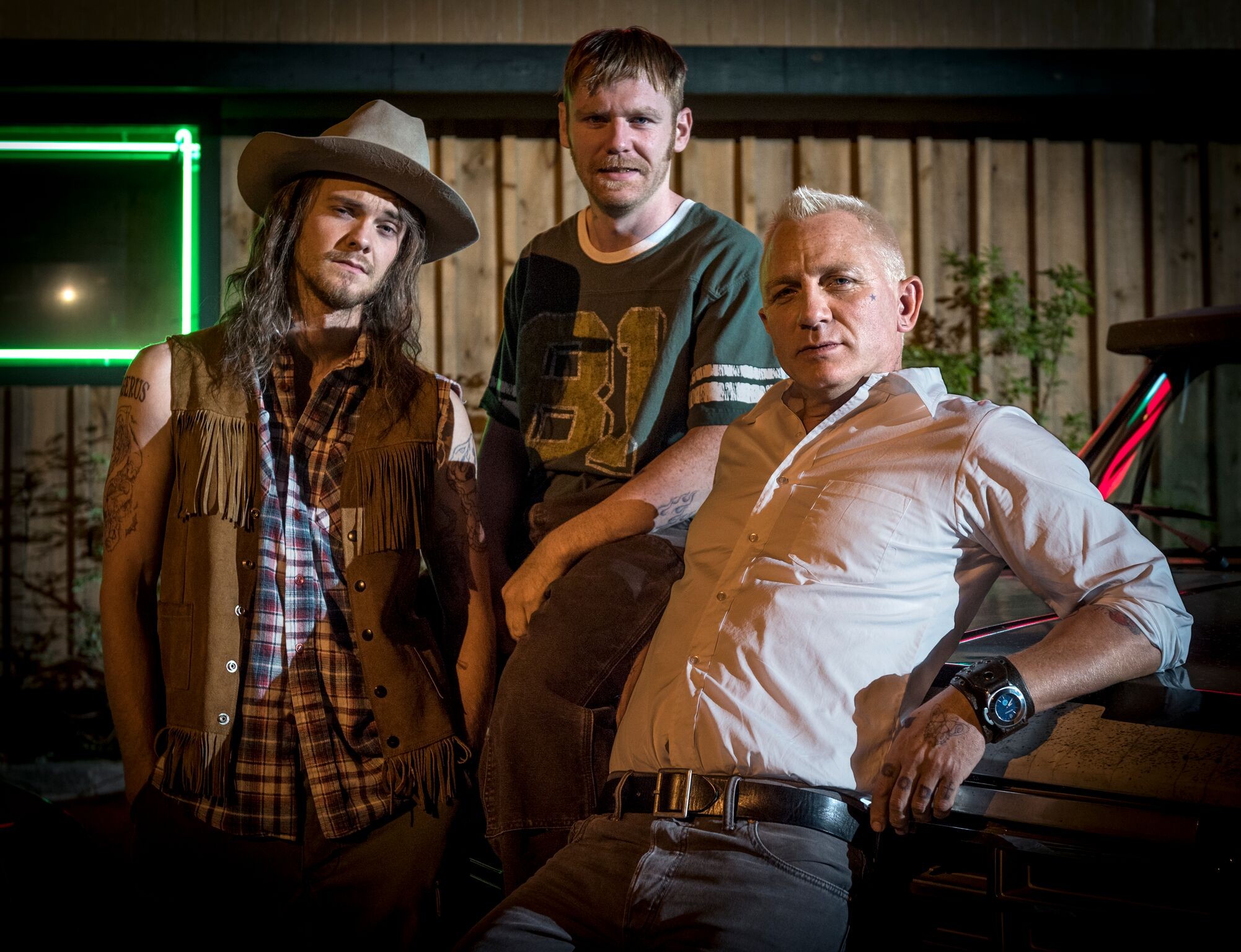 REVIEWED ON 8/18/2017 GRADE: A-