LOCKSMITH, THE
(director: Nicolas Harvard; screenwriters: John Glosser/Ben Kabialis/Joe Russo/Chris Lamont/story by Blair Kroeber; cinematographer: Jeff Bierman; editor: Lori Ball; music: Mariana Sheetz; cast: Ryan Phillippe (Miller Graham), Kate Bosworth (Beth Fisher), Ving Rhames (Frank), Noel Gugliemi (Detective Perez), Bourke Floyd (Detective Jones),  Jeffrey Nordling (Ian Zwick), Gabriela Quezada (April Reyes), Madeleine Guilbot (Lindsay Graham), Tom Wright (Chief Stern), George Akram (Kevin), Charlie Weber (Garrett Field); Runtime: 92; MPAA Rating: NR; producers: Mark B. David/Roger Goff/; Screen Media Films; 2023)
"Offers nothing fresh to unlock."
Reviewed by Dennis Schwartz

Nicolas Harvard ("Milo Greene: Move") directs a listless, by the numbers, B-film character study of an ex-con, Miller Graham (Ryan Phillippe), trying to go straight while tempted to pull off one last job. It's based on the story by Blair Kroeber and is written by John Glosser, Ben Kabialis, Joe Russo and Chris Lamont.

In the opening scene, set in a small desert town, in the southwest, Kevin (George Akram) and Miller are robbing a safe, but have been double-crossed by the crooked cop Ian Zwick (Jeffrey Nordling), who after setting them up, kills Kevin and arrests Miller.

Released after serving his ten year stretch, Miller gets a handyman job and works for his kindly reformed ex crime partner and mentor, Frank (Ving James).

Miller tries to do right for his ex-wife, Beth (Kate Bosworth), his daughter, Lindsay (Madeleine Guilbot), and Kevin's sister, April (Gabriela Quezada), by looking after them.

When imprisoned Miller lost his locksmith license, which in this asinine film means he can score money only by doing heists.


April asks Miller to help her get money so that she can leave town, showing him some bruises she received from the bad guy she works for, Garrett Field (Charlie Weber), a real estate developer fronting a prostitution ring.

Miller thereby tries getting her some cash by robbing a poker game Garrett is in. But the robbery is botched and April ends up missing.

The dirty cops, Detective Perez (Noel Gugliemi) and Detective Jones (Bourke Floyd), investigate April's disappearance, but Miller can't help them without tripping himself up.

The action scenes are not done well, but the acting is not bad for such a lifeless and familiar crime story that offers nothing fresh to unlock.

As for the falling star, Ryan Phillippe, his role in this so-so B-film probably will not help him get back to starring roles in better films.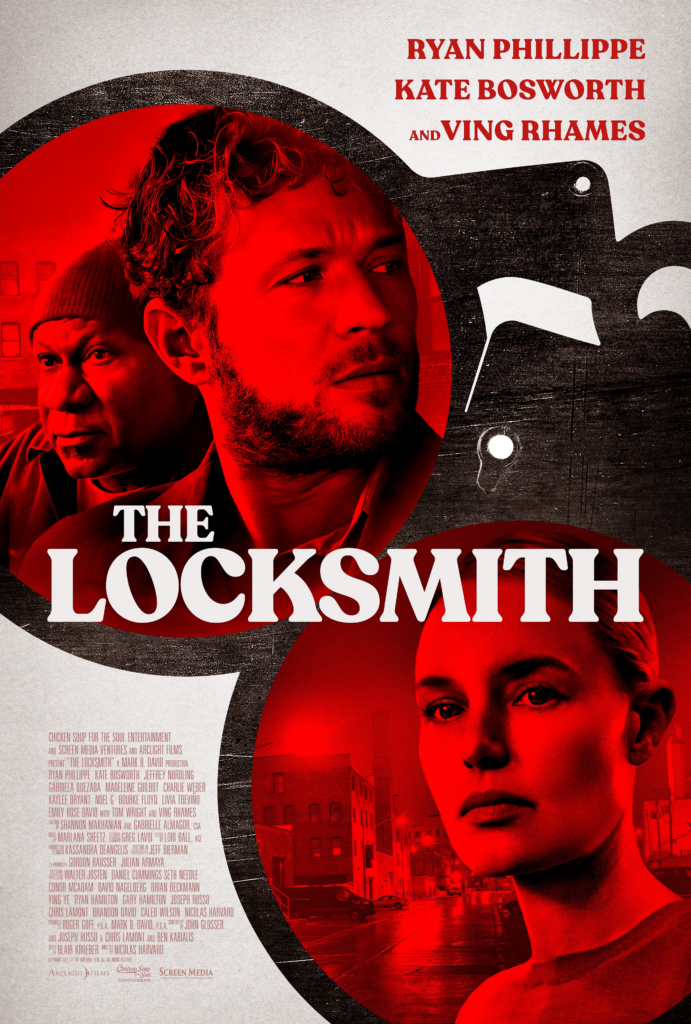 REVIEWED ON 2/4/2023 GRADE: C