LIVING
(director: Oliver Hermanus; screenwriters:Kazuo Ishiguro/based on Akira Kurosawa's 1952 Ikiru; cinematographer: Jamie Ramsay; editor: Chris Wyatt; music: Emilie Levienaise-Farrouch; cast: Bill Nighy (Mr. Williams), Alex Sharp (Peter Wakeling), Tom Burke (Sutherland), Aimee-Lee Wood (Ms. Margaret Harris), Adrian Rawlins (Middleton), Oliver Chris (Hart), Lia Williams (Mrs. Smith), Zoe Boyle (Mrs. McMasters), Barney Fishwick (Michael), Patsy Ferran (Fiona), Michael Cochrane (Sir James), Hubert Burton (Rusbridger); Runtime: 102; MPAA Rating: NR; producers; Stephen Woolley, Elizabeth Karlsen: Sony Pictures Classics; 2022-UK)
"The provocative and stylish drama gets an exceptional starring performance from Bill Nighy."
Reviewed by Dennis Schwartz

South African filmmaker Oliver Hermanus ("Moffie"/"The Endless River") directs this superb Brit remake of Akira Kurosawa's great 1952 classic humanist film Ikiru. This version compares favorable to the original, as it's written by the Nobel Prize-winning novelist Kazuo Ishiguro.

Ikiru is based on Leo Tolstoy's 1886 novella The Death of Ivan Ilyich. Here the provocative and stylish drama gets an exceptional starring performance from Bill Nighy. It's the tale of a man's 11th-hour redemption. Though it keeps the same plot, its Tokyo setting in the 1950s is replaced by the London one in the 1950s.

In 1952, in thriving London, the white men office workers, all wearing hats, look alike when seen on the street.  One of these men is the bureaucrat called Mr. Williams (Bill Nighy), an unassuming civil servant office worker for the last 20 years, living a very quiet, joyless routine life. His solitary safe life becomes threatened one day when he is diagnosed with a deadly disease and is informed he can die soon.
When he returns to work, he wants to lead a more productive life. His changed disposition is helped by Peter (Alex Sharp),  the new office hire, and by a former office staffer for him named Margaret (Aimee-Lee Wood), who has changed much and the single lady has let herself go to live a less inhibited life.

Nighy completely nails his character. He captures his soul and how it was like for him and the others like him during that post-war period in London, and does it marvelously with an understated performance.

Living premiered at the Sundance Film Festival.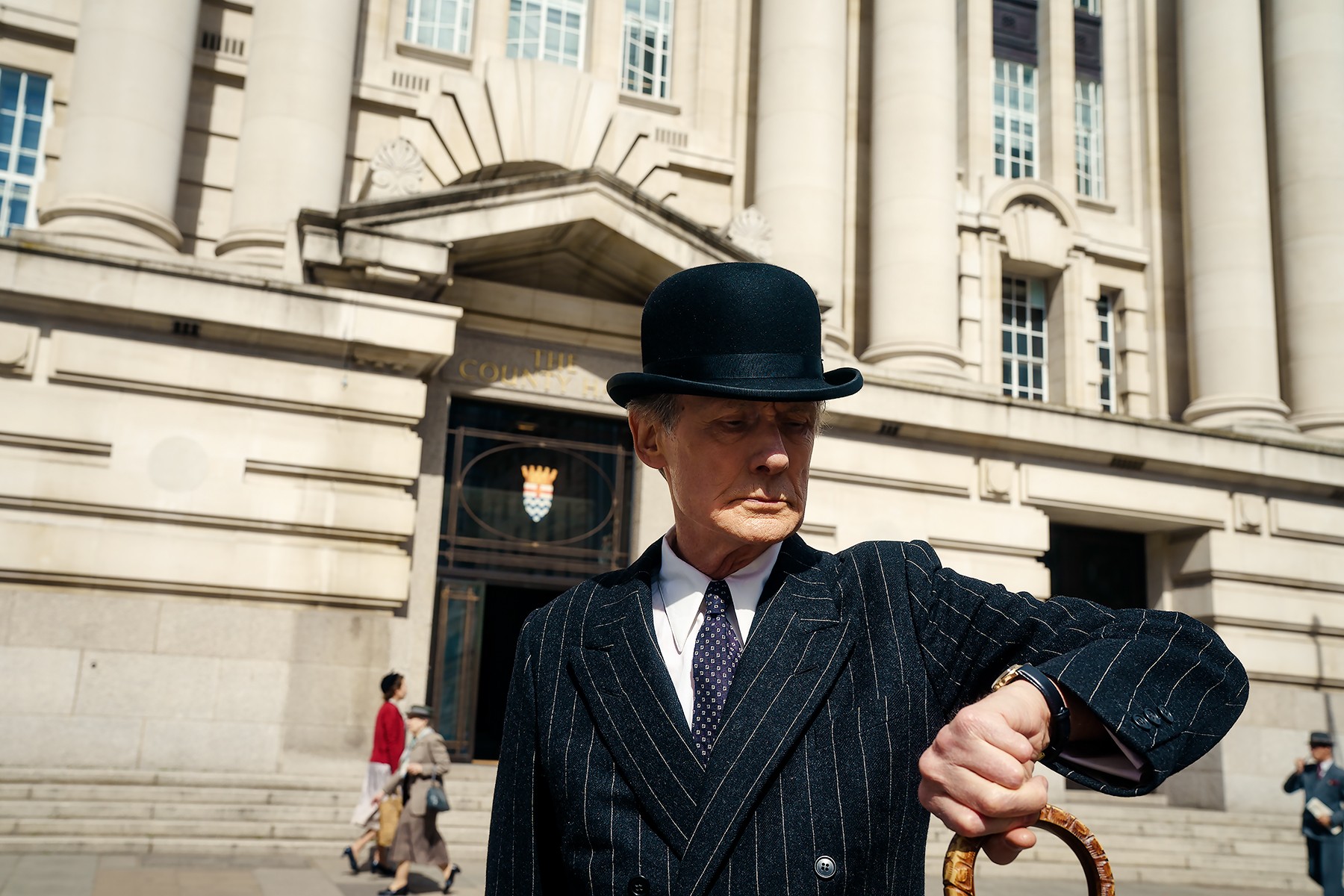 REVIEWED ON 2/8/2022  GRADE: B+