LIMBO
(director/writer: Ben Sharrock; cinematographer: Nick Cooke; editors: Karel Dolak/Lucia Zucchetti; music: Hutch Demouilpied; cast: Amir El-Masry (Omar), Vikash Bhai (Farhad), Kais Nashif (Nabil), Kenneth Collard (Boris), Sidse Babett Knudsen (Helga), Ola Orebiyi (Wasef), Kwabena Ansah (Abedi), Sanjeev Kohli (Vikram, shopkeeper), Lewis Gribben (Stevie), Darina Al Joundi  (Mom's voice);  Runtime: 104; MPAA Rating: R; producers: Angus Lamont/Irune Gurtubai; BFI; 2020-UK-in English & Arabic)
"It's a sharply observed quiet film that shows not every refugee from Syria is a terrorist."
Reviewed by Dennis Schwartz

Scottish director Ben Sharrock ("Pikadero") finds empathy and a deadpan humor for the Syrian oud player, Omar (Amir El-Masry), who escapes his country's civil war strife to flee without his family (his parents stay in Turkey, his older brother (Kais Nashif) fights in Syria) to a fictional barren island on Scotland's Hebrides. On the island he tries to befriend to no avail the locals, as he anxiously awaits his asylum request feeling alone in a strange place.

Having learned some English from Freddie Mercury, he chooses to be a refugee in an English-speaking country.  Attending a men's only class in Cultural Awareness to learn English and local customs, as taught by the befuddled teachers Helga (Sidse Babett Knudsen) and Boris (Kenneth Collard). While there he fights off loneliness and personal grief, as he waits to find out his future fate.

Omar speaks regularly from an outdoor telephone booth with his mother (Darina Al Joundi) and tells her he is concerned about his brother. Left with plenty of free-time, he dreams a lot and hangs around the market place, but is not familiar with the local foods and thereby misses home more. He also roams around the island with his Afghan would-be agent Farbad (Vikash Bhai) and with his two African refugees (Ola Orebiyi  & Kwabena Ansah) classmates.

It's a sharply observed quiet film that shows not every refugee from Syria is a terrorist. In this case, the refugee is a lonely young man, who is anxious about his destiny. Amir El-Masry is an appealing actor, whose low-key performance makes this indie work and be less bleak than it could have been.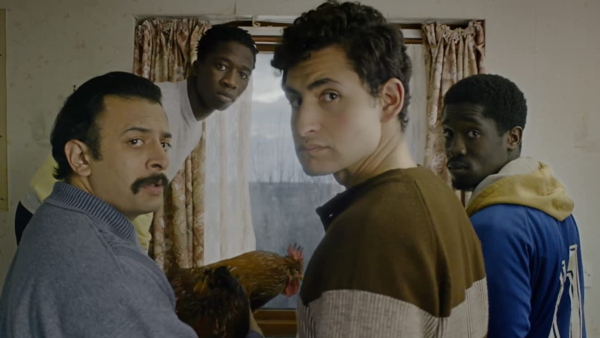 REVIEWED ON 5/5/2021 GRADE: B