KILLERS OF THE FLOWER MOON
(director/writer: Martin Scorsese; screenwriters: Eric Roth/nonfiction book by David Grann; cinematographer: Rodrigo Prieto ; editor: Thelma Schoonmaker; music: Robbie Robertson; cast: Leonardo DiCaprio (Ernest Burkhart), Robert De Niro (William Hale), Lily Gladstone (Mollie Burkhart), Jesse Plemons (Tom White), Tantoo Cardinal (Lizzie Q), John Lithgow (Prosecutor Leaward), Brendan Fraser (W.S. Hamilton), Cara Jade Myers (Anna Kyle Brown), JaNae Collins (Rita), Jillian Dion (Minnie), Jason Isbell (Bill Smith), William Belleau (Henry Roan), Louis Cancelmi (Kelsie Morrison), Scott Shepherd (Bryan Burkhart); Runtime: 206; MPAA Rating: NR; producers: Martin Scorsese/Dan Friedkin/Bradley Thomas/Daniel Lupi; Apple Original Film/a Paramount release; 2023)
"A gripping over three hour epic that revolves around a true crime story."
Reviewed by Dennis Schwartz

A gripping over three hour epic that revolves around a true crime story. It's a weird kind of Western relating to serial murders among the Osage tribe in the Oklahoma of the 1920s, as the killings relate to those who want to steal resources from the tribe after oil is found on their land. It's brilliantly written by the 80-year-old Martin Scorsese ("Mean Streets"/"Round Midnight") and co-written by him and Eric Roth. The politically edgy screenplay is adapted from the non-fiction best-seller by the New Yorker journalist David Grann.

It opens as a silent movie with subtitles, in the style of a newsreel, as it shows the violence against the Native Americans.

The avuncular cattle baron William Hale (Robert De Niro) is killing the Indians to steal their oil rights.  To help speed up the process of stealing the tribal land from the Osage, Hale calls for his dimwitted, greedy and venal  nephew Ernest Burkhart (Leonardo DiCaprio), a veteran of the Great War, to marry the Osage heiress Mollie (Lily Gladstone). But surprisingly Ernest falls for his bride and becomes conflicted on how to act. She convinces us that there's something worth loving about her bonehead gold digger hubby.

Though overlong the story is never boring, the editing by Scorsese regular Thelma Schoonmaker is masterful, the ensemble cast all give great performances and Robbie Robertson's old-time blues score is a pleasure.

Both informative and entertaining, this is a don't miss film from the master director. If it could be faulted, it could have been made an even darker story to make it more real.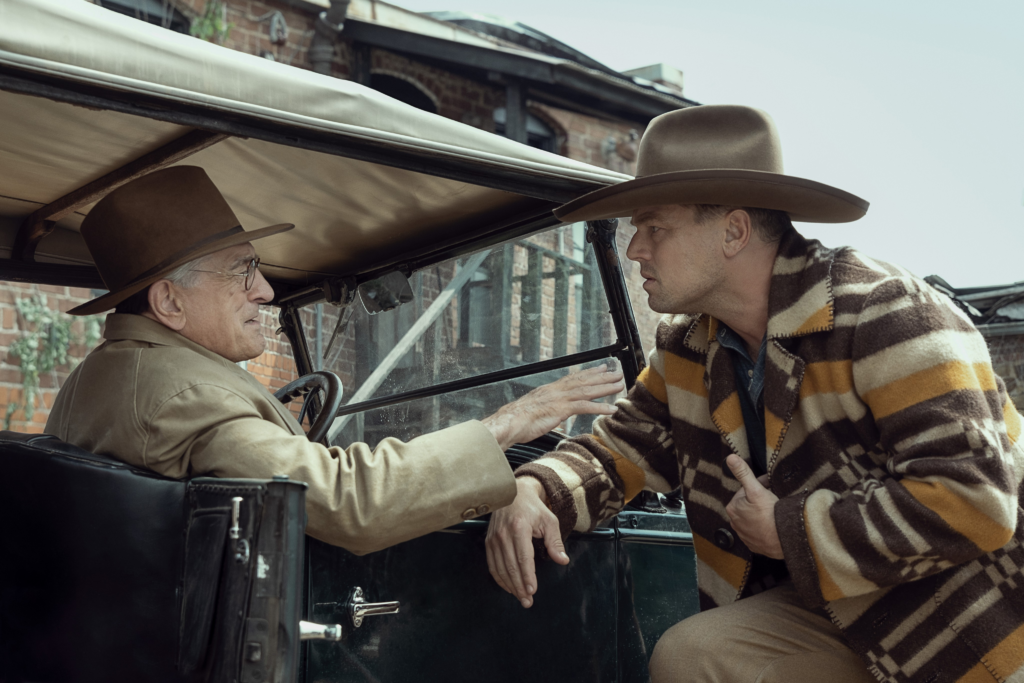 REVIEWED ON 5/27/2023  GRADE: A