JOYLAND
(director/writer: Saim Sadiq; screenwriter: Maggie Briggs; cinematographer: Joe Saade; editors: Salim Sadiq, Jasmin Tenucci; music: Abdullah Siddiqui; cast: Ali Junejo (Haider), Rasti Farooq (Mumtaz), Sohail Sameer (Kaleem), Sarwat Gilani (Nucchi),  Alina Khan (Biba), Salmaan Peerzada (Rana Amanullah), Salaam Peer (Rana Amanu), Sania Saeed (Fayyaz); Runtime: 126; MPAA Rating: NR; producers: Apoorva Guru Charan, Sarmad Sultan Khoosat, Lauren Mann, Kathryn M. Moseley, Oliver Ridge, April Shih, Katharina Otto-Bernstein; Blood Moon Creative/Khoosat Films; 2022-Pakistan-in Urdu-with English subtitles)
"The first Pakistani feature to play in Cannes, where the crowd-pleaser received a standing ovation after winning the runner-up Grand Prix in Un Certain Regard."
Reviewed by Dennis Schwartz

The Joyland of the title is a brightly-lit amusement park which provides an escape for those conflicted by the somber circumstances of the melodrama.

It's a ground-breaking sympathetic LGBTQ film made in Pakistan, a Muslim country, that is a story that's both amusing and grim. It won this year's Queer Palme.

Saim Sadiq in his feature film debut as director, with co-writer Maggie Briggs, presents a fictional story that centers on the extended middle-class conservative patriarchal Ranas family, whose wheel-chair bound stern patriarch Rana (Salmaan Peerzada) yearns for the birth of a boy and that the family live a traditional life.

The story is set in modern-day Lahore, where the family live together in a town house in the crowded downtown area.

It tells the story of a married man, Haider (Ali Junejo), through an arranged marriage to the family breadwinner, his smart but frustrated wife, Mumtaz (Rasti Farooq), who resents being pressured by the patriarch to have a boy and is looking for a more liberated life than following the old ways. After not working for years, Haider gets a nightclub dancer job and falls for the club's trans woman exotic dancer Biba (Alina Khan, a trans actress). It gives him a new way of life and a different way to have sex. This gay relationship and job causes Haider to lie to his close-knit but argumentative family rather than cause them further grief.
 
Meanwhile the patriarch's older son Kaleem (Sohail Sameer) is married to Nucchi (Sarwat Gilani), who has given him four daughters (the family yearns for boys).

Showing us the daily life of the family, the pungent film reaches a jarring dramatic jolt before it ends

 It's the first Pakistani feature to play in Cannes, where the crowd-pleaser received a standing ovation after winning the runner-up Grand Prix in Un Certain Regard.

Joyland is a pertinent examination of sex and gender, as it explores a conflict over modernity and traditional values–proving to be a most rewarding and thoughtful film, as it stands-out as one of the more engrossing Pakistani films I ever saw.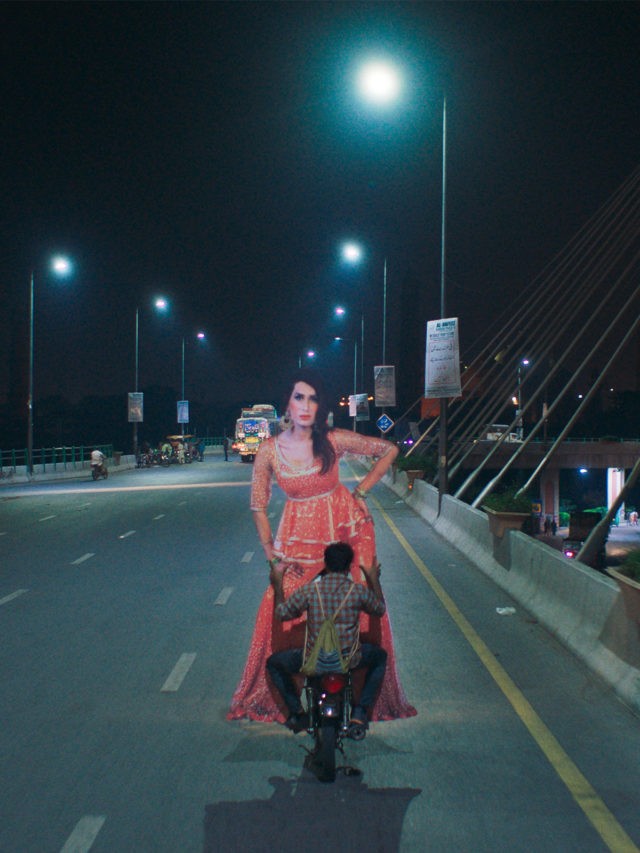 REVIEWED ON 6/30/2022  GRADE: B+