INSPECTION, THE
(director/writer: Elegance Bratton; cinematographer: Lachlan Milne; editor: Oriana Soddu; music: Animal Collective; cast:  Bokeem Woodbine (Sgt. Laws), Gabrielle Union (Inez French), Jeremy Pope (Ellis French), Raul Castillo (Rosales), McCaul Lombardi (Harvey), Eman Esfandi (Ismail), Aaron Dominguez (Castro); Runtime: 94; MPAA Rating: R; producers: Chester Algemal Gordon/Effie Brown; A24; 2022)
"An emotionally moving and cathartic Marine basic training drama."
Reviewed by Dennis Schwartz
An emotionally moving and cathartic Marine basic training drama, written and directed by Elegance Bratton ("Pier Kids"/"Walk For Me") from the personal experiences of the documentary filmmaker, directing his first narrative.

It tells the story of the 25-year-old Ellis (Jeremy Pope), a Black gay man, who was kicked out of his home at 16 by his stern corrections officer mom (Gabrielle Union), and lived either on the streets or in shelters. In 2005, the Newark native enlisted in the Marines to learn how to become a man and gain back his mom's respect.

In boot-camp he was hazed and picked on, and when it leaked out he was gay things became intolerable.

The Black drill instructor, Chief Gunnery Sgt. Laws (Bokeem Woodbine), yells abuses at him and spits out threats (emulating the basic training episode in Kubrick's "Full Metal Jacket"), but the instructor is also in his Marine way trying to reach out to him and make him a Man.

How Ellis survived and turned around his life, is an uplifting story.

The drama unfolded in a credible way, as set in this macho homoerotic environment, whereas the filmmaker encourages compassion for those who don't fit in and need some help to get themselves together-warning us that bullying just doesn't work in the workplace.
It played at the Toronto Film Festival.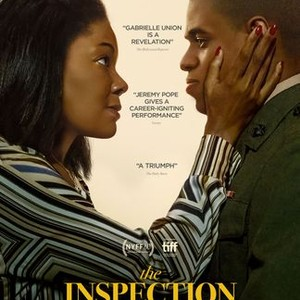 REVIEWED ON 11/28/2022 GRADE: B