PERSONAL HISTORY OF DAVID COPPERFIELD, THE
(director/writer: Armando Iannucci; screenwriter: Simon Blackwell/based on the Charles Dickens novel; cinematographer: Zac Nicholson; editors: Mick Audsley/Peter Lambert; music: Christopher Willis ; cast: Dev Patel (David Copperfield), Jairaj Varsani (Young David),  Daisy Mae Cooper (Peggotty), Tilda Swinton (Aunt Betsey Trotwood); Aneurin Barnard (Steerforth), Darren Boyd (Edward Murdstone), Peter Capaldi ( Mr. Micawber), Morfydd Clark (Clara), Hugh Laurie (Mr. Dick), Ben Whishaw (Uriah Heep), Benedict Wong (Mr. Wickfield); Runtime: 119 ; MPAA Rating: PG; producer: Kevin Loader/Armando Iannucci; Searchlight Pictures/Disney; 2019-UK/USA)
"Uplifting film."
Reviewed by Dennis Schwartz
Scottish satirical director Armando Iannucci ("Veep"/"The Death of Stalin") along with his frequent collaborator Simon Blackwell have provided this uplifting film on the essentials of the great Victorian writer Charles Dickens' autobiographical novel. It's a novel that Dickens never meant to publish (his original title was: The Personal History, Adventures, Experience and Observation of David Copperfield the Younger of Blunderstone Rookery), but the world is glad it was filmed once again and that the filmmaker shortened its title.

The book covers the Copperfield life from childhood to adulthood, and shows 'good overcoming evil' in a Great Britain setting (one that includes countryside to seaside to inner city London). This radical film, filled with whimsy, jokes and gags, might not suit the Dickens purist (maybe because of its diverse racial cast), but I found it sweet, enriching and joyful. It crisply moves along at a fast pace, and is a pleasant watch. Iannucci follows a colorblind casting, as he casts starring white roles to many Asians.

The young David (Jairaj Varsani), born to a widow (MorfyddClark), is at the mercy of his evil stepfather Edward Murdstone (Darren Boyd). The meanie guardian has him banished to labor in his London factory. We next see in 1850 the grown David (Dev Patel) at a theater, as he narrates his own past story.
The penniless lad is seeking refuge with his only known relative, the bossy Aunt Betsey Trotwood (Tilda Swinton), and her lodger, the eccentric academic, Mr. Dick (Hugh Laurie). Soon he attends boarding school, living the life of a gentleman, as fortune at first favors him (but inevitably doesn't). Around and around the wheel of karma turns for David. Throughout his journeys of meeting many colorful characters and drifting through the social classes of England, while he is constantly collecting phrases and notes derived from the people popping into his life, and notes that will eventually help fulfill his destiny to be a writer.

Dev Patel makes for a resourceful and likable optimistic protagonist, finding his way to navigate between pathos and broad comedy.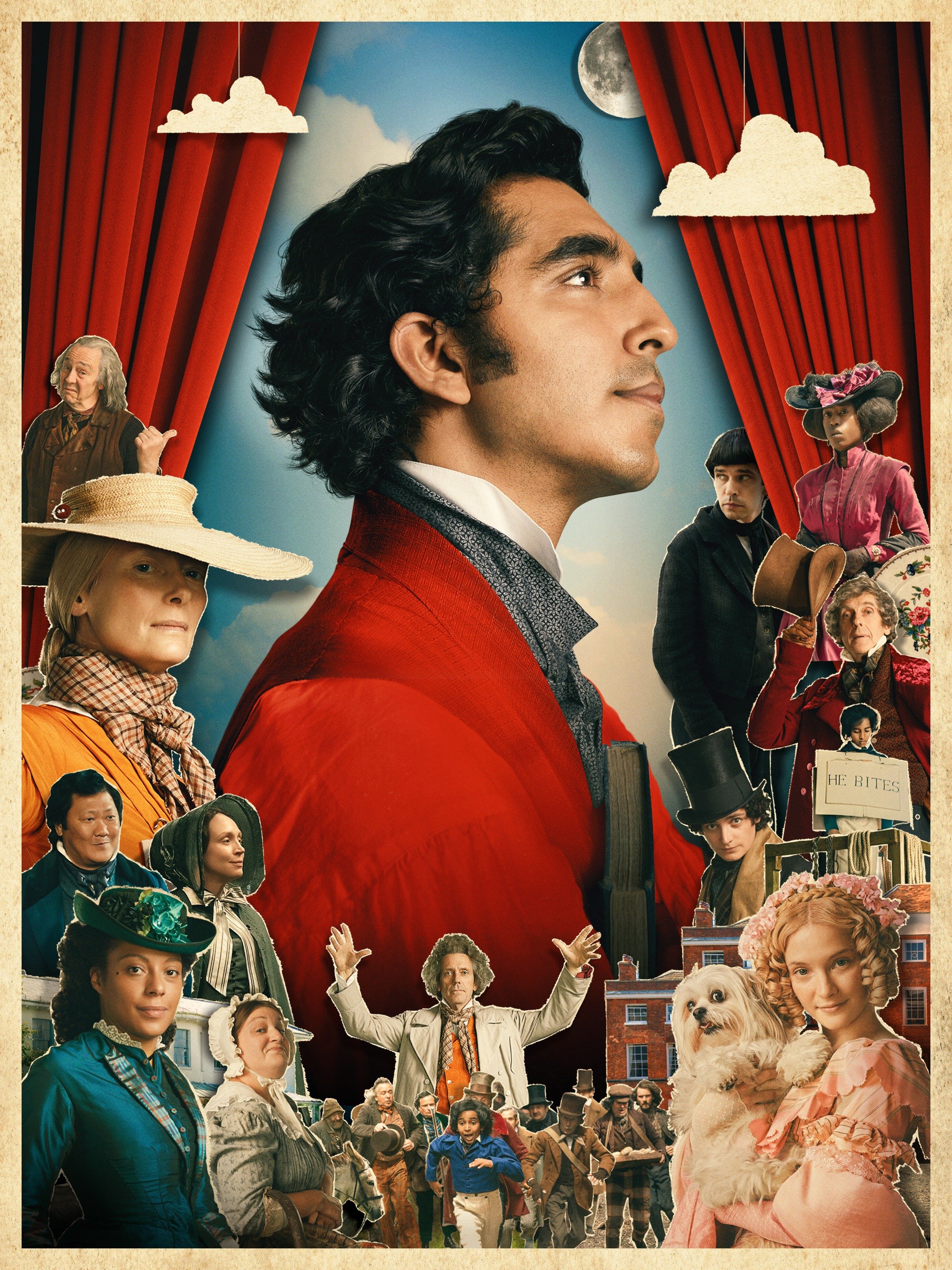 REVIEWED ON 1/7/2021 GRADE: B+