I'M YOUR WOMAN
(director/writer: Julia Hart; screenwriter: Jordan Horowitz; cinematographer: Bryce Fortner; editors: Shayar Bhansali/ Tracey Wadmore-Smith; music: Aska Matsumiya; cast: Rachel Brosnahan (Jean), Marsha Stephanie Blake (Teri), Arinzé Kene (Cal), Bill Heck (Eddie), Frankie Faison (Art), Marceline Hugot (Evelyn), James McMenamin (White Mike), Jarrod Digiorgi (Jimmy); Runtime: 120; MPAA Rating: R; producers: Jordan Horowitz, Rachel Brosnahan; Amazon Studios/Big Indie Pictures; 2020)
"Soft feminist response to the usual male driven crime dramas of the seventies."
Reviewed by Dennis Schwartz

A passive woman and her child are on the run because of her husband's unknown crime, in filmmaker Julia Hart's ("Stargirl"/"Fast Color") soft feminist response to the usual male driven crime dramas of the seventies. Hart wrote the ambitious screenplay with Jordan Horowitz.

The film is set in the 1970s, in suburban America.

The barren unnamed suburb living housewife Jean (Rachel Brosnahan, the co-producer) greets at home one day her criminal husband Eddie (Eddie Heck) who gives her a baby and offers no explanation as he tells her it's now yours. He then vanishes. The white Eddie's Black associate, Cal (Arinzé Kene), tells her she must let him take her and the infant to a safe house because there are some bad dudes after Eddie. Cal hands over to her a bag of money and takes them on a two-day trip by car to the safe house.

On the trip, the baby can't stop crying. When Cal pulls over to the side of the road to calm the baby down and then grab some sleep, a racist cop checks them out. When they reach the designated isolated cabin they find waiting there for them Cal's wife Teri (Marsha Stephanie Blake) and his father Art (Frankie Faison). They get her a gun for protection, as they tensely await the possible arrival of the criminals who are after Eddie. It's at this point that this potentially exciting and meaningful thriller, supposedly about how women who are controlled by men who are brutes, loses its grip on us and becomes disappointing as its emotionally vacuous climax is a bummer. It turns out to be a long ride to nowhere.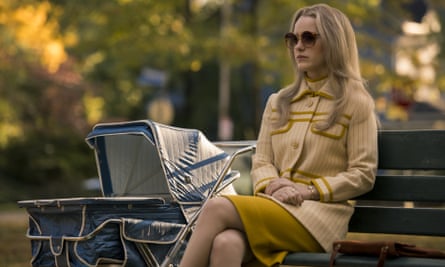 REVIEWED ON 12/11/2020 GRADE: C+