I HEARD THE BELLS
(director/writer: Joshua Enck; screenwriter: Jeff Bender; cinematographer: Steve Buckwalter; editor: Jordan Graff; music: Chad Marriott; cast: Stephen Atherholt (Henry Wadsworth Longfellow), Jonathan Blair (Charley Longfellow), Rachel Day Hughes (Fanny Longfellow), Zack Meeker (Ernest Longfellow); Runtime: 110; MPAA Rating: NR; producer: Joshua Enck; Fathom Events/Sight & Sound Films; 2022)
"The target audience for this faith-based biopic can't argue about the poet's belief in Jesus as a source of goodness and salvation, even if the film's slow pace left some naysayers."
Reviewed by Dennis Schwartz

First-time feature film director Joshua Enck is the writer-director of this feel-good biopic on America's anti-slavery Civil War poet, Henry Wadsworth Longfellow (Stephen Atherholt). He's the writer of the 1863 poem "Christmas Bells" that later inspired the classic yuletide Christmas Carol: "I Heard the Bells on Christmas Day."

The poet lived happily in Cambridge, Massachusetts, with his wife Fanny (Rachel Day Hughes) and four children. But tragedy struck in 1861, when Franny dies because her dress catches on fire and hubby is badly burned trying to put the fire out. Then Henry becomes despondent and stops writing, and furthermore his oldest son Charley (Jonathan Blair) enlists to fight for the Union against his father's wishes.
 
In a battle in Virginia, Charley is severely injured and brought back home by his father. When nursed back to health, Charlie renews his belief in God. The poet in 1863 in response, stays up all night on Christmas Eve to write "Christmas Bells."

But the scenes of family togetherness, faith, prayer and communion should be pleasing to the Christian believer who observes the traditional religious way. As his target audience for this faith-based biopic can't argue about the poet's belief in Jesus as a source of goodness and salvation, even if the film's slow pace left some naysayers.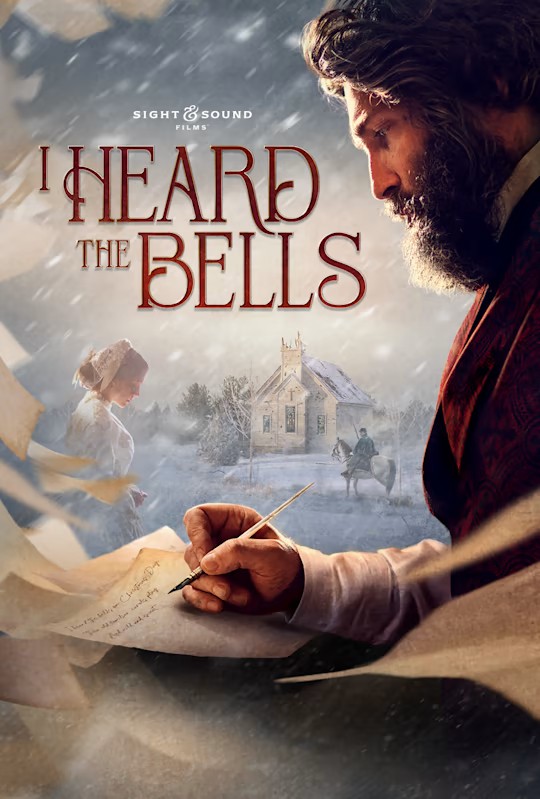 REVIEWED ON 12/21/2022 GRADE: B-