HUMANS, THE
(director/writer: Stephen Karam; screenwriter: based on the play by Karam; cinematographer: Lol Crawley; editor: Nick Houy; music: Nico Muhly; cast: Richard Jenkins (Erik Blake), Amy Schumer (Aimee), Steven Yeun (Richard), Beanie Feldstein  (Brigid), Jayne Houdyshell (Deirdre Blake), June Squibb (Momo); Runtime: 108; MPAA Rating: R; producers; Stephen Karam, Louise Lovegrove: A24; 2021)

"An insightful and unnerving film that's intimate and unsparing in getting under the skin of its featured humans."
Reviewed by Dennis Schwartz

This real-time depiction of the Irish Catholic Blake family's Thanksgiving celebration in a spacious but run-down and noisy old apartment in New York's Chinatown is based on the writer-director, in his first film as director, Stephen Karam's one-act 2016 Tony Award-winning play on the human condition. Though nothing monumental happens, this is an insightful and unnerving film that's intimate and unsparing in getting under the skin of its featured humans.

The lower middle-class Erik (Richard Jenkins), the head of maintenance at a Catholic school, comes from his Scranton hometown with his overweight office manager wife, Deidre (Jayne Houdyshell, the only player from the original stage cast-who is simply marvelous), and his invalid mother Momo (June Squibb), where three generations of the Blake family gather for a Thanksgiving dinner and for a house-warming for one of his daughter's, Brigid (Beanie Feldstein), an aspiring composer. She's about to move in from Queens with her polite 35-year-old fiancée, Richard  (Steven Yeun), who is still in college studying to be a social worker, after recovering from bouts with depression for years. Richard comes from a rich family, and grandma has given him a trust fund he will inherit at 40.

The young couple are unfazed by how much the apartment is in disarray: from dirty windows, the disturbing eerie noises that can be constantly heard, the lights not working, the poor view and the number of broken things.
There's tension among the six characters, as food is prepared, bad dreams are shared, secrets revealed, and heartaches keep bursting out into the open.

The other daughter, Aimee (Amy Schumer), is a corporate lawyer, living in Philadelphia, who is suffering from a chronic intestinal disease that requires an operation and because of her many days missed at work her illness threatens her job. She's in a life crisis mode and has gone bonkers because her girlfriend has recently broken up with her.

Meanwhile the children's grandmother, Momo, is out of it and has screaming fits, as she sits in a wheelchair suffering from dementia.

Erik has the most doubts about why anyone would want to live here, questioning that it's in flood zone as noted during Hurricane Sandy and it's within blocks of where the 9/11 attack on the World Trade Center occurred.

The acting by the ensemble is natural and terrific (with the character actor Richard Jenkins great, as always). The choice of filming it in such a charming but haunted house was a genius move. And, its theme is poignant in how it questions if a family can still stick together if divided over beliefs, generation gaps, culture issues, attitudes, moral divides, the food it eats and lifestyles. It questions if real love in a family can be forged under such dire circumstances.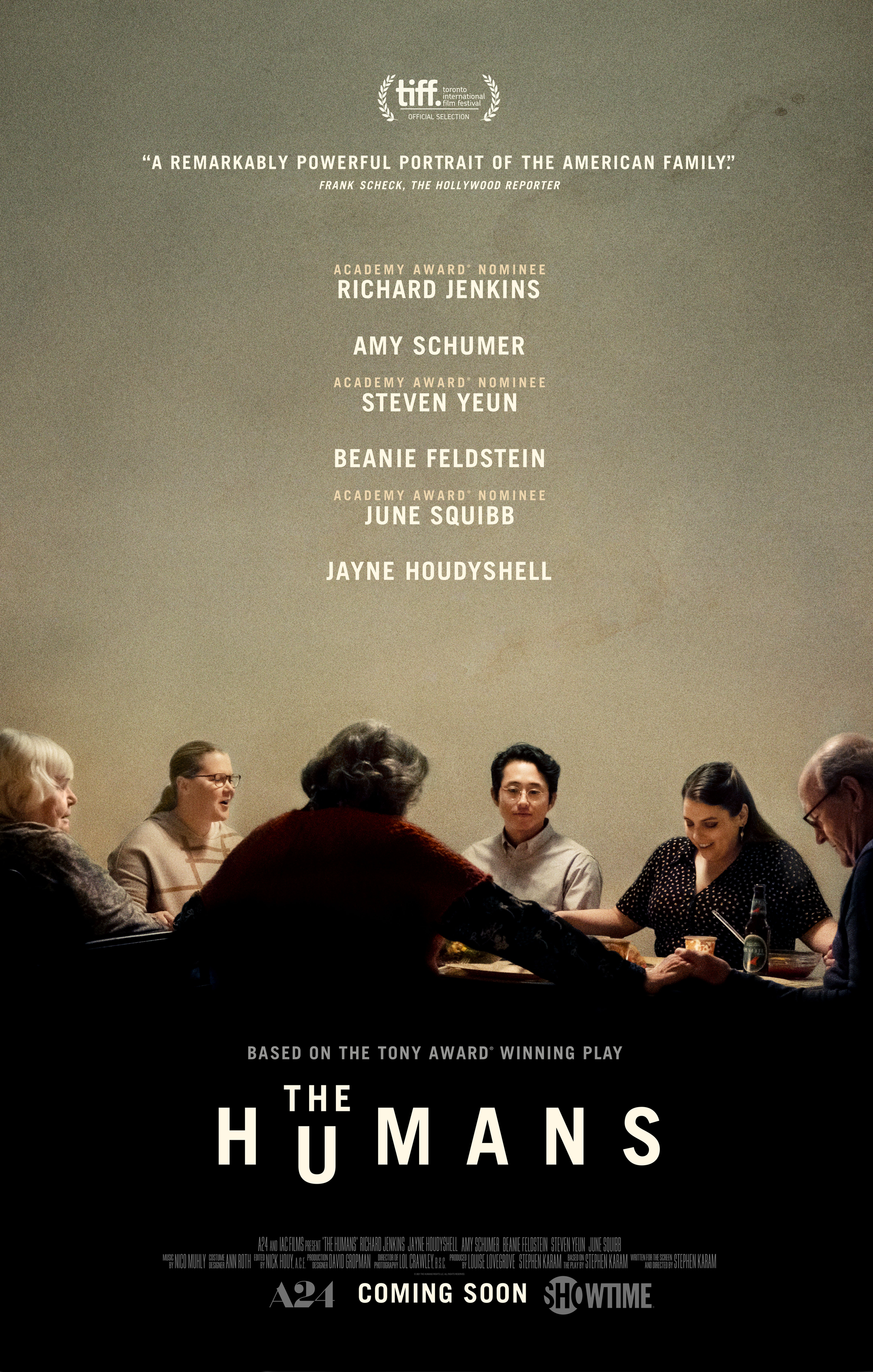 REVIEWED ON 11/26/2021 GRADE: A-