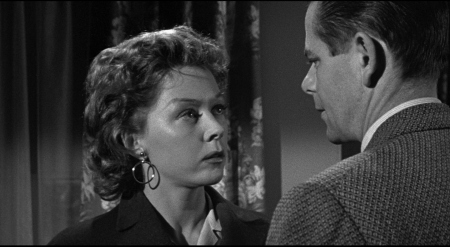 HUMAN DESIRE
director: Fritz Lang; screenwriters: Alfred Hayes/from the book La Bete Humaine by Emile Zola; cinematographer: Burnett Guffey; editor: William Lyon; music: Daniele Amfitheatrof; cast: Glenn Ford (Jeff Warren), Gloria Grahame (Vicki Buckley), Broderick Crawford (Carl Buckley), Edgar Buchanan (Alec Simmons), Grandon Rhodes (John Owens); Runtime: 90; MPAA Rating: NR; producer: Lewis Rachmil; Columbia; 1954)
"Hard-edged and chilling."
Reviewed by Dennis Schwartz
Fritz Lang's ("M") 1954 American version of the Emile Zola novel and Jean Renoir film La bete humaine, has a lot of the sex taken out of the steamy story; but, the characters' desperate lives and futile pleasures and intense jealousy leading to murder is accomplished in an involving noir-style of bleakness and hopelessness. Human Desire, like all of Lang's '50s work, is hard-edged and chilling. Only this one due to Gloria Grahame's stunning amoral portrayal, is more perverse.
Glenn Ford is cast in the doomed role and acquits himself well. He plays the Everyman role of Jeff Warren, a returning soldier from Korea who gets involved in an affair he can't handle between the volatile married couple of Vicki Buckley and Carl (Gloria Grahame and Broderick Crawford). Jeff is riding on the train off-duty from his railroad engineer job, who becomes the only witness to a murder. He observes Vicki alone in a compartment with a wealthy shipper named Mr. Owens (Rhodes). The industrialist has been having an affair with Vicki, which her insanely jealous husband suspects. But when railroad station worker Carl gets into a public relations mess with a customer, he asks his wife to get the influential Owens to use his juice to help him get back his job. She succeeds, but Carl gets so agitated over their ongoing affair that he murders Owens when he discovers them together.
At the inquest Jeff lies to protect Vicki and they soon are in an adulterous relationship. Meanwhile Carl goes on a bummer when Vicki ices him and refuses to maintain a sexual relationship with him. This leaves him depressed and driven to become an alcoholic. Carl keeps his hold on her when he threatens blackmail, if she leaves him, with an incriminating letter she wrote that he possesses.
Femme fatale Vicki persuades Jeff to kill Carl when he's drunk and make it look like an accident, but at the last minute Jeff changes his mind as he realizes he can't murder anyone. When Carl is finally fired and insists Vicki leave town on the train with him — she, all the while, is taunting him with her infidelity and plans to murder him, even as Jeff is on board in another compartment with the same railroad friend (Edgar Buchanan) from the opening scene. As the story moves full circle around, and Carl is once again overcome with an insanely jealous rage that leads to another tragedy.
Cinematographer Burnett Guffey is relentless in capturing the spiritual desolation of the characters with ominous shots of the myriad railroad tracks interweaving and separating in a train yard at night. It becomes a metaphor for the human paths criss-crossing each other. Penetrating and searing, Human Desire is a nagging allegory about the darkness of human motivation and the corruption of the soul, and of desperate characters who live unfulfilled lives.
It's not one of Lang's great pictures (it becomes too heavy-handed in parts), but anything Lang does has a power that is hard to forget. This one entertains as a riveting melodrama.
REVIEWED ON 5/2/2004 GRADE: B
© ALL RIGHTS RESERVED DENNIS SCHWARTZ