HOOPER
(director: Hal Needham; screenwriters: Thomas Rickman/Bill Kerby/from a story by Walt Green & Walter S. Herndon ; cinematographer: Bobby Byrne; editor: Donn Cambern ; music: Bill Justis ; cast: Burt Reynolds (Sonny Hooper), Sally Field (Gwen Doyle), Jan-Michael Vincent (Ski), Brian Keith (Jocko Doyle), John Marley (Max Berns), Robert Klein (Roger Deal), "Red" Barry (Sheriff), Norm Grabowski (Hammerhead), Terry Bradshaw (Sherman), Robert Tessier (Amtrac), Adam West (Adam), James Best (Cully); Runtime: 99; MPAA Rating: PG; producers; Hank Moonjean: Warner Bros.; 1978)
"A disposable film."
Reviewed by Dennis Schwartz

The former king of stuntmen in his prime, Hal Needham ("Smokey and The Bandit"/"Body Slam"), directs this stuntman film comedy with great knowledge of the subject matter. But it's a disposable film, one that falls on its bottom after one stunt too many.

Burt Reynolds is re-teamed with his Smokey and the Bandit (1977) director and co-star Sally Fields.

It's based on the story by Walt Green and Walter S. Herndon, and is written by Thomas Rickman and Bill Kerby as if nothing can be more fun than a barroom brawl or a bunch of old-timer stuntmen wisecracking with each other. This lighthearted, genial and slight film was made on a budget of 6 million and grossed 78 million at the box office, in other words it was a crowd-pleaser.

If nothing else there are many spectacular stunts performed, first-class car crashes, it's 'good ole boy' jokey, there's an entertaining familiar Western John Ford-like saloon fight with the former Steeler QB Terry Bradshaw in the middle of it,  and there's a  sweet Sally Field playing Burt Reynold's longtime squeeze with ease (her main acting job is to look concerned if her Man is hurt after a stunt).

Folks probably love it mainly because Burt's effortless performance is so upbeat and gives the film all the spunk it needs to fly around all over the place. Things look super friendly because Burt got parts for many of his comrades.

The plot has the ageing Hollywood stuntman Sonny Hooper (Burt Reynolds), the most likeable guy on the studio lot and ace stuntman in the business being challenged for his place of honor by a young idol worshipper called Ski (Jan-Michael Vincent), who is doing bigger and more daring stunts. There's also a well-targeted smear on the director neither Needham or Reynolds cared for–former critic turned director Peter Bogdanovich, who is the smug and egotistical director Robert Klein played. The director's someone who couldn't even find it in himself to give his ace stuntman a small compliment after doing a difficult stunt for the film he's directing and could care less if Burt's back might hurt after a stunt.

The film pays tribute to the former great stuntman Jock Mahoney, who is depicted as the character Brian Keith portrays–the retired stuntman, Sally's dad and Burt's mentor.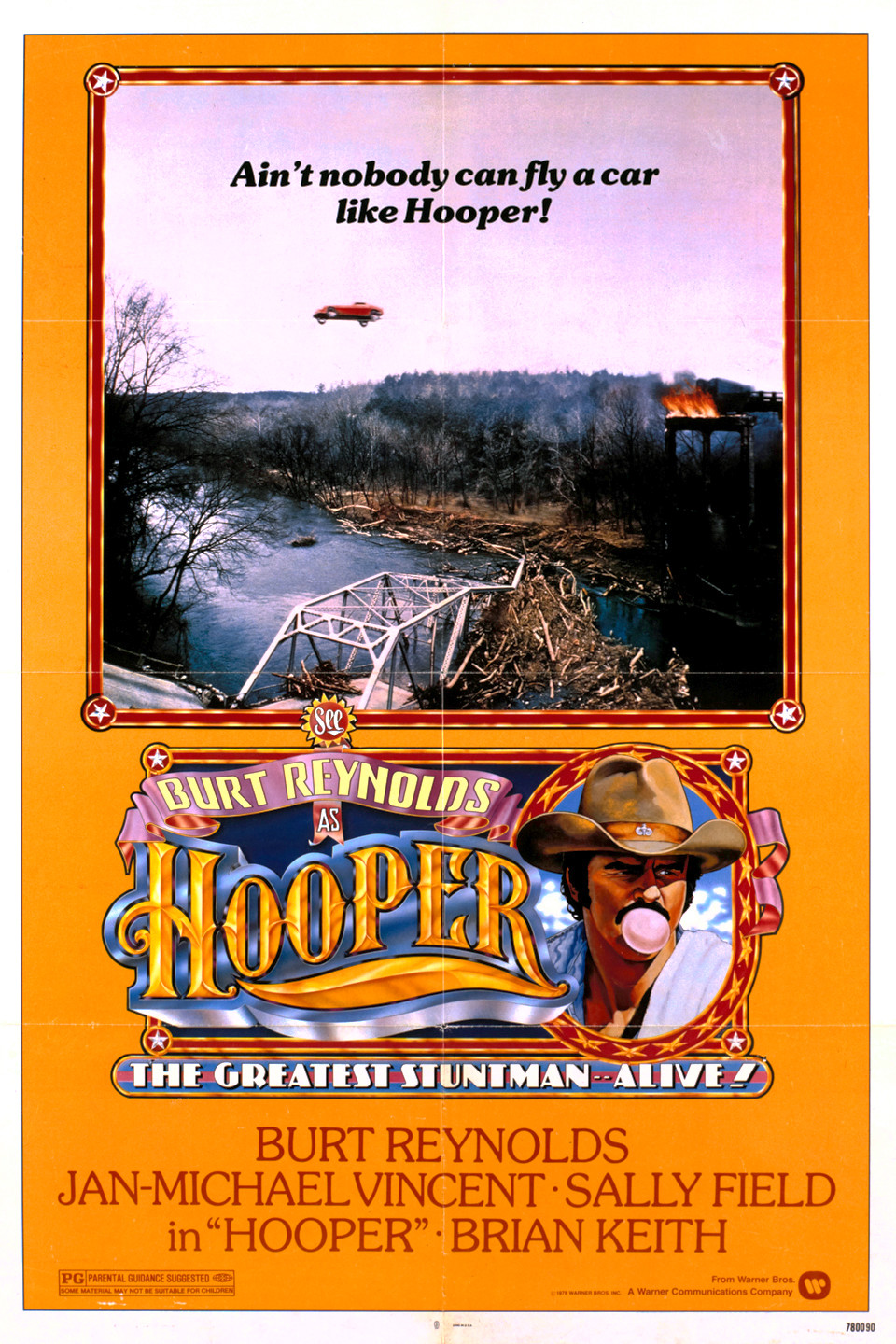 REVIEWED ON 2/27/2022 GRADE: C+