HONEY BOY
(director: Alma Har'el; screenwriter: Shia LaBeouf; cinematographer: Natasha Braier; editors: Dominic LaPerriere/Monica Salazar; music: Alex Somers; cast: Shia LaBeouf (James Lort), Noah Jupe (Otis 12), Lucas Hedges (Otis 22), Byron Bowers (Percy), FKA Twigs (Shy Girl), Laura San Giacomo (Dr. Moreno), Clifton Collins Jr. (Tiny), Natasha Lyonne (Mom, her voice over the phone), Martin Starr (Alec); Runtime: 94; MPAA Rating: R; producers: Brian Kavanaugh-Jones, Daniela Taplin Lundberg, Anita Gou, Christopher Leggett, Alma Har'el; Amazon Studios; 2019)
"Shia has taken on this difficult and painful role of his childhood abuser father, and his true performance gives the story gravitas."
Reviewed by Dennis Schwartz
Israeli-born documentary filmmaker Alma Har'el ("LoveTrue"/"Bombay Beach") sensitively handles Shia LaBeouf's frank autobiographical self-examination of his turbulent childhood and the abuse by his father that left him traumatized, with Shia bravely playing his troubled father. It's written as a rehab assignment by him as mandated by the court. What he wrote is revealed in flashbacks. The good news is that he chose the right director for the job, as Shia is too close to the story to give it the distance it might require. His purpose for going public with this unpleasant story is to confront it and find a way to move on. He even considers possibly forgiving his father for his cruel behavior. The names of the characters have been changed so as to give the author more poetic license.

The twelve-year-old Otis (Noah Jupe) and 22-year-old Otis (Lucas Hedges) portray Shia during two significant times in his life, with Jupe's performance being moving and sensational as the child actor. Hedge also gives a powerful performance, as he plays him when in rehab and struggling with anger-management issues and alcoholism.

Otis at 12 is a rising child star who is cared for in Hollywood by his strict, abusive and volatile father, James (Shia LaBeouf), a Vietnam War vet. They move into a seedy motel. We learn that dad is a former washed-up rodeo clown, a recovering alcoholic and addict, an ex-convict, and a sex offender. It's not much fun living with dad. The kid finds some solace in the shy motel resident (the singer, FKA Twigs), a sex worker and former abuse victim, whom he can feel at ease with by getting to talk to her now and then. By working on TV productions the kid is the family breadwinner, which makes dad feel like the helpless kid's inferior.

Shia has taken on this difficult and painful role of his childhood abuser father, and his true performance gives the story gravitas. I don't know how much I cared about knowing of the troubled star, who made the headlines with a few off-camera incidents, but at least I know now about his insecurities and the demons inside him he's been trying to get rid of. The intimate film gives me a clearer picture of him and what he's been going through, and should give me in the future a more compassionate way of looking at him.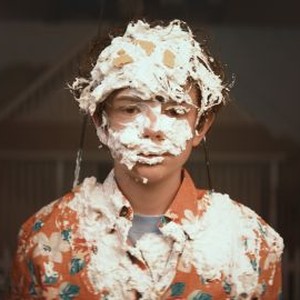 REVIEWED ON 12/9/2019  GRADE: B   https://dennisschwartzreviews.com/