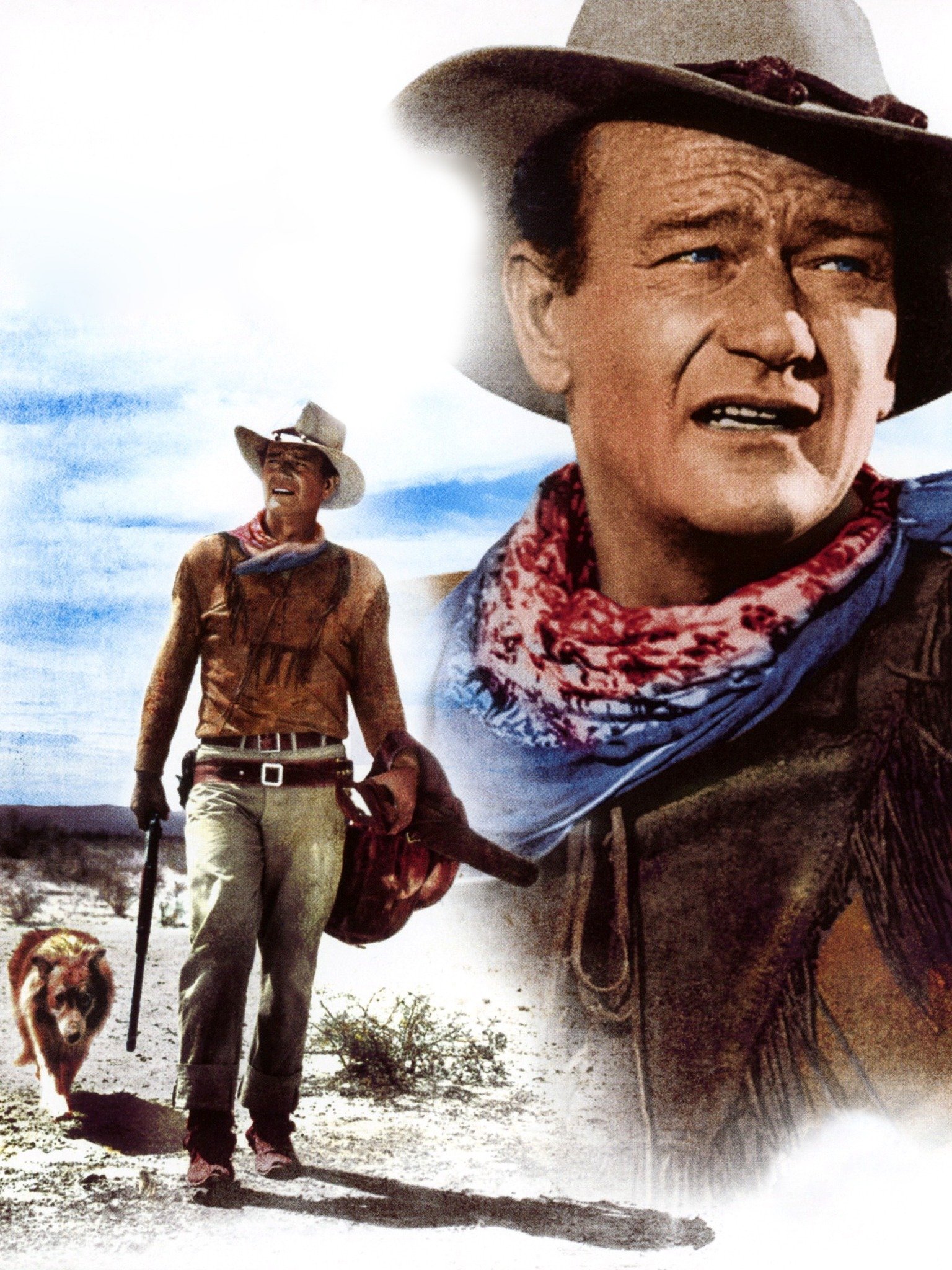 HONDO
(director: John Farrow; screenwriters: James Edward Grant/novel Louis L'Amour; cinematographers: Robert Burks/Archie J. Stout; editor: Ralph Dawson; cast: John Wayne (Hondo Lane), Geraldine Page (Angie Lowe), Ward Bond (Buffalo Baker), Michael Pate (Vittorio), James Arness (Lennie), Rodolpho Acosta (Silva), Lee Aaker (Johnny Lowe), Leo Gordon (Ed Lowe), Paul Fix (Major Sherry), Tom Irish (Lieutenant McKay), Rayford Barnes (Pete), Lassie (Sam); Runtime: 84; Warner /Wayne-Fellows; 1953)
"A superb offbeat Western."
Reviewed by Dennis Schwartz
A superb offbeat Western, set in the New Mexico of 1874. It is one of John Wayne's favorites, where John Wayne plays John Wayne. This is Wayne's first successfully produced film and made in conjunction with Warner Brothers; it was later made into a short-lived television series. The screenplay was by a Wayne regular contributor, James Edward Grant, who was evidently influenced by Shane (53). It also has the look of a John Ford film that was to soon follow suit, "The Searchers (56)." That should be of no surprise, since Ford was regularly on the set to help Wayne in an unofficial capacity. The film was released originally as a 3-D vehicle. Geraldine Page received an Oscar nomination for Best Supporting Actress in this, her first film role; though, Wayne is clearly the star of this film. His portrayal of a complex man with deep feelings, someone who considers the truth the most important thing a man has, is accomplished in an amusingly self-deprecating way letting the viewer see both the soft and tough side to this independent man.
Hondo Lane (John Wayne), a dispatch rider and sometime scout for the cavalry, arrives horseless and with a loyal dog (Lassie) at his side (who can smell Indians a mile away and lets no one pet him), at the isolated ranch of Angie Lowe (Geraldine Page) and her six year old son Johnny (Lee Aaker). He warns her of an impending Apache attack because of a broken treaty by the white man, telling her she better come with him back to the army post. But she refuses, saying she's friendly with the Apaches and even lets them water their horses on her spread. Hondo inquires about her husband, and she tells him that he will soon be coming back. But Hondo sees the ranch is in disrepair and is in need of a man around the house to do the chores, and he therefore tells her that she's lying. He shoes the horses, sharpens her ax blade, and breaks in a horse he buys from her. Before he leaves, she falls for him but fears he won't like her because she's not a looker. But he tells her it doesn't matter to him, it's what's in a woman's heart that counts. He also tells her that he's part Apache and lived happily among them for 5 years, before his squaw died. Since Hondo can't get her to leave the ranch, he tells her his philosophy: "I let people do what they want to do."
The leader of the Apaches Vittorio (Pate) surrounds Angie's house with his warriors and is about to take them captive, but is impressed by her son Johnny's bravery to protect her. He therefore becomes blood brothers with Johnny and offers them his word that they will be safe from an Indian attack as long as he lives.
Hondo, while back at the army post, discovers her husband Ed (Leo Gordon) is alive and is a good for nothing who has deserted her. He gets into a spat with him in the bar and punches him out. When Hondo is returning to Indian territory he is followed by the revengeful Ed, who tries to kill Hondo even after he killed an Indian who was attacking him from behind. Hondo has no choice but to shoot Ed in self-defense.
Hondo is captured by Vittorio and is about to be slowly tortured to death for killing the Apache, when Vittorio sees the photo of Johnny in his pocket. He therefore lets Hondo off the hook Indian style, by arranging a knife fight with the brother of the Apache he killed to settle things fairly. When Hondo overcomes the Indian but refuses to kill him, he is brought back to Angie's ranch.
Angie soon learns from a settler on a cavalry patrol, sent to capture Vittorio, that Hondo killed her husband. She then tells Hondo that her husband only married her to inherit her ranch and was a mean man. With her marriage resolved, they thereby both vow their love for each other and plan to leave the territory and start life anew in Hondo's ranch in California.
The film signals an end of an era as the Apaches are soon to be slaughtered by the advancing forces of the cavalry and the Old West is seen as changing, never to be the same again. The film was sympathetic to the Indians and their cause. It also was approving of a romantic relationship between a half-breed and a white woman. A most memorable Western.
REVIEWED ON 1/25/2001 GRADE: A-