HOLDOVERS, THE
(director: Alexander Payne; screenwriter: David Hemingson; cinematographer: Eigil Bryid; editor: Kevin Tent; music: Mark Orton; cast: Paul Giamatti (Paul Hunham), Da' Vine Joy Randolph (Mary Lamb), Dominic Sessa (Angus Tully), Ian Dolley (Alex Oilerman), Brady Hepner (Teddy Kountze), Carrie Preston (Miss Lydia Crane), Andrew Garman (Dr. Hardy Woodrup), Tate Donovan (Stanley Clotfelter), Gillian Yigman (Judy Clotfelter); Runtime: 133; MPAA Rating: R; producers: David Hemingson, Bill Block, Mark Johnson; Focus Features; 2023)
"A heart-lifting story about a makeshift family."
Reviewed by Dennis Schwartz

Alexander Payne ("Sideways"/"Nebraska") directs and TV writer David Hemingson writes this emotional comedy about damaged people. It offers in its simplicity a heart-lifting story about a makeshift family. This is only the second film in which Payne didn't write the script for a film he has directed. The well-performed and sensitively written film is set in the 1970s, in a snowy New England private all-boys school. It plays out as a nostalgic piece that reminds us of the way intimate films used to be made.

It tells the story of three diverse characters forced to spend Christmas together.

The embittered over school politics principled loner history teacher at the elite Barton Academy boarding school for the rich, Paul (Paul Giamatti), drowns his sorrows in Jim Beam and gets his kicks reading mystery novels. Otherwise he puts everything he has into teaching.

Because he's not liked by his administrators, Paul's forced into being the school's adult recipient for any student in need of a place to stay over the Christmas vacation period. This means he has to take in the smart and rebellious teen Angus (Dominic Sessa), the holdover abandoned at the last minute by his mother and her new husband. The school also asks him to spend the holiday with Mary Lamb (Da' Vine Joy Randolph). She's the Black cafeteria manager, a grieving mother whose son recently died while fighting in Vietnam. They make for an odd threesome, in an uplifting holiday film that works well as a humanistic drama.

It played at the Telluride Film Festival.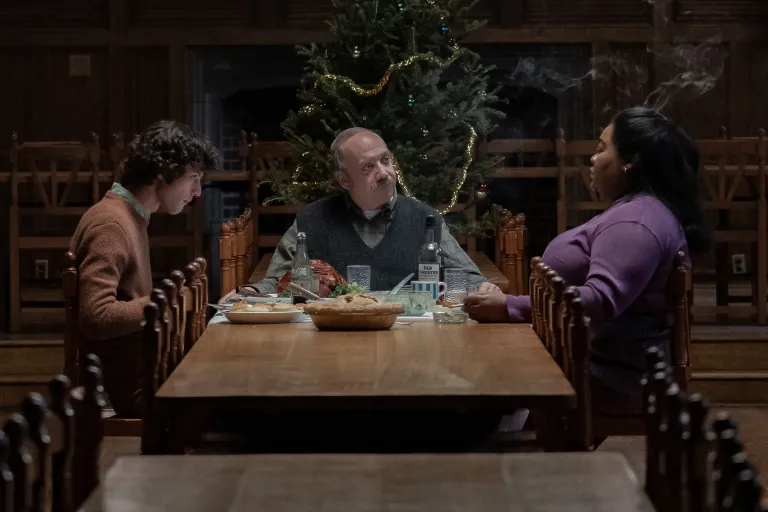 REVIEWED ON 10/30/2023  GRADE: B