HOCUS POCUS 2
(director: Anne Fletcher; screenwriters: Jen D'Angelo/story by David Kirschner, Blake Harris, Jen D'Angelo, based on characters created by David Kirschner, Mick Garris; cinematographer: Elliot Davis; editor: Julia Wong; music: John Debney; cast:  Bette Midler (Winifred Sanderson), Kathy Najimy (Mary Sanderson),  Sarah Jessica Parker (Sarah Sanderson), Whitney Peak (Becca), Belissa Escobedo (Izzy), Doug Jones (Billy Butcherson), Hannah Waddingham (The Witch Mother), Lilia Buckingham (Cassie), Froy Gutierrez (Mike, Cassie's boyfriend), Tony Hale (Reverend Trask/Mayor), Sam Richardson (Gilbert); Runtime: 103; MPAA Rating: PG; producer: Lynn Harris; Disney+; 2022)
"Had no soul."
Reviewed by Dennis Schwartz
Anne Fletcher ("Hot Pursuit"/"The Guilt Trip") as if possessed by the singing witch Sanderson sisters directs this inane girl power film. The sequel is popularized due to TV reruns and VHS rentals over the years after much maligned in 1993 by the critics. It stars again the three acerbic witch sisters– Winnie (Bette Midler), Sarah (Jessica Parker) and Mary (Kathy Najimy). Bette and her naughty Sanderson sisters chase young children on Halloween through Salem, Mass., aiming to kill them (but don't harm them this time) in this holiday nostalgia spooky comedy. When not bursting into songs like Elton John's 'The bitch is back' or schlocky comedy bits, the film tries desperately to be a holiday scare film. The spirit of the original remains but the outdated humor gets a needed update.

The siblings were revived by accident by two present-day benign but obsessed occult Salem teenagers, Becca and Izzy (Whitney Peak and Belissa Escobedo), who accidentally bring the Sanderson sisters back to life while performing their yearly Halloween eve ritual.

It screams out as an unfunny SNL-like skit, that offers a thin sketch that is clumsily acted. It's the kind of film that's more a TV comedy sketch than a feature film. It's so lame, I didn't care for even one of the characters.

The story by David Kirschner, Blake Harris and Jen D'Angelo had no soul but loaded-up on banal dialogue. I doubt if you will fondly remember this film next Halloween as a nostalgia piece you can't wait to see again.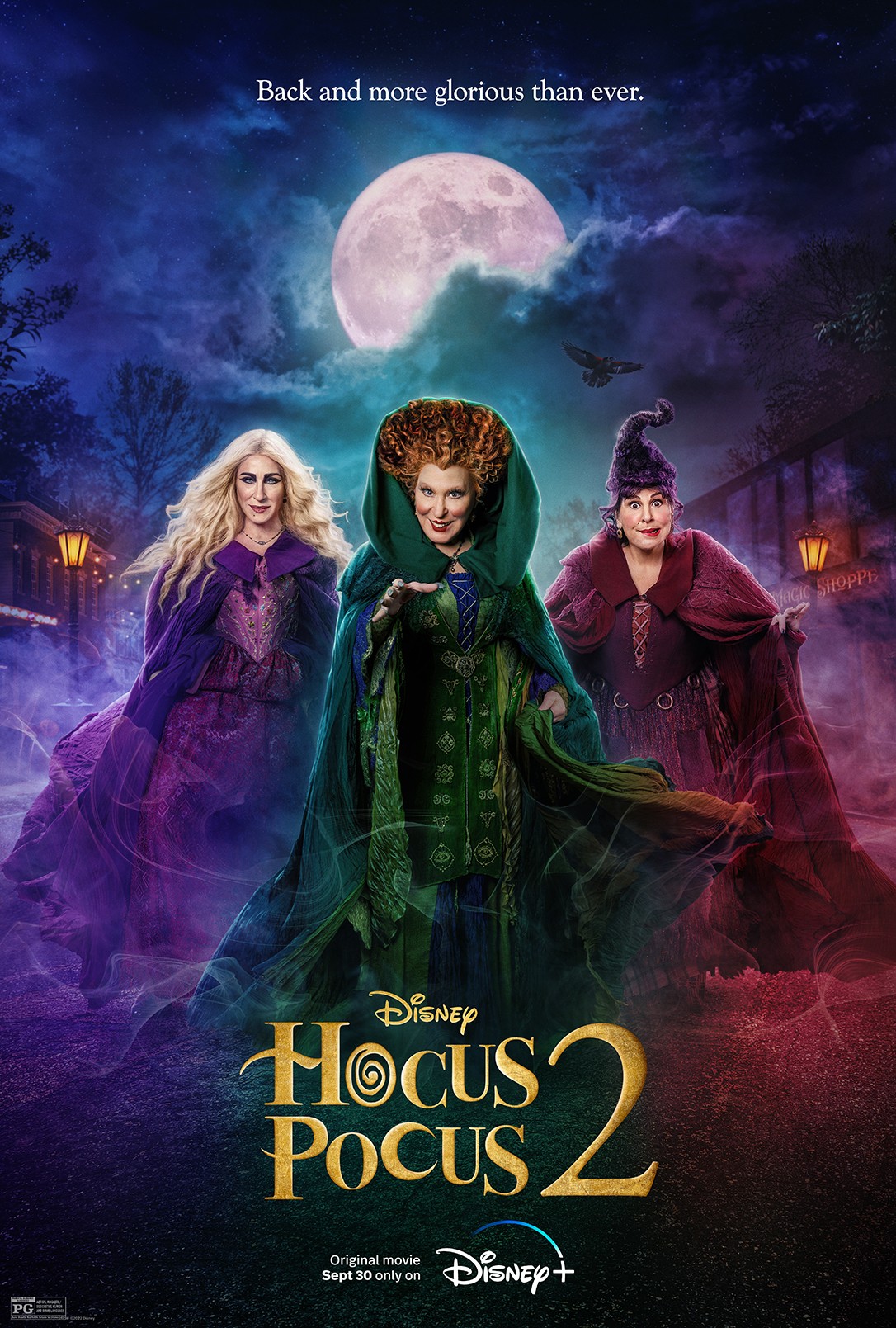 REVIEWED ON 10/2/2022 GRADE: C