CINDERELLA
(director/writer:Kay Cannon; cinematographer: Henry Braham; editor: Stacey Schroeder; music:Mychael Danna, Jessica Rose Weiss; cast: Camila Cabello (Cinderella/Ella), Billy Porter (Fabulous Godmother), Nicholas Galitzin (Prince Robert), Tallulah Grieve  (Princess Gwen), Maddie Baillio (Anastasia), Charlotte Spencer (Drizella), Idina Menzel (Vivian, stepmother), Pierce Brosnan (King Rowan), Minnie Driver (Queen Beatrice), James Corden (James), James Acaster (John), Romesh Ranganathan (Romesh); Runtime: 113; MPAA Rating: PG; producers; Leo Pearlman, James Corden, Jonathan Kadin, Shannon McIntosh: Sony Pictures/Amazon; 2021-UK/USA)
"It differs from the Cinderella tale we may fondly recall from our childhood by its insistence on making the classic fairy-tale more contemporary."
Reviewed by Dennis Schwartz

The familiar fairy tale story is revived to be hip, feminist and obnoxious by the American writer-director Kay Cannon("Blockers"), as it differs from the Cinderella tale we may fondly recall from our childhood by its insistence on making the classic fairy-tale more contemporary and the heroine not pine for love but to be a wealthy fashion designer.

The title role is played with oomph by Camila Cabello, a Cuban pop singer, who is an orphan named Ella. The star has the song and dance moves needed for the musical numbers (in the opening she sings "You're gonna know my name," that has her imagining that one day she will own a bazaar shop called Dresses by Ella) and the elegance for playing Cinderella. But this forgettable narrative is simply put is not as enjoyable or good as the classic.

We have the overbearing stepmother (Idina Menzel), who sings a few forgettable numbers and who is harmfully interfering with Cinderella's life and the life of her stepsisters (Maddie Baillio and Charlotte Spencer), by insisting they only marry rich men.

Meanwhile our heroine, who only craves to be a successful fashion designer (ugh!), gets sound advice from her sassy gender-free queer fairy Godmother (Billy Porter) and through her gets an invite to the king's ball. The materialist heroine shows up at the ball in one of her creations.

The grouchy, insecure King Rowan (Pierce Brosnan) and his also insecure Queen Beatrice (Minnie Driver) decree a ball be held to find a bride for their wayward party-boy son, the handsome Prince Robert (Nicholas Galitzin), who pines for true love.

The film loses its innocent child-like charm with its heavy-handed political messages and loses its movie magic with its ill-fitting musical numbers from such groups as Queen, Ed Sheeran, Salt-N-Peppa, and Earth, Wind & Fire, that are clumsily thrown into the story even if not a good fit.

I prefer to see the fairy-tale made as intended and without so many unneeded annoying twists and smirks from Cinderella. But I would have welcomed the changes if they could actually improve the marvelous classic.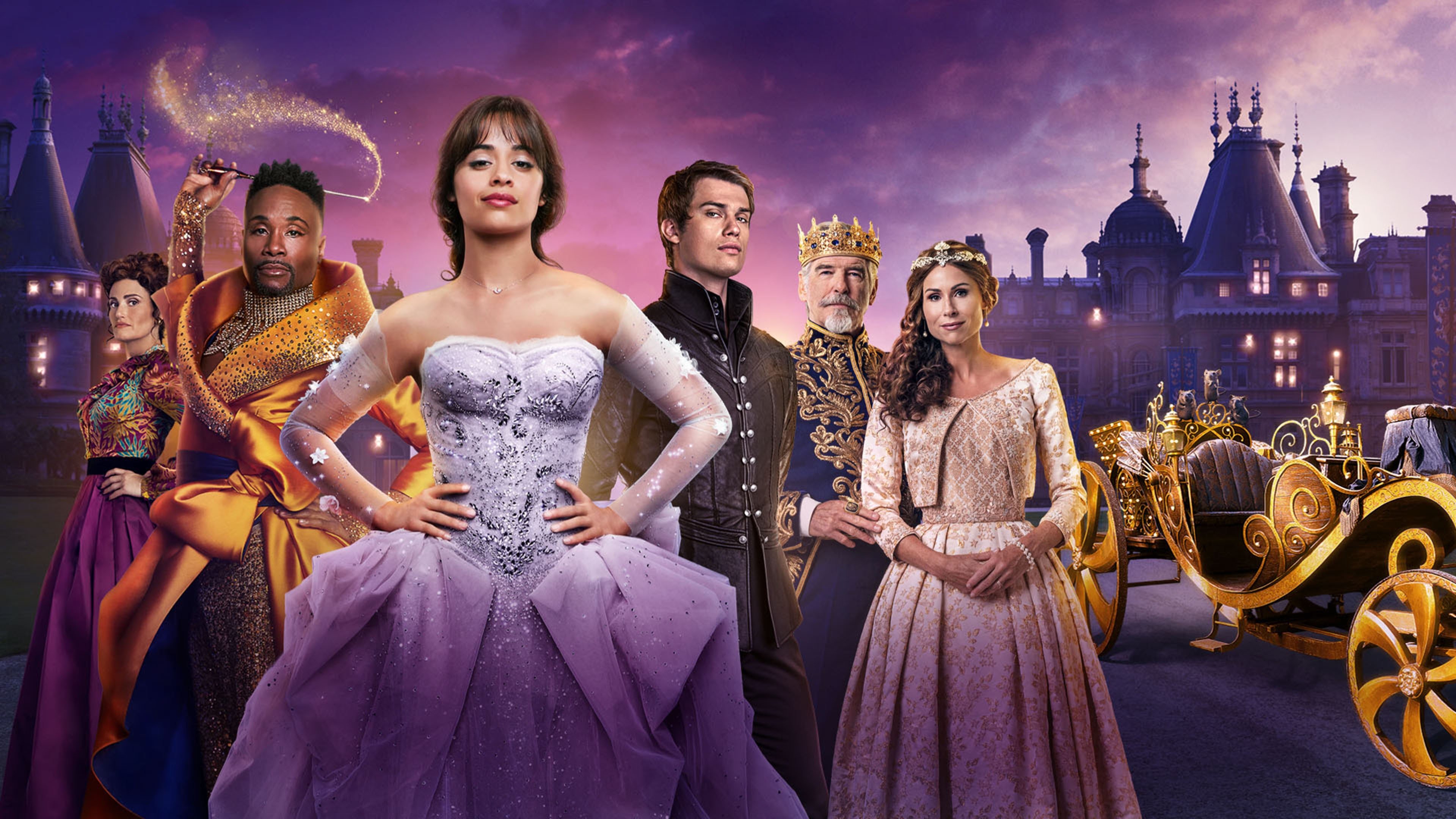 REVIEWED ON 9/10/2021 GRADE: C+