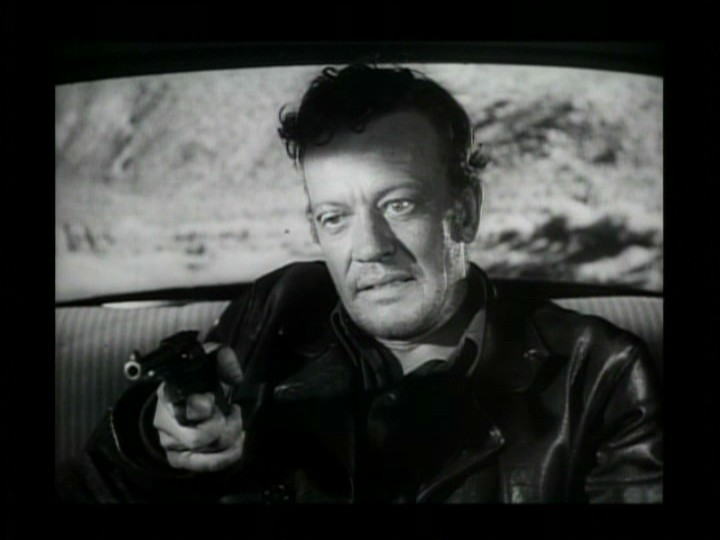 HITCH-HIKER, THE
(director/writer: Ida Lupino; screenwriters: from the unpublished story by Daniel Mainwaring/Collier Young/Robert L. Joseph; cinematographer: John Alton; editor: Douglas Stewart; music: Leith Stevens; cast: Edmund O'Brien (Ray Collins), Frank Lovejoy (Gilbert Bowen), William Talman (Emmett Myers), Natividad Vacio (Jose), José Torvay (Capt. Alvarado); Runtime: 71; MPAA Rating: NR; producer: Collier Young; RKO; 1953)


"Talman's performance as a sadistic sleaze was powerful."
Reviewed by Dennis Schwartz
Ida Lupino's ("The Bigamist") is the co-writer (along with Collier Young) and director of this classic crime thriller. Up until that time the only female to helm a film noir. The Hitch-hiker is arguably Lupino's best work. It's loosely based on a true story of a mass murderer who was executed in San Quentin's gas chamber. Daniel Mainwaring wrote the original story but was too much of a leftist for then RKO boss Howard Hughes, who refused to give him screen credit. It was shown during McCarthy's witch-hunt scare and reflected America's cold war paranoia at the time of strangers, rather than being a warning not to pick up hitchhikers (though after viewing this film, that's not a bad idea!).
Ray Collins (Edmund O'Brien) and Gilbert Bowen (Frank Lovejoy) are regular joes who go on a fishing vacation to Mexico and give hitchhiker Emmett Myers (William Talman) a lift. That turns out to be a big mistake, as he's a wanted desperado from Kansas who hitches rides and then robs and kills his captives. The psychopath forces them at gunpoint to drive him across the Mexican desert to his ultimate safe destination where he plans to catch a ferry and once there he threatens to kill them. Myers never closes one eye due to a deformity, so the captives never know for sure if he's sleeping. Both the chilling isolated desert locale and the claustrophobic car ride, where the car radio tuned into the news of the police hunting down the ex-con, keep the scenario foreboding. The film remains tense throughout and suggests the vics can only survive by remaining cool-headed and waiting for the right moment to try to overtake their demented captor, as it turns into a psychological battle of wills.
It's a pleasure to watch the action unfold without resorting to clichés. Talman's performance as a sadistic sleaze was powerful. His random crime spree strikes at the heart of middle-class America's insecurity about there being no place free of crime.
REVIEWED ON 12/11/2004 GRADE: A-
Dennis Schwartz: "Ozus' World Movie Reviews"
© ALL RIGHTS RESERVED DENNIS SCHWARTZ