HINTERLAND
(director/writer: Stefan Ruzowitzky; screenwriters: Hanno Pinter, Robert Buchschwenter, based on an idea by Pinter; cinematographer: Benedict Neuenfels; editor: Oliver Neumann; music:Kyan Bayani; cast: Murathan Muslu (Prter Perg), Liv Lisa Fries (Dr Theresa Körner), Marc Limpach (Polizeirat Victor Renner), Max von der Groeben (Kommissar Paul Severin),  Margarethe Tiesel (Hausmeisterin Subotic), Stripe Erceg (Bauer); Runtime: 98; MPAA Rating: NR; producers; Oliver Neumann, Sabine Moser, Bady Minck, Alexander Dumreicher-Ivanceanu: Scope Pictures; 2021-Austria-Luxembourg-Belgium-Germany-in German with English subtitles))
"A stylish and enjoyable post-war thriller about a serial killer attacking survivors of the First World War."
Reviewed by Dennis Schwartz

A stylish and enjoyable post-war thriller about a serial killer attacking survivors of the First World War when they're back home in a poverty-stricken Vienna. It's directed and written by the talented eclectic Austrian-born filmmaker Stefan Ruzowitzky ("The Counterfeiters"/"Patient Zero") as a solid anti-war film telling us not to trust our leaders but what's in our hearts. It's based on an idea by Hanno Pinter and is co-written by the director, Pinter and Robert Buchschwenter. Its stylish aesthetics owe much to the films of the 1920s German Expressionist movement (think of Fritz Lang's 1927 Metropolis).

In the 1920s, there's the somber arrival in a depressed Vienna of a boat with soldiers from the losing German/Austrian side who either barely survived or were tortured nearly to death or did not survive the Great War after imprisoned in a cruel Russian camp.

The Austrian war hero Peter Perg (Murathan Muslu), in civilian life a criminologist, fought gallantly for his emperor and spent many years in captivity as a prisoner. While still haunted by his bitter memories of the war and of fighting in the trenches, and trying to get over his wartime nightmares he has come to mistrust government leaders.  He's not only disillusioned by the war but by the shitty way he's treated by the new government, a republic. To get relief from his tensions, he teams up with the detective Renner (Marc Limpach) and pathologist Theresa Korner (Liv Liese Fries) to find the killers and to see if he can learn of their motives.

The murders are horrific–one vic has been decapitated, another pierced with 19 stakes and yet another has been garrotted. Peter while investigating also becomes a victim of the madman.

This unique anti-war war film played at the Locarno Film Festival, where it was well-received. It prefers to sell itself as an action pic rather than as an introspective film.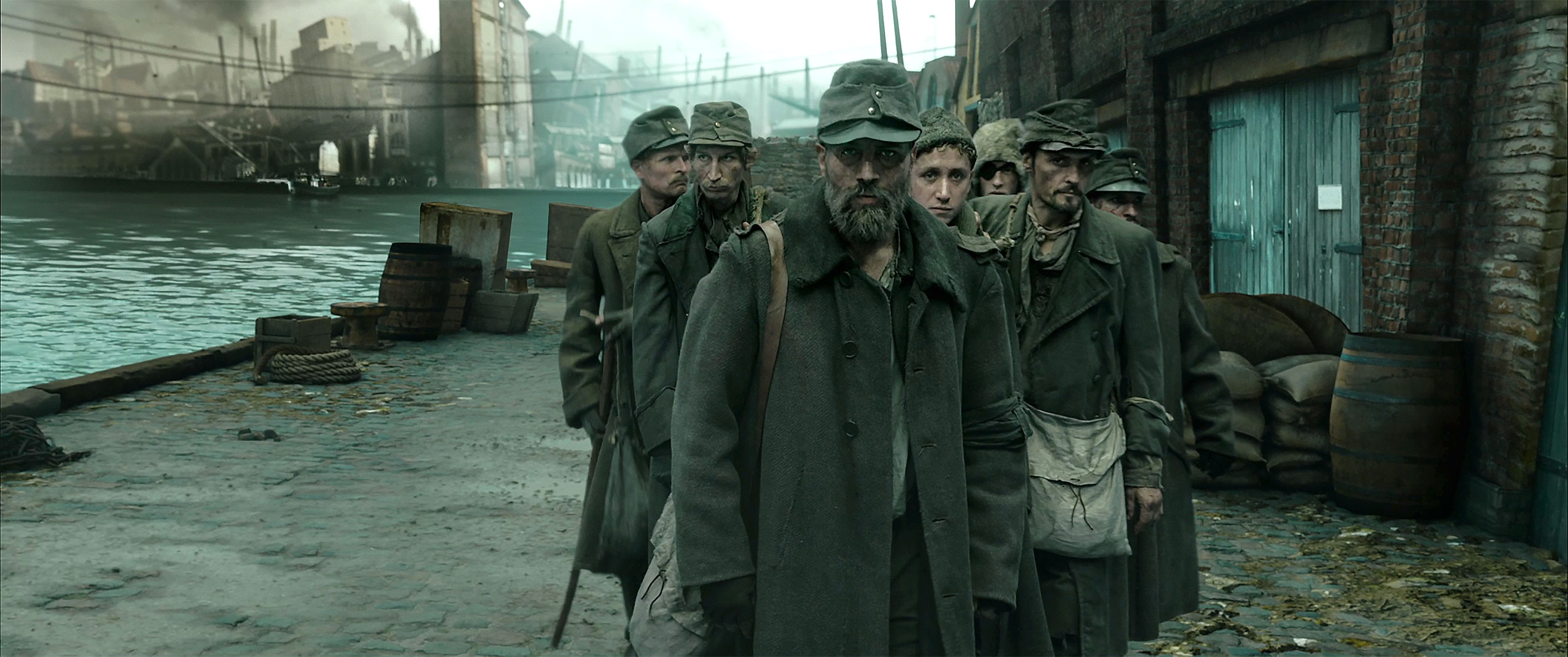 REVIEWED ON 10/18/2021 GRADE: B+