HILL, THE
(director/writer: Jeff Celentano; screenwriters: Angelo Pizzo, Scott Marshall Smith; cinematographer: Kris Kimlin; editor: Douglas Crise; music: Geoff Zanelli; cast: Dennis Quaid (Pastor Hill), Colin Ford (Rickey Hill), Joelle Carter (Helen Hill), Randy Houser (Ray Clemons), Jesse Berry (Young Rickey), Bonnie Bedelia (Gram), Scott Glenn (Red Murff); Runtime: 126; MPAA Rating: PG; producers: Warren Ostergard, Jeff Celentano; Briarcliff Entertainment; 2023)
"The story is filled with cliches, clunky dialogue and speechifying lifted from Bible verses."
Reviewed by Dennis Schwartz

Jeff Celentano ("Glass Jaw"/"Breaking Point") directs and co-writes with Angelo Pizzo (writer of Rudy) and the late Scott Marshall Smith, this contrived inspirational faith-based sports drama based on a true life story. Unfortunately it's a hollow drama filled with a cornball religious message and a corny agenda-driven story.

Rickey Hill (Jesse Berry) was born with a degenerative disorder and wears leg braces. His overbearing Baptist pastor father, James (Dennis Quaid), won't let him play baseball, the game he loves, because he can't afford to buy him baseball equipment and his religious beliefs convince him that God has other plans for him–like following his footsteps to be a preacher.

When Rickey's a teenager (now played by Colin Ford) the lad still dreams of being a Major League ballplayer. Red Murff (Scott Glenn), the once great pitcher now a manager, scouts him at a tryout camp and believes he might have the ability to make it to the Bigs.

The kid gets signed to a Minor League contract and struggles to deal with his physical ailments and his hostile dad, who never attends any games, but the kid still incredibly makes it to the Majors with the Montreal Expos, where he plays for three months (too bad the movie about him wasn't as incredible as that experience).

The story is filled with cliches, clunky dialogue and speechifying lifted from Bible verses. Everything about the film was strained.

The only thing saving it from being any worse is that Quaid and Glenn are professional actors and deserve some respect for trying to make a go of such dreck.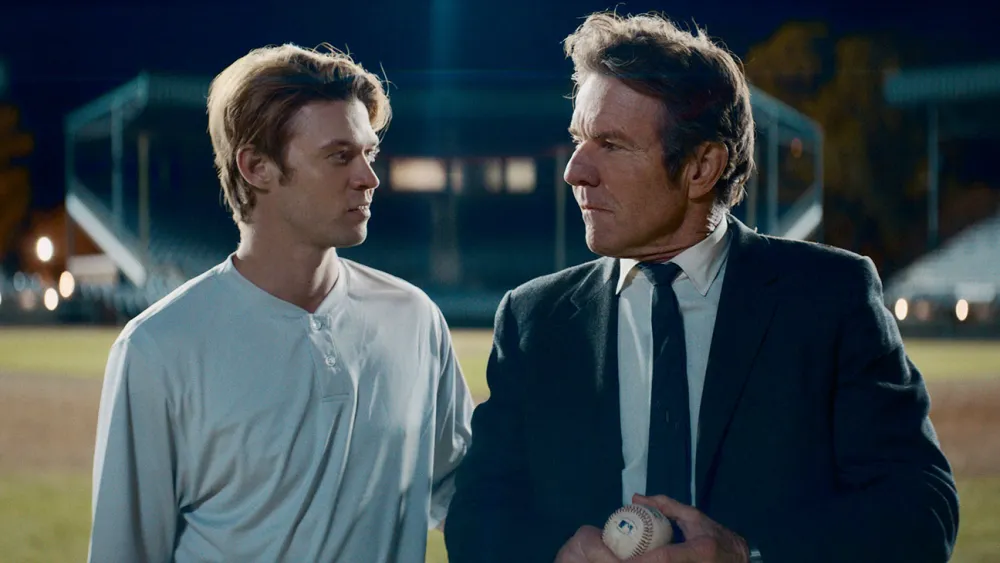 REVIEWED ON 9/1/2023  GRADE: C-