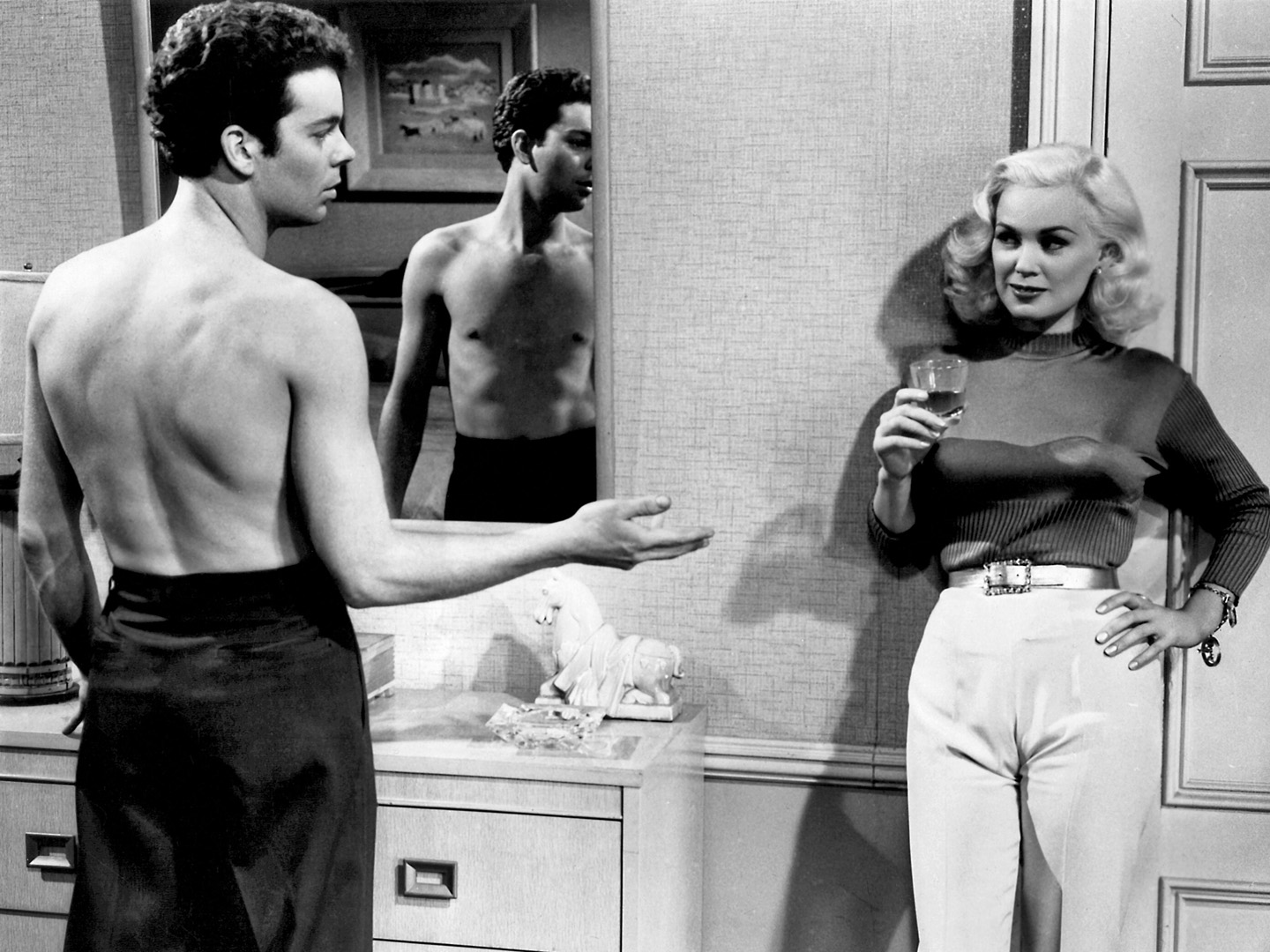 HIGH SCHOOL CONFIDENTIAL!
(director: Jack Arnold; screenwriters: from a story by Robert Blees/Robert Blees/Lewis Meltzer; cinematographer: Harold J. Marzorati; editor: Ben Lewis; music: Albert Glasser; cast: Russ Tamblyn (Tony Baker, aka Mike Wilson), Jan Sterling (Arlene Williams), John Drew Barrymore (J.I. Coleridge), Mamie Van Doren (Gwen Dulaine), Diane Jergens (Joan Staples), Ray Anthony (Bix) Jerry Lee Lewis (Himself), Jackie Coogan (Mr. A), Lyle Talbot (William Remington Kane), Michael Landon (Steve Bentley), Phillipa Fallon (Poetess), Charles Chaplin Jr. (Quinn / Undercover Detective), William Wellman Jr. (Wheeler-Dealer), James Todd (Mr. Staples), Charles Halton (W.O. Robinson, High School Principal), Burt Douglas (Jukey Judlow), Jody Fair (Doris, junkie), Mel Welles (Bill O'Flair), Kathy Reed (Mary Jane), Helen Kleeb (Miss Dodge, Principal's Secretary); Runtime: 85; MPAA Rating: NR; producer: Albert Zugsmith; MGM; 1956)
"A most ridiculous classic cult teen-exploitation film about juvenile delinquents in the 1950s, but not without being entertaining."
Reviewed by Dennis Schwartz
A most ridiculous classic cult teen-exploitation film about juvenile delinquents in the 1950s, but not without being entertaining. It was marketed as an anti-drug film, but has a field day exploiting the hysteria over marijuana, teen gangs, lack of school discipline, slang, drag racing, Bad Girls acting out and, believe it or not, beatnik poetry. Noted schlockmeister producer Albert Zugsmith does his usual sleaze by making a cheesy pic that is loud and vulgar. Jack Arnold ("It Came From Outer Space"/"Tarantula"/"Creature From The Black Lagoon") helms it as if he was on a word count to get in the most hep cat expressions he could, as if such jive would make everyone look cool. Since the silly drug story doesn't seem to be enough for these filmmakers, we get to see Jerry Lee Lewis during the opening credits singing the title song on the back of a pickup truck and the buxom Mamie Van Doren playing a bad parent to her nephew who comes on to her charge with some purring while he's changing clothes. This dumb tale even has the nerve to warn teens to stay away from weed, it tells them if they most smoke instead to smoke the much safer cigarettes (now, that's some good advice for junior!).
Due to a drug ring working the community, police agent Mike Wilson (Russ Tamblyn) goes undercover as Tony Baker. He's posing as a troublesome older high school student transferring from a Chicago school into Santa Bella high school. Tony carries a switchblade and is a tough talking bad-ass, who on his first day of school manages to antagonize the principal, the principal's secretary, the progressive teacher (Jan Sterling), the teen gang leader of the Wheeler-Dealers (John Drew Barrymore, Drew Barrymore's dad), the gang leader's druggie girlfriend Joan Staples (Diane Jergens) and the audience with his arrogant and obnoxious bravado attitude.
After Tony flashes around money and puts the word out he's interested in scoring not only weed but heroin, he tracks down for a business deal Mr. A. (Jackie Coogan), the boss of the drug operation, who is a solid citizen and owner of the local club where the kids hang out. Making the deal while wired, leads to all the drug dealers being brought down. From this, we learn from the narc that hard drugs are the inevitable result of marijuana addiction.
My favorite moment in the film came when poetess Phillipa Fallon recites the following poem at the local club.
They cry put down pot, don't think a lotFor what? Time, and how much you do with itSleep, man, and you might wake upDiggin' the whole human raceGiving itself three days to get out.Tomorrow is a drag, PopsThe future is a flake.
REVIEWED ON 3/28/2008 GRADE: C-