HESTER STREET
(director/writer: Joan Micklin; screenwriter: based on the novella Yeki by Abraham Cahan; cinematographer: Kenneth Van Sickle; editor: Katherine Wenning; music:Herbert L. Clarke; cast: Steven Keats (Jake), Carol Kane (Gitl), Mel Howard (Bernstein), Dorrie Kavanaugh (Mamie), Doris Roberts (Mrs. Kavaesky), Anna Berger (Poultry Woman), Ed Crowley (Inspector), Paul Freedman (Joey), Sol Frieder (Scribe), Lauren Frost (Fanny), Martin Garner (Boss), Zane Lasky (Greenhorn) Stephen Strimpell (Yossele, soon to become Joe Peltner); Runtime: 89; MPAA Rating: PG; producer; Raphael D. Silver: Midwest Films/Home Vision Entertainment; 1975-B/W-in English and Yiddish with English subtitles)
"Invigorates the immigrant story of the great emigration of Eastern European Jews in the 1890s to America."
Reviewed by Dennis Schwartz

A box-office successful arthouse indie. Director-writer Joan Micklin ("Crossing Delancey"/"Loverboy"), in her directing debut, invigorates the immigrant story of the great emigration of Eastern European Jews in the 1890s to America with most settling on the Lower East Side of Manhattan. It's based on the 1896 novella Yeki by Abraham Cahan. The film is gloriously shot in B/W.

It centers on the Russian immigrant Jake (Steven Keats) who is first in his family to come to America. He quickly assimilates and works as a $12/week seamster, and has an affair with the dancer Mamie (Dorrie Kavanaugh). He sends for his wife Gitl (Carol Kane) and son (Stephen Strimpell) to come, after saving up enough, but she has trouble assimilating.

They settle on Hester Street. When Gitl finds out through a neighbor that her husband is having an affair, she divorces him and marries the old fashioned intellectual Russian immigrant Bernstein (Mel Howard), a boarder in her apartment. Meanwhile Jake marries his lover.

The American Dream story prevails, as the film paints an accurate picture of life on Hester Street back then. What it lacks is artful camera work and a telling of the story in a more imaginative way (also, the pace was too slow). Though it catches how the immigrant had to adjust to their new country and the better they did the more success they had, it leaves out a lot of other issues the immigrant faced.

Kane received an Oscar nomination for her performance.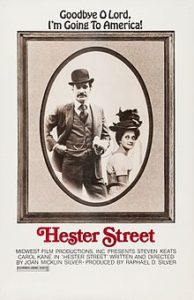 REVIEWED ON 3/28/2022 GRADE: B