HELL FEST
(director: Gregory Plotkin; screenwriters: Seth Sherwood/Blair Butler/Akela Cooper/story by William Penick, Chris Sey, Stephen Susco; cinematographer: Jose David Montero; editors: Gregory Plotkin/David Egan; music: Bear McCreary; cast: Amy Forsyth (Natalie), Bex Taylor-Klaus (Taylor), Reign Edwards (Brooke), Stephen Conroy (The Other), Matt Mercurio (Asher), Roby Atal (Gavin), Tony Todd (The Barker), Christian James (Quinn); Runtime: 89; MPAA Rating: R; producers: Gale Anne Herd/Tucker Tooley; Lionsgate/Tucker Tooley Studio; 2018)
"Can frighten you only because it's so bad."
Reviewed by Dennis Schwartz
Filmmaker Gregory Plotkin ("Paranormal Activity:The Ghost Dimension") directs a dull copycat Halloween slasher film that is so bad it can scare you with just how simple-minded, twisted and ghoulish it is. Even the screenplay by Seth Sherwood and Blair Butler and the story by William Penick, Chris Sey and Stephen Susco can frighten you only because it's so bad. The plot is slight and is built around its promising premise that the victim and bystanders may not realize whether the slasher killings are real or not, as the scares might be part of the festival's schlocky act.

A serial killer known as The Other (Stephen Conroy) kills at the same event two years ago and returns to the traveling carnival fright show, called Hell Fest, held in this unnamed town every Halloween, where he dresses in a hoodie and wears a fright mask as he roams the crowd openly carrying a big knife as he looks for unaware vics to slash to death.

On Halloween Eve a bunch of bland college students are given VIP bracelets to attend Hell Fest, which is a festival consisting of themed haunted houses, ghoulish rides, games and mazes. The barker (Tony Todd) orchestrates scares with his costumed actors mingling with the paying customers as they walk around the fairgrounds.

The coeds with the VIP bracelets for the Hell Fest, obtained by Gavin (Roby Atal), are the out-of-town college student visitor Natalie (Amy Forsyth) and Brooke (Reign Edwards), childhood best friends, and Brooke's new goofy and snarky roommateTaylor (Bex Taylor-Klaus).Taylor and Natalie are not cool with each other, which is the only personal conflict that's revealed in the film.
Brooke brings to the Hell Fest her steady boyfriend Quinn (Christian James), Gavin is courting Natalie, while Taylor is accompanied to the horror show by her long-time beau Asher (Matt Mercurio).

The killer stalks one unidentified girl victim and kills her in view of Natalie, who is not sure if it's an act or real. The sicko killer thinks Natalie's a smarty-pants who knows it all about horror theme park scares and puts his energy into stalking her and her friends.Though the killer favors using his knife, in one murder the victim's head is smashed in with the mallet used to get the bell to ring for a strength-testing game.

If there's anything good to say about the conventional old-fashioned fright film, it has to do with the carefully worked-out detailed production design from Michael Perry. Each set piece brings to mind a different style of horror film tradition. Also shooting it with a mix of bright colors and the nighttime shadows at the amusement park, give it a distinctive eerie festival atmosphere that catches your eye. Other wise this cynical film of one bloody night of terror has been used in too many similar witless, low-brow teen slasher films to cause a stir.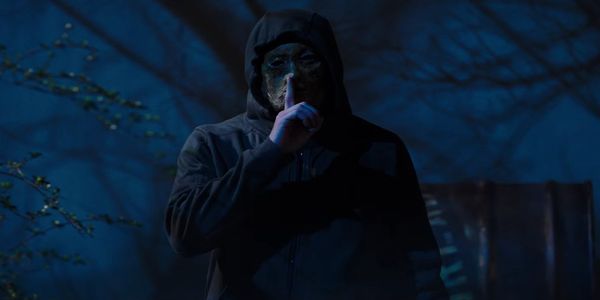 REVIEWED ON 11/10/2019 GRADE: C https://dennisschwartzreviews.com/