BLESS ME FATHER
(director/writer: Gianni McLaughlin; screenwriter: Milly-May McLaughlin; cinematographer: Owen Strock; editor: Gianni McLaughlin; Milly-May McLaughlin music: Allen & Randy Lynch, Dexter Dine; cast:  Gianni McLaughlin (Vinny Dapello), Paris Branda (The Don), John Barnett (Trulove), Giacomo Vanacore (Antonio), Bekim Bujari (Gino), Betim Bujari (Nino), Joseph McLaughlin (Father Joe), Lorenzo Landi (Lorenzo), Milly-May McLaughlin (Tina), John Cuomo (Pop), Yolanda Cuomo (Maria, mom); Runtime: 91; MPAA Rating: NR; producers: Gianni McLaughlin, Milly-May McLaughlin; Filmhub/Prime Video; 2023)
"It plays out as a mob tale with a heart about a hitman for the Italian mafia wanting to quit after turning uneasy about his job being amoral."
Reviewed by Dennis Schwartz
 
Gianni McLaughlin stars, directs and co-writes with his wife Milly-May McLaughlin this fine indie crime drama (well-acted and produced).

It's about the mob, the Catholic Church and of being raised in New Jersey. The entire cast of professionals and non-professionals are from New Jersey. It plays out as a mob tale with a heart about a hitman for the Italian mafia wanting to quit after turning uneasy about his job being amoral.

The film begins with its last scene and veers back and forth in flashback until it returns in the end to its beginning scene.

Vinny Dapello (Gianni McLaughlin) is a hitman for the New Jersey Italian mob, who confesses his sins to Father Joe (Joseph McLaughlin, Gianni's real father).

We learn Vinny was ripped off by a Colombian drug lord, who threatens to kill him if not paid the money he's owed. Vinny thereby turns for help to his mob connected friend Antonio (Giacomo Vanacore, Gianni's god-brother), who hooks him up with the don (Paris Branda). There's no problem in hiring him since Vinny's father was in that mob family and was well-received. The don takes him on as soldier after he vows total obedience to him. That turns out to be a mistake, which is the point of the story.  

We learn that the film got made when Gianni McLaughlin, the guy from Hoboken, met Tina (Milly-May McLaughlin), the gal from East London, during a rehearsal for the off-Broadway play "D.O.A" and a love at first sight romance ends in marriage five months later in August 2020. When the expensive wedding reception is cancelled because of COVID, they put the money for the wedding that was saved into making this film. The film was shot over a six-week period, during the height of the COVID period, when there was a lock-down. Thereby the film shoot was able to provide a strong sense of community because the cast and crew were either family or friends, and they loved being together making it.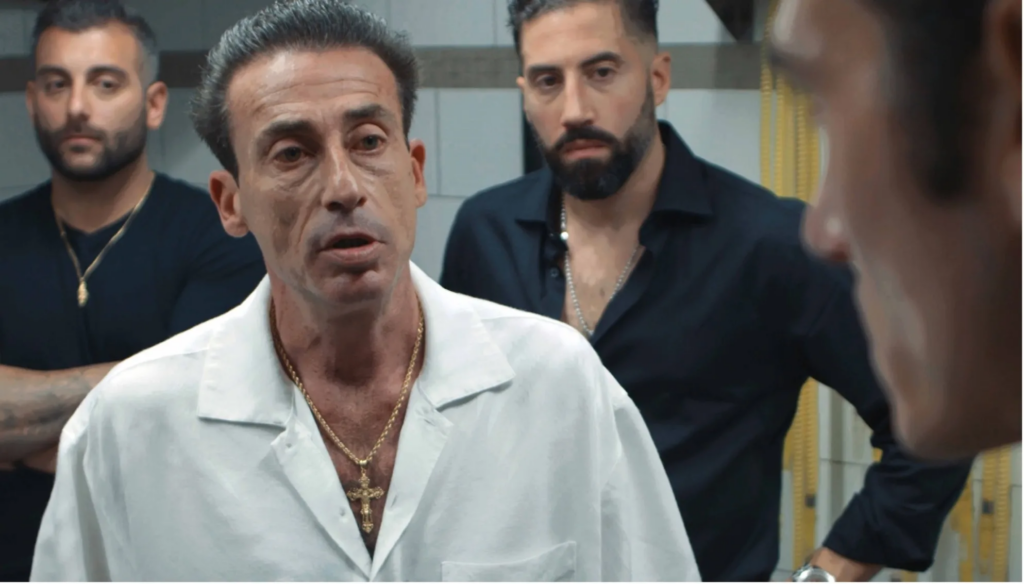 REVIEWED ON 10/25/2023  GRADE: B-