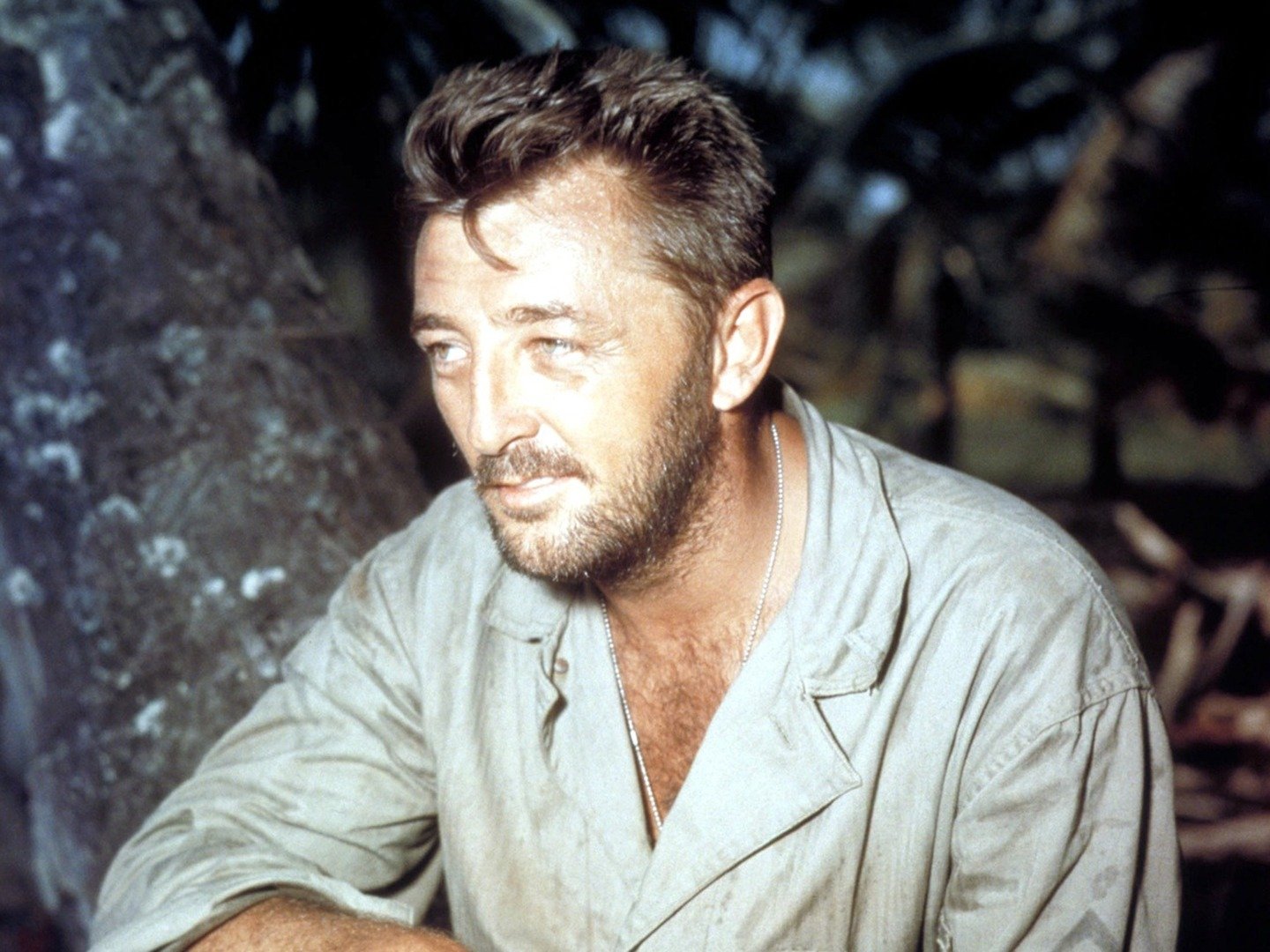 HEAVEN KNOWS, MR. ALLISON
(director/writer: John Huston; screenwriters: from the novel by Charles Shaw/John Lee Mahin; cinematographer: Oswald Morris; editor: Russell Lloyd; music: George Auric; cast: Robert Mitchum (Mr. Allison), Deborah Kerr (Sister Angela); Runtime: 105; MPAA Rating: NR; producer: Buddy Adler/Eugene Frenke; 20th Century Fox; 1957)

"Superb performances by Deborah Kerr and Robert Mitchum help make this lightweight survival pic a small gem."
Reviewed by Dennis Schwartz
John Huston("Key Largo"/"The Maltese Falcon"/"The Treasure of the Sierra Madre") directs this sequel to his The African Queen. It's adapted to the screen by Huston and John Lee Mahin from the novel by Charles Shaw. Superb performances by Deborah Kerr and Robert Mitchum help make this lightweight survival pic a small gem.
In the South Pacific, in 1944, Marine Corporal Allison (Robert Mitchum), after his unit was hit at sea by Japanese depth-chargers, drifts alone on a raft to this isolated Japanese-occupied island and meets the island's sole inhabitant, a feisty Irish nun, clad in a white habit, named Sister Angela (Deborah Kerr). The nun explains she came to the island with the elderly Father Philips to look for a priest living here to take him back with them to safety in Fiji Island, but could not find him. The boat they hired from the natives abandoned them out of fear of the Japanese, as they searched the island. The next day father Philips died.
Allison proposes they fix the raft up to take them 300 miles to Fiji, but the plan is put on hold when they are forced to live in a cave as a battalion of Japanese soldiers land on the island to set up a base camp.
The educated mannered nun and the poorly educated orphan Marine bond and relate tidbits about their life. When they are discovered by the Japanese, they survive only because of Allied bombers.
The genial and tasteful World War II yarn about opposites marooned on a small Pacific island might be predictable, but it's entertaining, humorous and makes for a good character study.
REVIEWED ON 11/10/2013 GRADE: B+