HEARTS AND BONES
(director/writer: Ben Lawrence; screenwriter: Beatrix Christian; cinematographer: Hugh Miller; editor: Philip Horn; music: Rafael May; cast: Hugo Weaving (Dan Fisher), Andrew Luri (Sebastian Ahmed), Hayley McElhinney (Josie Avril), Bolude Watson (Anishka Ahmed), Alan Dukes (Graham Fisher); Runtime: 107; MPAA Rating: R; producer: Matt Reeder; Caravan Pictures; 2019-Australia)
"Engaging human drama."
Reviewed by Dennis Schwartz
The title comes from a reference to Paul Simon's 1983 album of the same name.

Aussie director Ben Lawrence ("Ghosthunter") helms with great care and tenderness this engaging human drama about an Aussie war photographer, Dan Fisher (Hugo Weaving), who befriends a South Sudanese refugee, Sebastian Ahmed (Andrew Luri), in the racially diverse section of Western Sydney. Despite their differences the two bond because they find they still have much in common. The thoughtful film, cowritten by Lawrence and Beatrix Christian, reflects deeply on the current critical issue of immigrants to Australia and asks what ethical decisions must journalist make when reporting on sensitive subjects. But it's mostly about an improbable friendship that blooms between a white Aussie and a black immigrant from a lower social class.

Acclaimed Aussie war photographer Dan Fisher has returned from a war assignment abroad and is reuniting at home with his pregnant former ballet dancer wife Josie Avril (Hayley McElhinney). They are interrupted by a stranger knocking on their apartment door, Sebastian Amad (Andrew Luri, newcomer), an immigrant from South Sudan, employed as a commercial laundry worker with a night job driving a cab. He's married to Anishka (Bolude Watson) with a young child and another on the way.

On a previous radio broadcast, the visitor hears the photo-journalist promote his new book and upcoming exhibition that will include images from a massacre 15 years before in Amad's South Sudanese town of Maridi, during which the refugee lost his first wife, two sons and a daughter. Amad's partner knows nothing of this, and he wants to keep it that way. Plus the pictures still have a deep effect on him, as do the memories he doesn't want to stir up.

The stressed-out Dan understands this, as he's become wary of the show, so he surprisingly shows the photos to the visitor and promises to consider his request. Because of this meeting a friendship grows between them.

The driving force of the film was the sensitive performance by Australia's great actor Hugo Weaving.

Ben Lawrence's late dad was the noted filmmaker Ray Lawrence ("Bliss" /Lantana"/"Jindabyne"), whose social realist films were viewed by many critics as being on par with the greats such as Ken Loach, Mike Leigh and Michael Winterbottom.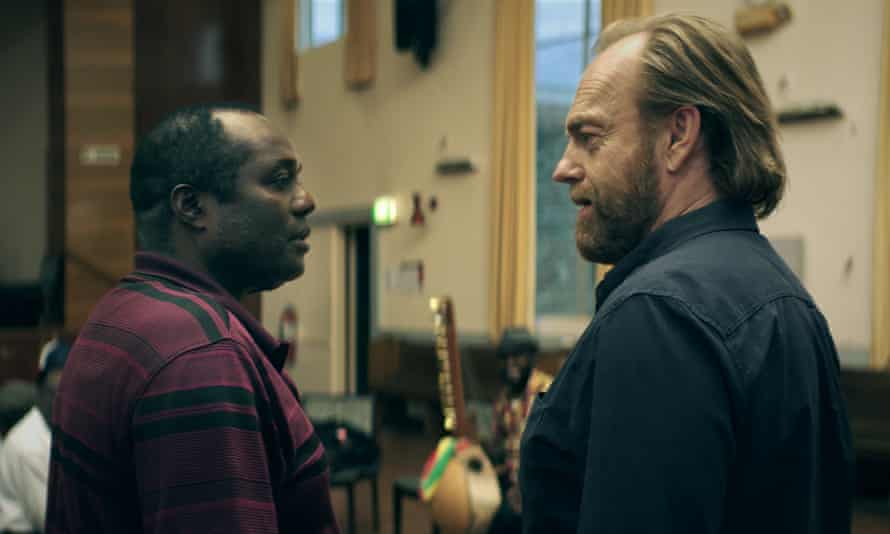 REVIEWED ON 1/17/2020 GRADE: B+ https://dennisschwartzreviews.com/