HALLOWEEN KILLS
(director/writer: David Gordon Green; screenwriters: Scott Teems, Danny McBride; cinematographer: Michael Simmonds; editor: Tim Alverson; music:John Carpenter, Cody Carpenter, Daniel Davies; cast: Jamie Lee Curtis (Laurie Strode), Judy Greer (Karen), Andi Matichak (Allyson), Will Patton (Deputy Frank Hawkins), Thomas Mann (Young Hawkins), Anthony Michael Hall (Tommy Doyle), Dylan Arnold ( (The Shape), Cameron Elam), Robert Longstreet (Lonnie Elam), Kyle Richards (Lindsey Wallace), Nancy Stephens (Marion Chambers), Charles Cyphers (Sheriff Brackett), James Jude Courtney (The Shape), Nick Castle (The Shape), Airon Armstrong (The Shape), Omar J. Dorsey (Sheriff Barker), Michael McDonald (Little John), Scott MacArthur (Big John), Diva Tyler (Sondra), Tom Jones Jr. (Dr. Samuel Loomis), Carmela McNeal (Vanessa), Michael Smallwood (Marcus), Jibrail Nantambu (Julian); Runtime: 106; MPAA Rating: R; producers; Malek Akkad, Jason Blum, Bill Block: Universal; 2021)
"This revolting slasher film, long past its former glory days,  gets no treats when unmasked."
Reviewed by Dennis Schwartz

Another below average sequel (the 12th) derived from John Carpenter's 1978 landmark B-film original. This version has nothing to recommend it but plenty of nostalgia and violence (a high body count), as helmed by indie and mainstream filmmaker David Gordon Green("Stronger"/"George Washington"). What's missing are the real scares and any kind of mystique from the original. It's scripted by Scott Teems, Danny McBride, and Green (who worked with Green on the reboot). The writers show how the Halloween killer is now viewed as a domestic terrorist arousing a collective hatred even among ordinary Americans.

In 2018, Green, according to most critics (not me, I didn't think much of the reboot), successfully rebooted the dying slasher franchise when it supposedly had nothing more to say about the original and he gave it something more to say by mimicking how cool it was to film the original's fright scenes.

Once again Green revisits suburban Haddonfield, Illinois, the place where all this holiday scare nonsense began, as it picks up right after the last film, with the original babysitter Jamie Lee Curtis's Laurie Strode, now a grandmother, some 40 years later, being rushed to the hospital after having trapped Michael Myers in her trick basement and burned him alive. But for some reason Green gets away from the previous film's winning retro formula, as the Halloween psychopath killer lives on to terrorize the town once again, just like he always does on Halloween Eve, and does it this time armed with a fireman's axe.

The indestructible killer Michael Meyers is played by characters called The Shape (James Jude Courtney/Nick Castle/Airon Armstrong). We see that he was not killed by Laurie like he was not killed in all the other "Halloween" installments, and proceeds to go on his latest slasher rampage. The sequel fuses the tropes of today with those from the original film, and it doesn't work even if it should.

Tommy Doyle (Anthony Michael Hall) is the surviving kid of the two kids Laurie was babysitting on that fateful 1978 Halloween night, who is now a middle-aged adult speaking seriously in front of a costumed crowd at a bar, there for a talent-show, to tell them to "Please join me in commemorating the victims, and the survivors, of that Halloween." The growing list of victims this time will include a middle-aged biracial couple and a gay couple, named Big John (Scott MacArthur ) and Little John (Michael McDonald), who live in Michael Myers' old house. Before their demise, the two vics spend Halloween night eating hors d'ouevres, getting high on weed and watching "Minnie and Moskowitz."

An angry Tommy leaves the bar with a baseball bat and with a crowd walking behind him he has fired up with blind hate, as he marches from the bar to the hospital. The mob starts to chant "Evil dies tonight!" But the vigilante mob targets the wrong loony, who just escaped from the local mental institution.

This revolting slasher film, long past its former glory days, gets no treats when unmasked. Too bad it couldn't come up with a good story line for Curtis to do her thing, as the main acting chores are turned over instead to the ones playing her daughter (Judy Greer) and granddaughter (Andi Matichak), and their characters are not as interesting and they're not as polished as Curtis as actors.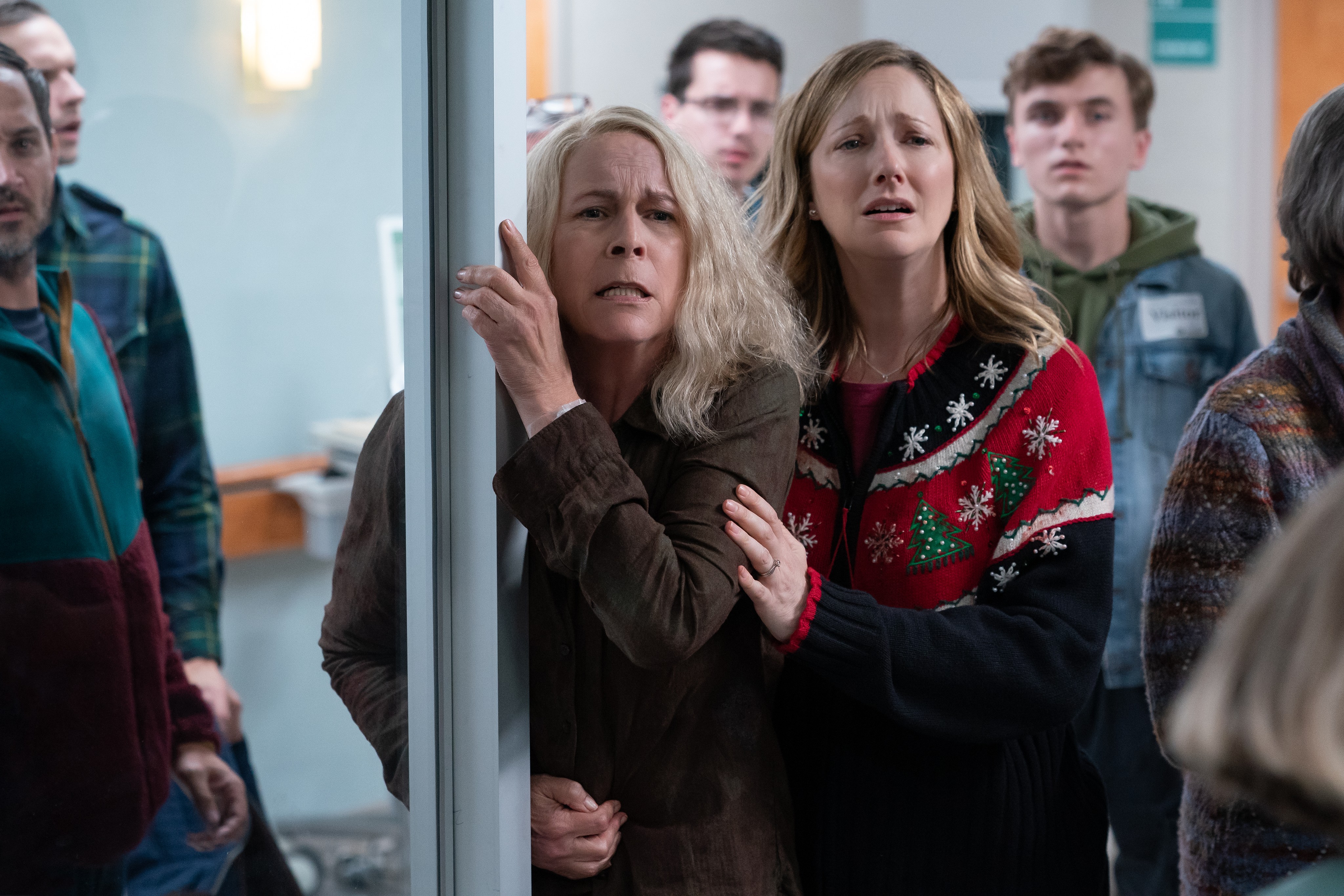 REVIEWED ON 10/10/2021 GRADE: C+