GUILTY, THE
(director: Antoine Fuqua; screenwriters:Nic Pizzolatto/Gustav Möller/Emil Nygaard Albertsen/based on the film "The Guilty"directed by Gustav Möller and written by Möller, Emil Nygaard Albertsen; cinematographer: Maz Makhani; editor: Jason Ballantine; music: Marcelo Zarvos; cast: Jake Gyllenhaal (Joe Baylor), Riley Keough (voice-Emily Lighton), Peter Sarsgaard (voice-Henry Fisher), Ethan Hawke  (voice-Sgt. Bill Miller), (Paul Dano-Matthew Fontenot), Christiana Montoya (Abby), Da'Vine Joy Randolph (voice-CHP dispatcher), Edi Patterson (Voice of Katherine Harbor, reporter of the LA Times), Gillian Zinser (Voice-Jess Baylor), David Castaneda (Tim Girachi), Christina Vidal Mitchell (Sgt. Denise Wade), Eli Goree (Rick); Runtime: 91; MPAA Rating: R; producers; Antoine Fuqua, Scott Greenberg, Jake Gyllenhaal, David Haring, David Litvak, Michel Litvak, Riva Marker, Svetlana Metkina, Kat Samick, Gary Michael Walters: Netflix; 2021)
"The original needed no improvement, but the star edgy performance by Jake Gyllenhaal gives the remake a boost."
Reviewed by Dennis Schwartz

The tense thriller by Antoine Fuqua ("The Equalizer"/"Southpaw") is the American version of the 2018 Denmark film that was directed by Gustav Möller and written by Möller & Emil Nygaard Albertsen. The original needed no improvement, but the star edgy performance by Jake Gyllenhaal gives the remake a boost. It's now set in L.A..

Writer Nic Pizzolatto rewrites the new version, whereby the screen mostly has on it a one-man performance by suspended cop, Joe Baylor (Jake Gyllenhaal), who while awaiting trial the next morning is assigned in a dispatch center to be the 911 emergency call operator at night. His desk is in one of the two rooms in the center, where he sits by his computer and answers calls from those he only hears and never sees.

After receiving a number of calls he doesn't deem to be serious–from crackpots and jokers, and one from his recently estranged wife (voice of Gillian Zinser) and another from his Sargent boss (voice of Ethan Hawke), both asking about the upcoming court hearing, he finally gets a real emergency call  from a woman named Emily (voice of Riley Keough) who pretends to be talking to her 6-year-old daughter Abby (Christiana Montoya), Emily manages to communicate that she's been kidnapped, and that she's in a white van. But the connection is cut off.

Joe feels it's on him to save her from the kidnapping even he can't move from the desk and the center doesn't have the resources to go into action.

Though it's beyond me why a perfectly good film is remade, nevertheless even if the film follows the same spare formula, it's well-done, offers some good insights about a rescue mission and is an enjoyable escapist thriller about a tortured soul trying to help someone who desperately needs his help.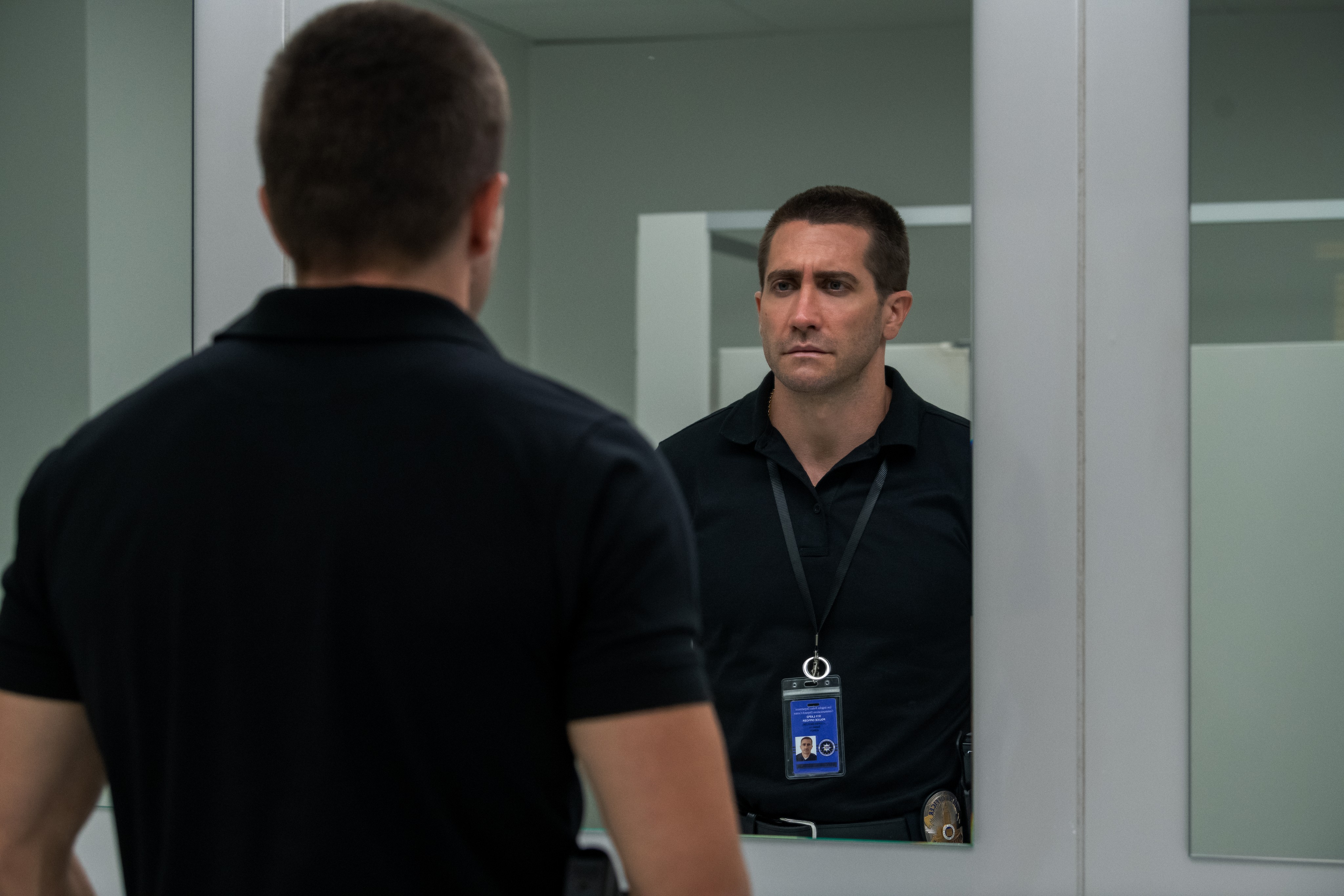 REVIEWED ON 9/25/2021 GRADE: B