GREAT TRAIN ROBBERY, THE
(director/writer: Edwin S. Porter; screenwriter: based on 'The Great Train Robbery' by Scott Marble; cinematographers: Edwin S. Porter/Blair Smith; music: Robert Israel-new score; cast: Justus D Barnes, Gilbert M 'Broncho Billy' Anderson, Frank Hanaway, John Manus Dougherty Sr.; Runtime: 10; MPAA Rating: NR; Kino Video; 1903-silent)
"
"The most widely viewed picture of its time."
Reviewed by Dennis Schwartz
Former Edison Company cameraman Edwin S. Porter ("The Eternal City"/"The House of Cards"/"The Gay Shoe Clerk") directs this groundbreaking American cinema classic that's based on the 1896 story by Scott Marble. It was filmed at Edison's New York studio, at Essex County Park in New Jersey, and along the Lackawanna railroad. The ten minute film was silent with no intertitles.
Three robbers knock unconscious and tie up a station agent and board a train when it stops to water. They rob the postal car, and force open the safe. They then force the engineer to stop, and kill him when he resists. They throw his body onto the tracks (an obvious dummy). They make the passengers stand by the tracks and rob them all, and board the now uncoupled engine and move forward. They jump off and escape into the woods by horseback. A little girl finds the station agent, and the locals are alerted at a dance hall. They form a posse and track the gang down in the woods, and kill all of them.
This was the second western made, but because of its innovations such as movement, crosscutting and a coherent plot, it became a huge success when it opened in New York (the most widely viewed picture of its time). It might have cost only $250 to make (some say $2,500). When viewed today its primitive state must be taken into consideration and for the viewer to remember that audiences at the time were overwhelmed because they had never experienced something like that before. 'Broncho Billy' plays a nervous passenger, while Justus D Barnes plays the brazen gang leader who fires his guns at the audience in the end.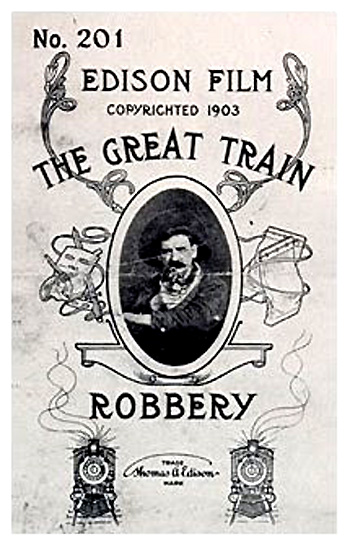 REVIEWED ON 6/1/2007 GRADE: B