GREATLAND
(director/writer:Dana Ziyasheva; cinematographer: Charles Schner; editors: Brad McLaughlin / Michael Palmerio; music: Matthew Chilelli; cast: Shannon Briggs (Jörg Doberman, voice), Nhya Cedon (Iconic F), Ellen Clifford (Pasty F),Eric Roberts (Alpha Altuist), Nick Moran (Clerk), J.P. Manoux (Presenter), Bill Oberst Jr (Philanthropist), Arman Darbo (Ulysses), Chloe Ray Warmoth(Ugly Duck), Jackie Loeb (Lady Omega); Runtime: 104; MPAA Rating: NR; producer: Igor Darbo; Amazon; 2020-France/USA-in English)
"I liked the idea of the politically astute film mocking such things as political correctness."
Reviewed by Dennis Schwartz

Greatland is a fantasy dystopian sci-fi feature that's a mind-boggling allegory of today's Covid world. It's filled with cultural in-jokes, psychedelic flavorings (reminders of the hippie days in the '60s) and is grounded in today's conflicting politics. It tells of how a country can be brainwashed into believing only its optimistic messages. It also references the utopian books of Huxley and Orwell.
It sets up a world where sex and books are forbidden (two of Earth's greatest treasures) and that all marriages are arranged when you come of age by a computer program–whereby plants and animals are given the same rights as humans. It's a satire on the beliefs of today's world. Just don't ask me what I thought the film was trying to say, as that wasn't as clear to me as its belief that the privileged class can be shirkers.

Writer-director Dana Ziyasheva ("Defenders of Life") is a former journalist and a UNESCO diplomat with 20 years of world experience. To her credit, her "Defenders" film about child-brides among the indigenous Ngäbe tribe of Costa Rica influenced a national ban in Costa Rica on under-age marriages.

"Greatland" is set in the future in an imaginary country, which is the birthplace of love (whose motto is that with love you can live forever) and where for one faction of the country childhood never ends and death is not real. The citizens are split into two factions, the "Altruists," who are working to get a vaccine for the virus, and the evolved, the "Greats," who are trapped into living to only please themselves and have endless fun. Never mind technology, governments or finances, these young at heart entitled people are too evolved for that serious adult stuff. They are ruled by a universal Mother (a controlling computer program, who is all-seeing and is a program run on a bracelet worn by its citizens to remind them what to believe that is acceptable).

But the idyllic life is altered by a deadly virus, an absurd election and the beginnings of chaos and violence, threatening to change things in Greatland forever.

The film's coming-of-age hero, the 15-year-old rebel named Ulysses (Arman Darbo), must try to save his kidnapped book-loving childhood girlfriend Ugly Duck (Chloe Ray Warmoth) and does so while dressed entirely in pink, as he goes on a journey by bike to cross the forbidden frontier (outside the confines of the Greatland).

The film's creators are for promotional purposes encouraging questions from the audience in social media and answering them online. I don't know if this is a good or bad thing to do, but I stay away from media sites like Twitter and Facebook, as I'm not convinced they have helped the world evolve as much as they made it noisier.

I liked the idea of the politically astute film mocking such things as political correctness, conformity, "woke" and those who foolishly love everything. I enjoyed the performance of Arman Darbo, who grounded the film's visions in the role of the hero. I thought its jokey and loose attitude was a good way for a movie to be filmed during the current pandemic blahs.
I also appreciated seeing likable familiar actors pop up during the hero's journey–as we encounter Eric Roberts, as Alpha Altuist; Nick Moran as the Brit writer & actor playing Clerk, the kid's father; J.P. Manoux, who starred in Veep, and horror icon Bill Oberst J. There's also Shannon Briggs, the former boxing champion of the world, as the voice of the politician dog running for office.
My peeve is that it was sometimes too talky and filled with too many explanations, that it was sometimes too silly and its messages often got lost in its awkward presentation.
But I dug its weirdness, clever social commentary, and its acid-like candy store visuals. At its best, it reminded me of the surreal visuals back in the days of Bunuel and Fellini.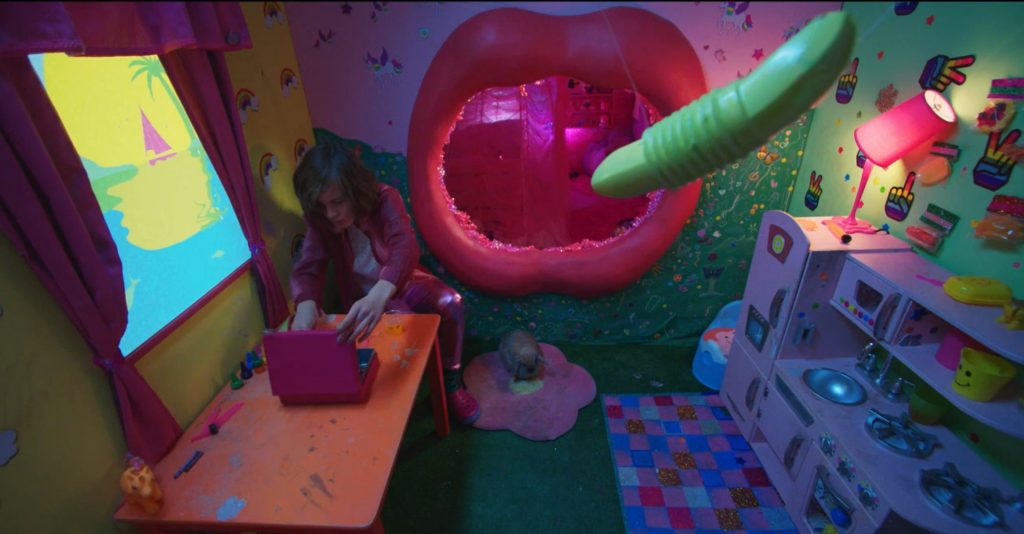 REVIEWED ON 5/11/2021 GRADE: B