GREATEST SHOWMAN, THE
(director: Michael Gracey; screenwriters: Jenny Bicks, Bill Condon; cinematographer: Seamus McGarvey; editors: Tom Cross, Robert Duffy, Joe Hutshing, Michael McCusker, Jon Poll, Spencer Susser. Benj Pasek, Justin Paul; music: John Debney/John Trapanese; cast: Hugh Jackman (P.T. Barnum), Michelle Williams (Charity Barnum), Zac Efron (Phillip Carlyle), Rebecca Ferguson (Jenny Lind), Zendaya (Anne Wheeler), Austyn Johnson (Caroline Barnum), Cameron Seely (Helen Barnum), Keala Settle (Lettie Lutz), Sam Humphrey (Tom Thumb), Yahya Abdul-Mateen II (W. D. Wheeler), Ellis Rubin (Young Barnum), Skylar Dunn (Young Charity), Frederic Lehne (Mr. Hallett), Kathryn Meisle (Mrs. Hallett); Runtime: 105; MPAA Rating: PG; producers: Laurence Mark, Peter Chernin, Jenno Topping; 20th Century Fox; 2017)
"The nervous energy musical works too hard to sustain a magic it never achieves onscreen."
Reviewed by Dennis Schwartz

Tedious musical biopic on 19th century, born in 1810, huckster showman P.T. Barnum (Hugh Jackman, as an adult), that tells of his rise to the top from the bottom. It's directed by former commercials director and visual-effects maven, in his debut feature, the Australian Michael Gracey, whose good taste story apes in its music presentation Lloyd-Webber's sumptuous Broadway and West End theater style. The script by Jenny Bicks and Bill Condon is by-the-numbers, as it dryly traces its protagonist's rise from poverty (his father a tailor) to world-wide fame. The nervous energy musical works too hard to sustain a magic it never achieves onscreen, with only occasionally having a rousing moment. It follows those films from Hollywood's golden era that had happy endings no matter. Gracey's film might be passable if you have low expectations and the dazzling photography by Seamus McGarvey and the stagey music reaches you.

Barnum marries Charity (Michelle Williams). She's the rich girl (Skylar Dunn) he (Ellis Rubin, as a kid) wooed in his youth, and as a child sings to her his calling song  "A Million Dreams." Charity married him despite her dad's ( Frederic Lehne) disapproval. The couple and their two young girls come to NYC in 1834, where he hustles a bank loan to open a 'stuffed' museum in an abandoned museum on Broadway. While facing failure, he follows his daughters advice to get live novelty acts like the bearded lady (Keala Settle) and the general dwarf (Sam Humphery). Barnum's museum burns down and he partners with the risk-taking wealthy playwright Carlyle (Zac Efron), the black sheep from a society family, who gets publicity for his sizzling inter-racial romance with a pink-haired black trapeze artist (Zendaya). Finally, he partners with James A. Bailey to found the legendary Barnum & Bailey Circus-that just went out of business this year.

Benj Pasek and Justin Paul, who wrote the song lyrics for La La Land, can't duplicate their success here-the songs are mediocre.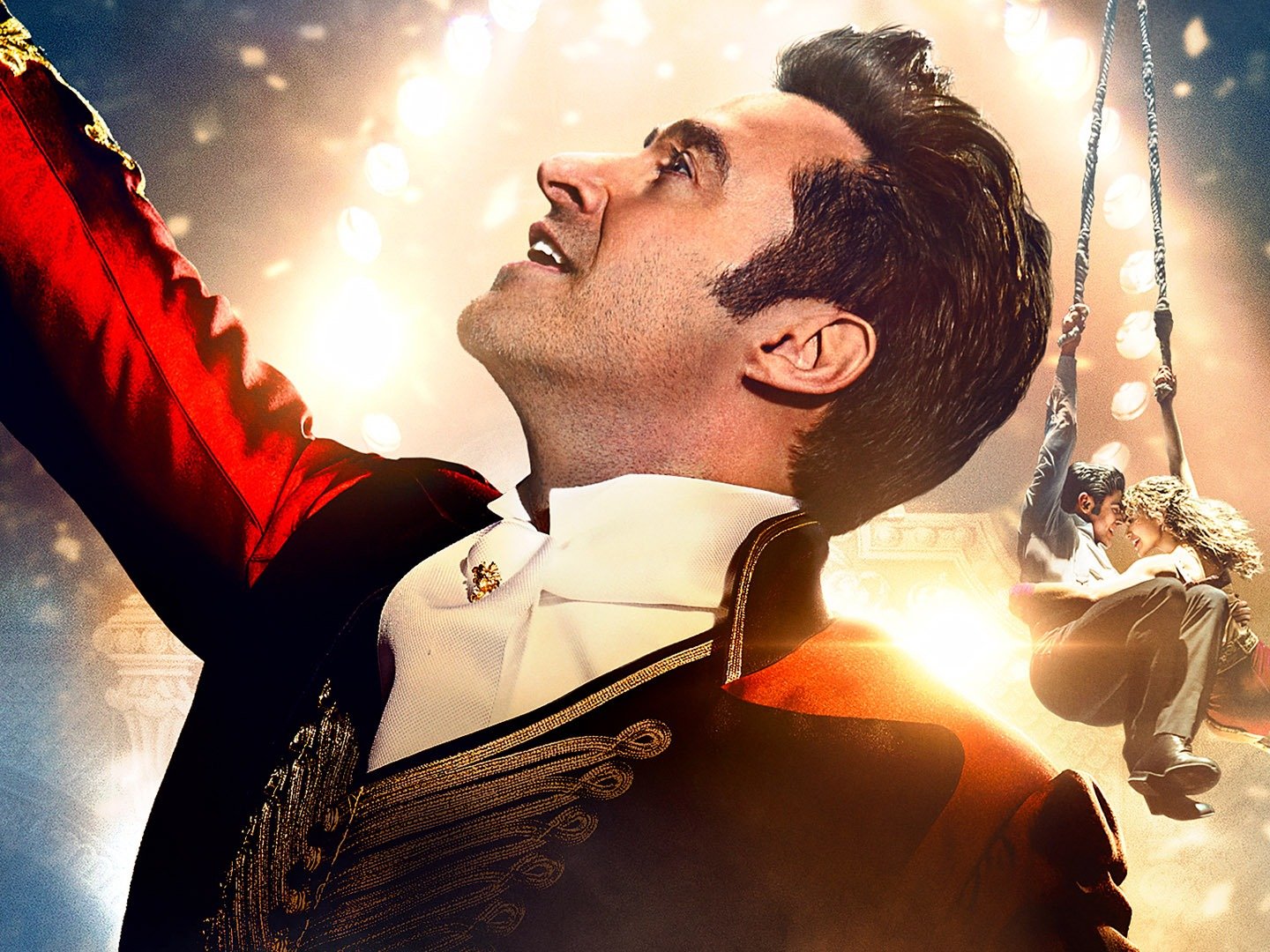 REVIEWED ON 1/28/2018 GRADE: C