GRAY MAN, THE
(directors: Anthony and Joe Russo; screenwriters: based on a novel by Mark Greaney/Joe Russo/Stephen McFeely/Christopher Markus/; cinematographer: Stephen F. Windon; editors: Jeff Groth/Pietro Scalia; music: Henry Jackman; cast: Ryan Gosling (Sierra Six), Billy Bob Thornton (Donald Fitzroy), Dhanlush (Avik San), Jessica Henwick (Suzanne Brewer), Chris Evans (Lloyd Hansen), Rege-Jean Page (Denny), Ana de Armas (Dani), Wagner Moura (Laszlo Sousa), Alfre Woodard (Maurice Cahill), Eme Ikwuakor (Barnes), Julia Butters (Claire); Runtime: 127; MPAA Rating: PG-13; producers: Joe Roth/Mike Larocca/Jeff Kirschenbaum/Anthony Russo/Palek Patel; Netflix; 2022)
"Mindless but well-acted and well-shot action pic."
Reviewed by Dennis Schwartz
 
Co-director brothers Anthony and Joe Russo ("Captain America: The Winter Soldier and Civil War"/"Avengers: Endgame") go big-budget ($200 million) and high-octane Bond-like in this exciting summer blockbuster spy film from Netflix. It's based on the first of 12 novels by Mark Greaney (Netflix is hoping to make this the start of a franchise), and is written by Joe Russo, Stephen McFeely and Christopher Markus.


Ryan Gosling (Canadian actor) stars as the reluctant CIA assassin Sierra Six, whose real name is Court Gentry.


Chris Evans plays against type as the hissable sadist villain, Lloyd Hansen, a sociopath who is into torturing even children. The bad dude desires thumb drives wrapped in a gold amulet to implicate higher-ups in some kind of a shady lowdown dirty business.

The Lloyd character is psycho, as he in one sequence insults Six as "a Ken doll." (this jokey line reminds us that Gosling will next play in the film version of "Barbie."}


The CIA agent Donald Fitzroy (Billy Bob Thornton) is the idea-man behind the Sierra program in which convicted felons are turned into undercover CIA killers (gray men) in exchange for their freedom.

Regé-Jean Page plays the shady CIA group chief Denny Carmichael. While Dani Miranda (Ana de Armas) is the sex interest of Six.


The film globe-trots around the world in search of action, as it roars through Thailand, Berlin, Croatia, Vienna, Prague and Azerbaijan. There's a well-choreographed fist fight on a plane that makes a stopover in Prague, where Six knocks off an army of assassins while handcuffed to a park bench.


To slip some more action into this mindless but well-acted and well-shot action pic, Lloyd kidnaps Fitzroy's 12-year-old niece (Julia Butters).


The film is both too preposterous and not preposterous enough, but certainly not worth its big-budget, even if it's watchable as a summer popcorn film.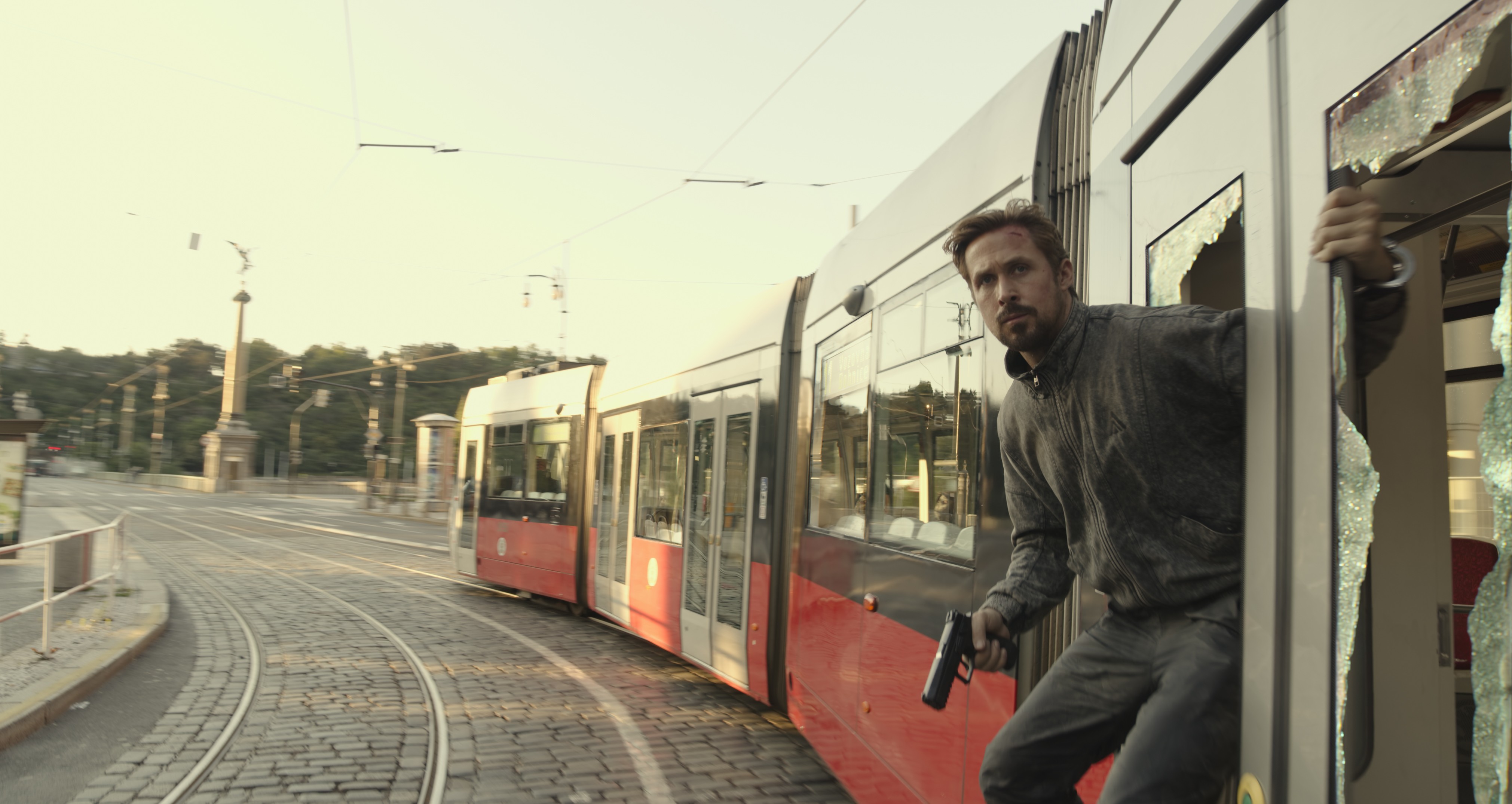 REVIEWED ON 7/26/2022 GRADE: B-