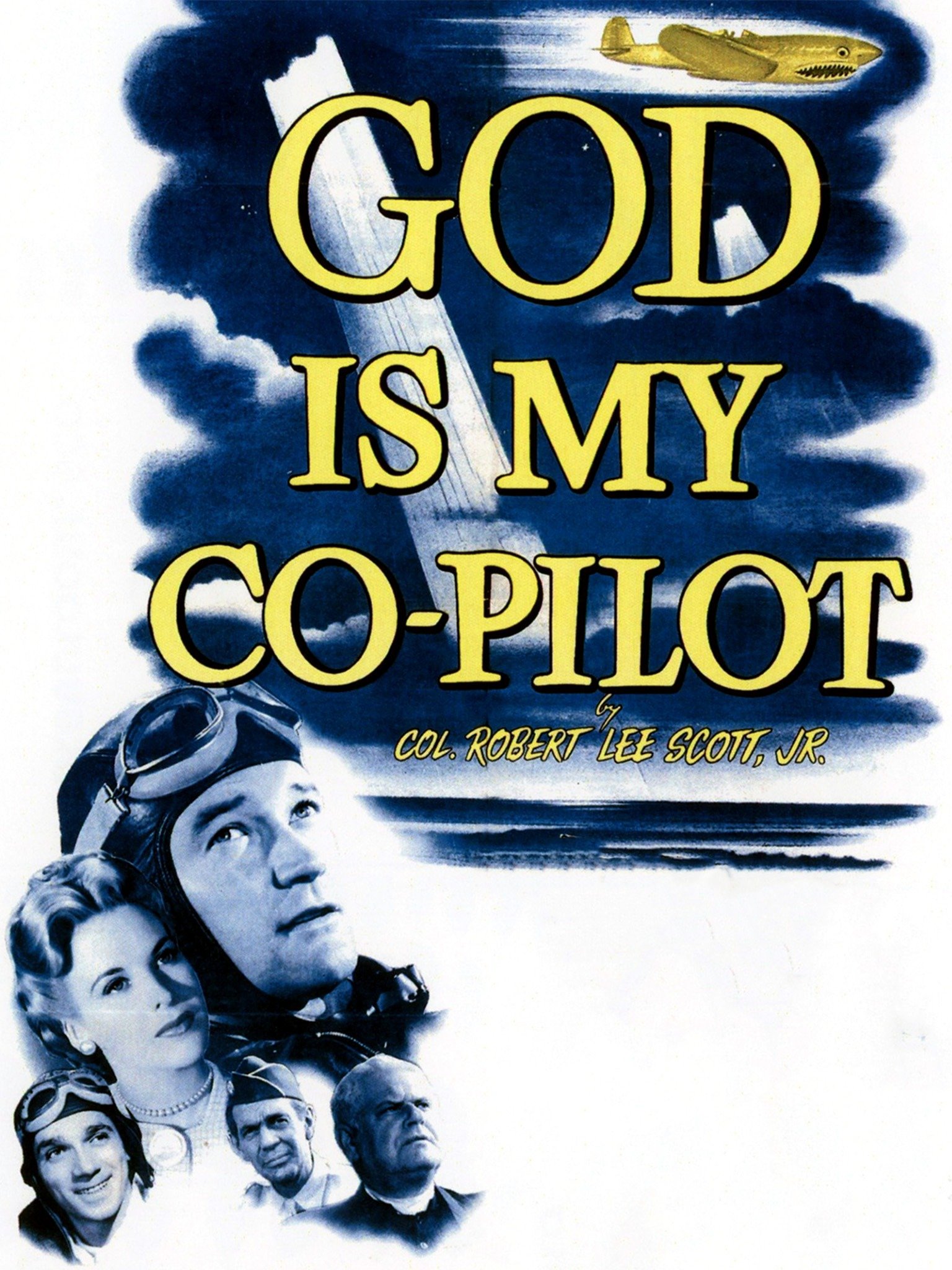 GOD IS MY CO-PILOT

(director: Robert Florey; screenwriters: from the book God Is My Co-pilot by Col. Robert L. Scott/Abem Finkel/Peter Milne; cinematographer: Sidney Hickox; editor: Folmar Blangsted; music: Franz Waxman; cast: Dennis Morgan (Col. Robert L. Scott/Narrator), Dane Clark (Johnny Petach), Raymond Massey (Maj. Gen. Chennault), Alan Hale ("Big Mike" Harrigan), Andrea King (Catherine Scott), John Ridgely (Tex Hill), Richard Loo (Tokyo Joe), William Forrest (Dr. Reynolds); Runtime: 83; MPAA Rating: NR; producer: Robert Buckner; Warner Brothers; 1945)
"This is not a film for non-believers."
Reviewed by Dennis Schwartz
What I learned from this unabashed flag-waver from WWII, set in the Pacific, is that God is on the side of those who embrace him–with every man on his own because God takes no sides. Heavy on religion, the title tells you the film's heroic pilot is not alone to face danger in the cockpit since he became a believer and found the invisible hand of God is there for comfort. Though well-intentioned and has some fierce aerial battle scenes (made in the studio), nevertheless it's hard to stomach as the clichés and propaganda speeches keep flying full steam ahead.
"God" is based on the best-selling novel by WWII fighter pilot Col. Robert Lee Scott Jr., who is played by Dennis Morgan with earnest piety. He's the army ace who earned a rep with General Chennault's Flying Tigers, going over there before Pearl Harbor. His story is told in flashback, with his narration. Richard Florey's direction is nothing to write home about; he's shameless in using disparaging racial terms to talk about the enemy Japanese (a product of the times, more than anything else) and the script by Abem Finkel and Peter Milne is just plain trite.
West Point grad Scott volunteers to fly with the mercenary Flying Tigers stationed in China and proves himself as an ace pilot against the Japanese Zero fighter planes. There are scenes with Scott in air combat with the Japanese trash talking ace Tokyo Joe (Richard Loo, Chinese-American), as the two chatter back and forth via radio as they duel in a life-and-death struggle. It builds to the climax when the Flying Tigers are going for the first time into Japanese territory and Scott is grounded by the Doc because of malaria, combat fatigue and he's deemed too old for combat at age 34. But 'Big Mike' (Alan Hale), the company chaplain, prays that God grant Scott his wish to be a pilot in that big battle and lead his men. His prayers are answered as General Chennault allows Scott to fly and gives him the latest plane, the P-40. Big Mike is as happy as anyone could be, as he knowingly tells the viewer: "More things are brought about by prayer than we realize." This is not a film for non-believers.
REVIEWED ON 1/18/2006 GRADE: C