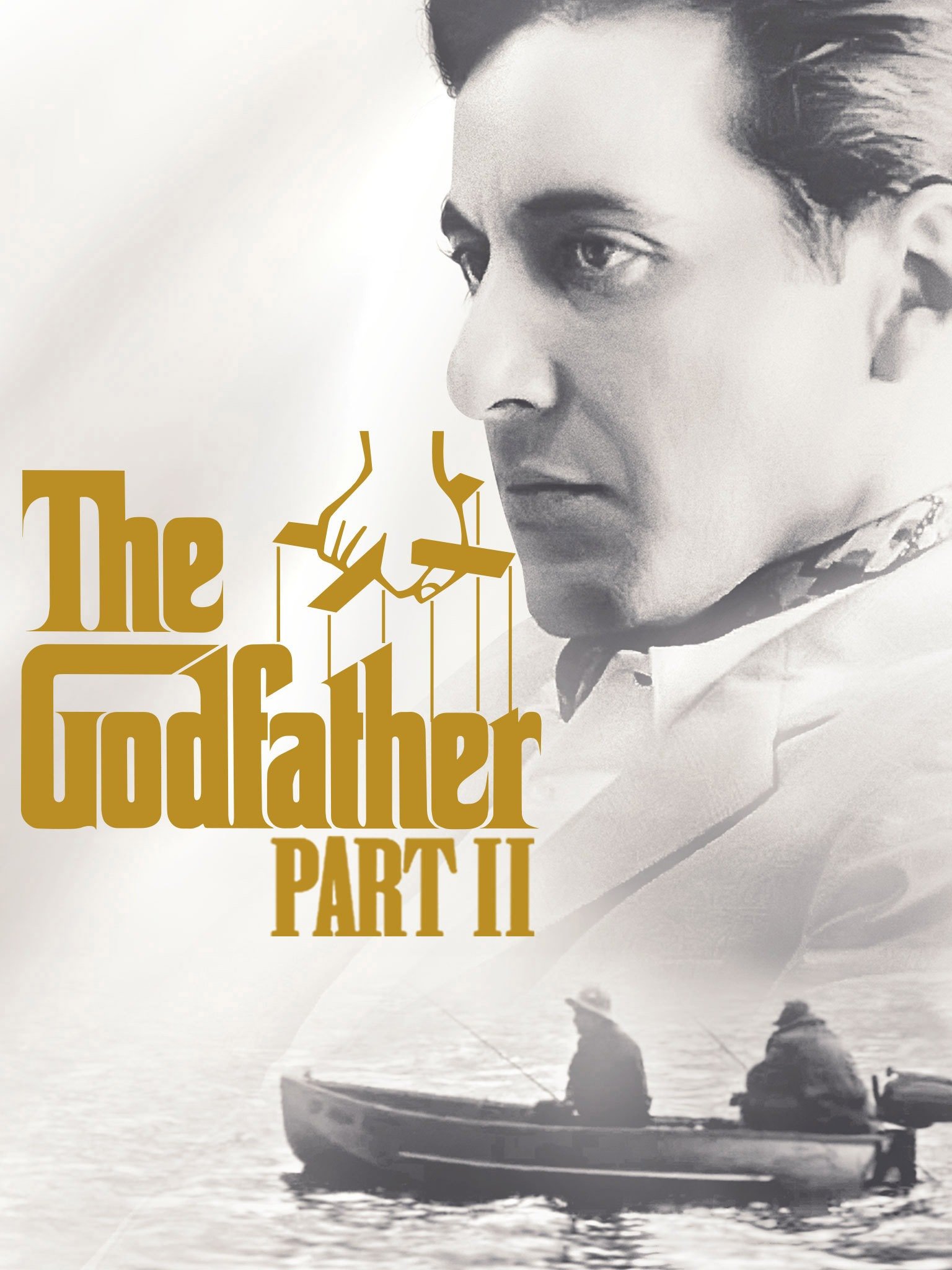 GODFATHER: PART 11, THE
(director/writer: Francis Ford Coppola; screenwriter: based on the novel The Godfather by Mario Puzo; cinematographer: Gordon Willis; editors: Barry Malkin/Richard Marks/Peter Zinner; music: Nino Rota; cast: Al Pacino (Don Michael Corleone), Robert Duvall (Tom Hagen), Diane Keaton (Kay Corleone), Robert De Niro (Vito Corleone), John Cazale (Fredo Corleone), Talia Shire (Connie Corleone), Lee Strasberg (Hyman Roth), Michael V. Gazzo (Frankie Pentangeli), G.D. Spradlin (Senator Pat Geary), Bruno Kirby (Peter), Troy Donahue (Merle Johnson), Dominic Chianese (Johnny Ola), Joe Spinell (Willie Cicci), Abe Vigoda (Salvatore "Sally" Tessio), Leopoldo Trieste (Signor Roberto), Harry Dean Stanton (FBI agent), Alex Rocco (Moe Greene), Fay Spain (Mrs. Marcia Roth), Gaston Moschin (Don Fanucci), James Caan (Sonny), Morgana King (Mama Corleone), William Bowers (Senate Committee Chairman); Runtime: 200; MPAA Rating: R; producer: Francis Ford Coppola; Paramount; 1974)
"It's not Shakespearean, but it's tragic."
Reviewed by Dennis Schwartz
One of the few sequels better than the original. It might be the best sequel ever made. Like the 1972 original, it won an Oscar for Best Picture. In total, it won 6 Oscars. An oddity has De Niro (Godfather II) and Brando (The original) as the only two actors to date who have won an Academy Award for playing the same character (Vito Corleone). Francis Ford Coppola ("The Rainmaker"/"Peggy Sue Got Married"/"Rumble Fish") does a marvelous job putting this lurid soap opera gangster epic together and for three hours and twenty minutes keeping this dark side of the American Dream from having too many dead spots. The crime drama, based on the Mario Puzo novel, acts as a road map to organized crime and, along with the original, both have become recognized as the ultimate mob films. It drowns itself in gangster lore, as it revels in following the colorful ways a top mafia dynasty operates. The theme being the same as in the original, organized crime is just another kind of American business. It seamlessly picks up from the original, and it parallels the young Vito Corleone's (Robert De Niro) rise in the early 1900s with his son Michael's (Al Pacino) spiritual fall in the late 1950s, as he takes over the Corleone crime family when his elderly father Vito dies.
Coppola has many actors from the original reprise their roles in Godfather II: such as Al Pacino, Talia Shire, Diane Keaton, John Cazale, Alex Rocco and Robert Duvall.
The scenes in Sicily at the turn-of-the-century tell that Vito's father was killed by the local Don, in the small town of Corleone, and his mother also was killed by him as she protects her younger son Vito from being eliminated by him. The orphaned Vito escapes the Don and comes as a child to America, and settles down in Little Italy. He establishes his gangster creds when as a young adult he kills the local Don, Fanucci (Gastone Moschin), who is shaking him down, and rises eventually to be the head of one of the five biggest crime families in America. The alternate scenes in the present show a callous and secretive Michael expand the family business after taking over when his father gave him the blessing over his weak and stupid older brother Fredo (John Cazale). The family is now based in Las Vegas, as they move into owning legitimate casinos. In Havana, Michael deals with Jewish mobster Hyman Roth (Lee Strasberg) over a deal with the crooked Batista government's approval to allow them to expand their casinos in Cuba. The Roth character is modeled on Meyer Lansky. Michael and Roth are seen as two heavyweights who are masters at the double-cross and will become bitter rivals in 1958, when Michael believes Roth tried to assassinate him in his Lake Tahoe house. The godfather further suspects that his longtime ally Frankie Pentangeli (Michael V. Gazzo) might have betrayed him. Michael is also shown narrowly beating a federal indictment. His long-suffering WASP wife Kay (Diane Keaton) says "seven years ago you told me you'd be legitimate in five years." And so it goes, as a melancholy Michael learns to trust no one (even his chief counsel Tom Hagen, played by Robert Duvall, is kept in the dark), plots to kill all his many enemies, moves stealthily to find out who in his crime family betrayed him, tries to deal with his unstable sister Connie (Talia Shire) and her sicko attempts to hurt him, and desperately tries to hold both his squabbling crime and personal families together. It's not Shakespearean, but it's tragic.
The film is brilliantly made, creating an authentic gangster atmosphere that shows the big men who take part in corrupting America and does a great job in covering the period scenes. It's also well-acted and photographed by Gordon Willis, using a tint in the flashbacks to capture the mood. The epic story seems to have hit a nerve with the American public, who can't get enough of gangsters rubbing out gangsters.
REVIEWED ON 3/8/2008 GRADE: A   https://dennisschwartzreviews.com/