GLORIAS, THE
(director/writer: Julie Taymor; screenwriters: book My Life on the Road by Gloria Steinem/Sarah Ruhl; cinematographer: Rodrigo Prieto; editor: Sabine Hoffman; music: Elliot Goldenthal; cast:  Julianne Moore (Gloria),  Alicia Vikander (Gloria as a 20something student-turned-journalist), Bette Middler (Bella Abzug), Lulu Wilson (Gloria as teen), Ryan Kiera Armstrong (Gloria as a youngster), Janelle Monáe (Dorothy Pitman Hughes), Timothy Hutton (Leo Steinem),  Lorraine Toussaint (Flo Kennedy), Enid Graham (Ruth Steinem), Kimberly Guerrero (Wilma Mankiller), Monica Sanchez (Dolores Huerta), Tom Nowicki (Dr. John Spence), Leah Renee-K (June, activist), David Shae (Male Journalist Times), Margo Moorer (Barbara Jordan); Runtime: 147; MPAA Rating: R; producers: Lynn Hendee/Julie Taymor/Alex Saks; Page Fifty-Four Pictures/Amazon Prime; 2020)
"A routine old-fashioned biopic on a feminist pioneer, that's informative but lacks heft."
Reviewed by Dennis Schwartz

A routine old-fashioned biopic on a prominent feminist pioneer, that's informative but lacks heft. It's based on the 2015 memoir by Gloria Steinem, and is directed by Julie Taymor ("Frida"/"Titus") and co-written by Taymor and playwright Sarah Ruhl. It covers Steinem at 4 different ages – a child (Ryan Kiera Armstrong), a teen (Lulu Wilson), a young woman (Alicia Vikander), and at middle-aged (Julianne Moore). Because of poor editing it turns what should have been a sharp-edged, character study, smart political film of the times into an overlong one at over 2 hours.

The now iconic 86-year-old Steinem's long career involves her as a journalist, a feminist activist leader and the co-founder of Ms Magazine in 1972.

In her childhood and teen years, we learn her father Leo (Timothy Hutton) was a low-level impresario, with a fondness for being irresponsible and taking the family on the road. Her mother Ruth (Enid Graham), was depressed and suffered from mental problems.

The best Gloria version is played by Vikander, as the young adult magazine journalist and adventurer who treks to India to learn how Gandhi fights with non-violence for political change. Back in NYC, Steinem fights with her editors for only being assigned to do trite typical female portraits. Her first radical piece, has her hired as a Playboy bunny and thereby she writes a breakthrough expose of how women are being mistreated at the Playboy clubs.

When Vikander's Gloria fully blossoms, the forty-ish Moore carries her activism forward. But as the film becomes episodic under her watch, it loses pep and never gains depth. It goes on to give us a laundry list of Steinem's accomplishments, which was frankly a bore and lazily directed.

Its message that women no longer have to be second-class citizens rings loud and clear and frames the struggles Steinem had with society to make that mantra a reality. It's a decent pic about a courageous leader, whose movement importantly changed the times. But it could have used a more radical telling.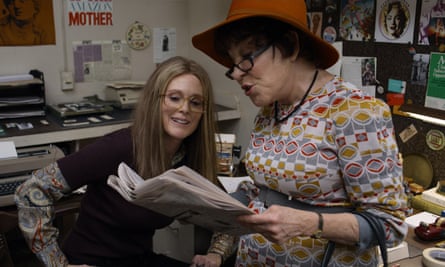 REVIEWED ON 10/4/2020 GRADE: B-