GIVING BIRTH TO A BUTTERFLY
(director/writer: Theodore Schaefer; screenwriter: Patrick Lawler; cinematographer: Matt Clegg; editor: Theodore Schaefer; cast:Annie Parisse (Diana Dent), Gus Birney (Marlene), Paul Sparks (Daryl), Constance Shulman (Monica), Rachel Resheff (Danielle), Jessica Pimentel (Rachel), Owen Campbell (Drew), Judith Roberts (Nina), Cesar J. Rosado (Chef), Clifton Samuels (The Conductor); Runtime: 77; MPAA Rating: NR; producers: Daryle Freimark/Theodore Schaefer; Cinedigm; 2021)
"It's an edgy film that David Lynch could have directed better."
Reviewed by Dennis Schwartz

The title is derived from a 1917 poem by Mina Loy.

Theodore Schaefer's bizarre and eerie debut feature, is a mystery/comedy that he co-writes with Patrick Lawler. It's about an ordinary suburban pharmacist, Diana Dent (Annie Parisse). She worries if she can save enough to send her daughter Danielle (Rachel Resheff) to college, and if her oafish husband Daryl (Paul Sparks) will be able to open a diner without having enough money. Things rattle her further when her son Drew's (Owen Campbell) girlfriend Marlene (Gus Birney) is pregnant, but not by him. She's the daughter of the forgotten former famous actress Monica (Constance Shulman).

The cynical mom is depressed because an online scammer took her life savings she kept in a bank account. To retrieve her money, mom goes with Drew and Marlene on a surreal road trip–one that lands them in the home of a couple of spooky old ladies (both played by Judith Roberts) she tracked down on the internet.

The enigmatic film centers on the relationship of the husband and wife, and how their financial troubles affects the family.

It's an edgy film that David Lynch could have directed better. It's a melancholy film with crisp but absurd dialogue, that's articulated in a stagey way that doesn't always work for cinema.

It Played at the Fantasia Film Festival.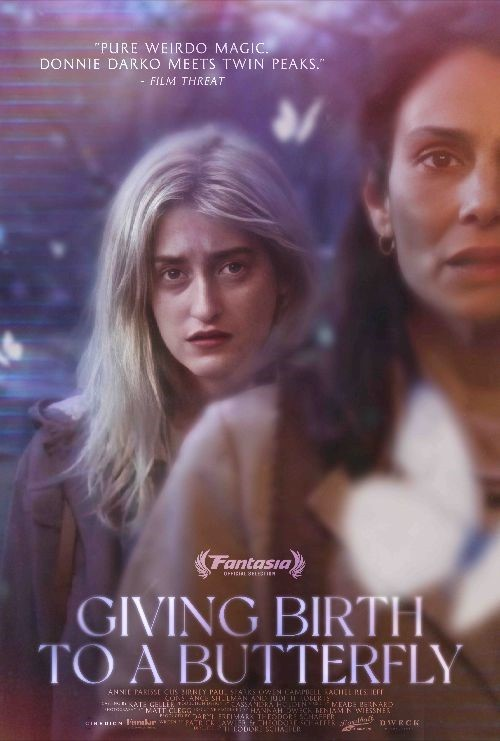 REVIEWED ON 5/22/2023  GRADE: B