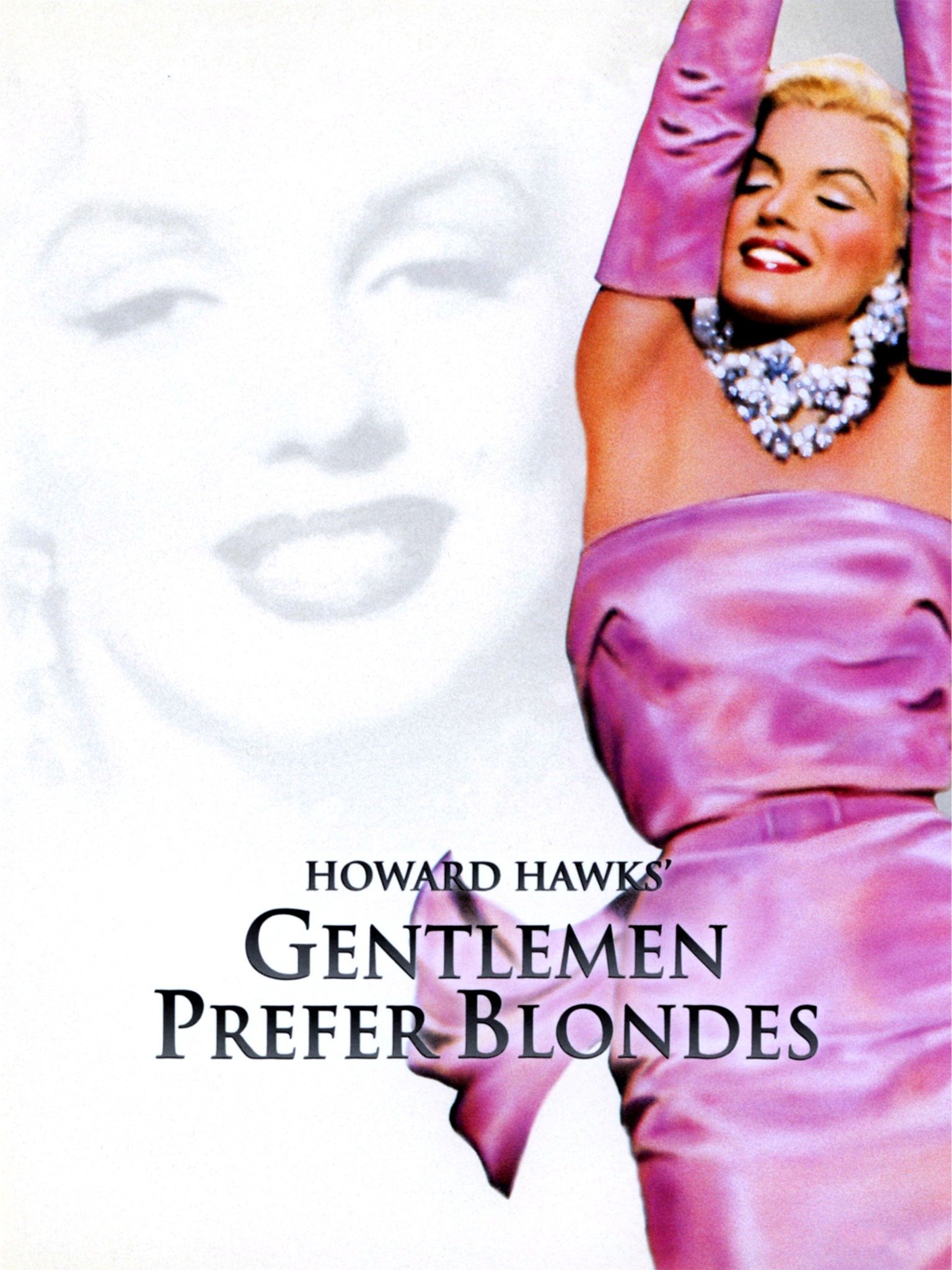 GENTLEMAN PREFER BLONDES
(director/writer: Howard Hawks; screenwriters: Charles Lederer from the musical by Joseph Fields and Anita Loos/Oliver Smith/Herman Levin; cinematographer: Harry J. Wild; editor: Hugh S. Fowler; music: songs by Jule Styne & Leo Robin; Hoagy Carmichael & Harold Adamson; Lionel Newman; cast: Jane Russell (Dorothy Shaw), Marilyn Monroe (Lorelei Lee), Charles Coburn (Sir Francis "Piggy" Beekman), Elliott Reid (Ernie Malone), Tommy Noonan (Gus Esmond, Jr.), Taylor Holmes (Gus Esmond, Sr.), George Winslow (Henry Spofford III), Marcel Dalio (Magistrate), Norma Varden (Lady Beekman); Runtime: 91; MPAA Rating: NR; producer: Sol C. Siegel; Twentieth Century-Fox; 1953)
"There was something missing from this ironical musical and it wasn't from the star performers." 
Reviewed by Dennis Schwartz
A lushly garish cynically fun-filled satirical remake of the 1928 silent film that was based on Anita Loos' 1925 novel, that in turn was turned into a Broadway musical by Loos and Joseph Fields in 1949 (the updated film has kept all the Jule Styne and Leo Robin Broadway music intact). Director Howard Hawks ("Monkey Business"/Sergeant York"/"Rio Bravo") has a thin plot to work with and tries to sail along with burlesque routines, gold digger jokes and material that is hopelessly worn out by jumping on the curvy grinds of Jane Russell and Marilyn Monroe for all its worth—fortunately, the luminous curvaceous duo have great chemistry together and are worth sticking with in this mostly silly charmer. But Hawks would have probably had more success if it had been a little more vulgar or a little less vulgar, because there was something missing from this ironical musical and it wasn't from the star performers. The gaudy film lacks Hawks' usual snap (the director was at home in every genre from screwball comedy to westerns to action films, but the large-scale musical never interested him and proved to be his weakest genre—in fact, the musical sequences were directed by legendary choreographer Jack Cole and his assistant and future star dancer Gwen Verdon). What saves this wickedly intended fortune-hunter satire from self-destructing is how star sex-symbol stereotypes Jane and Marilyn manage to make their grasping characters likable and at the same time turn all the men into mere foils, as the confidant sexpots blister the screen with sarcastic 'battle of the sexes' wisecracks.
Vacationing bachelorette showgirl singers, Dorothy Shaw (Jane Russell) and Lorelei Lee (Marilyn Monroe), are heading on the luxury cruiser the Ile de France to Paris from NYC. Dorothy is the brunette romantic seeking a hunky man to love, while Lorelei is the dumb blonde who is smart enough to know that she prefers to fall in love with only a rich man. The cruise is paid for by Lorelei's 'daddy's boy' millionaire boyfriend Gus Esmond, Jr. (Tommy Noonan), who can't convince daddy (Taylor Holmes) that he should marry a fast and loose showgirl. To make sure Lorelei behaves, daddy hires private detective Ernie Malone (Elliott Reid) to spy on his son's girl to see if she's marriage material for junior. Charles Coburn plays the filthy rich Brit owner of a South African diamond mine, Sir Francis "Piggy" Beekman, who manages to avoid his outspoken wife (Norma Varden) on the boat while he piggishly lusts after Lorelei while she purrs for his wife's valuable diamond tiara as a gift of his gratitude for receiving her shipboard attention. Dorothy, meanwhile, for a reason I can't plausibly imagine, falls for the oily square working stiff shamus
The film's most noted song'n'dance number, 'Diamonds Are A Girl's Best Friend,' features Marilyn doing the singing in a cabaret as she's surrounded by a chorus line of tuxedo-clad men flashing diamonds her way against a loud red backdrop while the acerbic lyrics "Men grow cold as girls grow old / And we all lose our charms in the end" spell out love as a calculating business deal between wealthy men and pretty young women. While Jane's standout musical solo was "Ain't There Anyone Here for Love," a cool number that she sings and dances with a group of shipboard Olympic American athletes clad in gold lame bathing trunks. This routine has become a famous camp classic, while Marilyn's solo became her iconic signature musical number.
The script by Charles Lederer and everything else in the film plays second fiddle to the snazzy costumes and in-your-face attitude revealed by the showgals. Audiences and critics alike adored it, and it became one of Hawks' biggest commercial hits.
REVIEWED ON 7/10/2008 GRADE: B