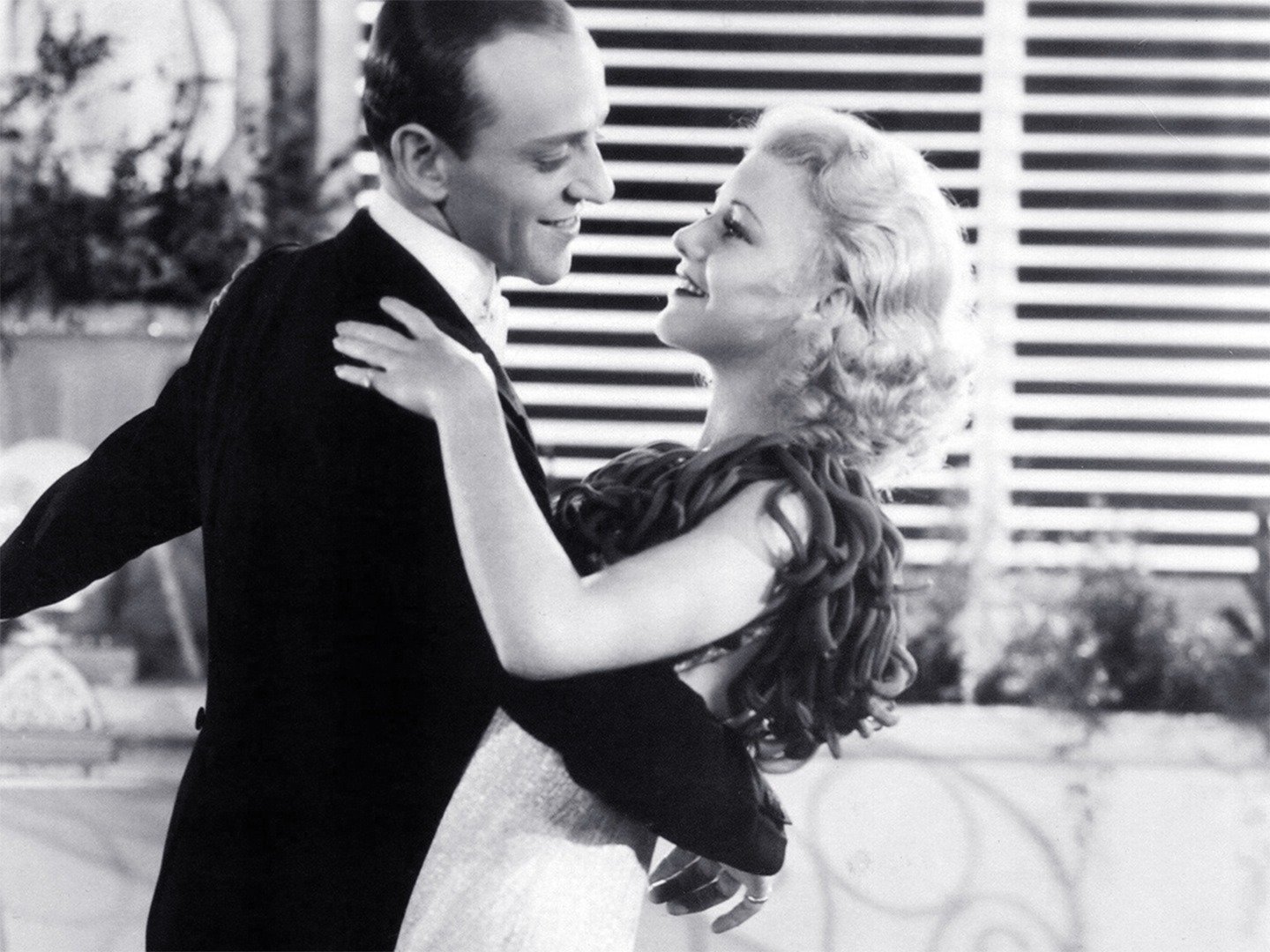 GAY DIVORCEE, THE

(director: Mark Sandrich; screenwriters: play by Dwight Taylor and Cole Porter/George Marion Jr./Dorothy Yost/Edward Kaufman; cinematographer: David Abel; editor: Willaim Hamilton; music: Cole Porter/Con Conrad/Mack Gordon/Herb Magidson/Harry Revel; cast: Ginger Rogers (Mimi Glossop), Fred Astaire (Guy Holden), Alice Brady (Aunt Hortense), Edward Everett Horton (Egbert Fitzgerald), Erik Rhodes (Rodolfo Tonetti), William Austin (Cyril Glossop), Betty Grable (Dancer), Eric Blore (Waiter); Runtime: 105; MPAA Rating: NR; producer: Pandro S. Berman; RKO; 1934)
"Aimed at cheering up a Depression audience–which it does do with animated song and dance numbers."
Reviewed by Dennis Schwartz
The plot revolves around a trivial French farce for this outdated feel-good musical romantic-comedy, which was aimed at cheering up a Depression audience–which it does do with animated song and dance numbers. It's based on Dwight Taylor and Cole Porter's hit Broadway play. Censors changed the title of the play from The Gay Divorce. The film offers a mild satire on what it takes sometimes to get a divorce, especially if one party doesn't want one.
London lawyer Egbert Fitzgerald (Edward Everett Horton) and American dancer Guy Holden (Fred Astaire) arrive in London from a stopover in Paris. Wealthy American Mimi Glossop (Ginger Rogers) gets her dress caught in her trunk when she greets her much-married Aunt Hortense (Alice Brady). Guy accidentally rips Mimi's dress and gives her his coat, falling in love at first sight. But Mimi won't give him her address, which encourages him to belt out a song "It's Like Looking for a Needle in a Haystack." He spends two weeks looking for her all over London and then spots her driving, but she drives away and he overtakes her on a country road when he trickily posts a "Road Closed" sign. But she won't give him her phone number, so he gives her his. Guy also finds out her name. Two weeks go by without him hearing from her, so he lets Egbert talk him into going to the seaside resort in Brighton. Egbert is at the resort on business, as he's there to help Mimi get a divorce from her geologist professor husband (William Austin) who won't grant her one. The lawyer arranges for a professional co-respondent, Rodolfo Tonetti (Erik Rhodes), to be in her hotel room and have the husband arrive in the morning to find them together.
During his first night in Brighton, Egbert sings and dances at the nightclub with the leggy 18-year-old (Betty Grable) "Let's K-nock K-neez." When Guy later on tells Egbert a line from his last show, "Chance is the fool's name for fate," Egbert makes this the password for the adultery co-respondent to know the woman he's to spend the night with. Of course, Guy spots Mimi and when he unwittingly uses the password as part of his pickup routine, she mistakenly thinks he's the co-respondent and invites him to her hotel room for the night.
The Cole Porter songs include "Night and Day," the only song to survive from the stage, and the show's big production number, "The Continental," which won the first ever Academy Award for Best Song.
REVIEWED ON 8/16/2005 GRADE: B-