FROM THE MIXED-UP FILES OF MRS. BASIL E. FRANKWEILER  (THE HIDEAWAYS)
(director: Fielder Cook; screenwriters: Blanche Hanalis, based on the novel by E.L. Konigsburg; cinematographer: Victor J. Kemper; editor: Eric Albertson; music: Donald Devor; cast: Ingrid Bergman (Mrs. Frankweiler), Sally Prager (Claudia Kinkaid), Johnny Doran (Jamie Kinkaid), George Rose (Saxonburg), Richard Mulligan (Mr. Kinkaid), Georgeann Johnson (Mrs. Kinkaid), Madeline Kahn (Schoolteacher), Donald Symington (Museum Director), Linda Selman (Museum Secretary); Runtime: 105; MPAA Rating: PG; producer: Charles G. Mortimer Jr.; Cinema 5/TCM/Amazon/Warner Archive Collection; 1973)
"Kooky family comedy drama."
Reviewed by Dennis Schwartz

Fielder Cook ("Patterns"/"The Member of the Wedding") directs this kooky family comedy drama. It's based on the classic 1967 children's book by E.L. Konigsburg, about two runaway suburban kids who hide out in New York City's Metropolitan Museum of Art and for a week lead a life of adventure. The screenplay is by Blanche Hanalis.

It stars Ingrid Bergman (in one of her last performances) as Mrs Basil E Frankweiler, a wealthy eccentric, who gets a visit from two curious kids who have run away from home to go museum tripping. 

The two suburban youngsters, the smart grade-schooler Claudia (Sally Prager) and her younger brother, Jamie (Johnny Doran), swipe the commuter train tickets of their parents (Richard Mulligan & Georgeann Johnson) and run away to New York City's Metropolitan Museum of Art, where they can fantasize among the museum's exhibits. They rebel against their loving but dismissive of their fantasies parents (Richard Mulligan & Georgeann Johnson).


Claudia is taken aback by the museum's newest collection, an item called "Angel", that was sold for a few hundred dollars to the museum by the wealthy recluse Mrs. Frankweiler. Claudia believes the statue could be priceless because it's possibly by Michelangelo. To learn more about the statue, the kids visit Mrs. Frankweiler in her home, where they are welcomed. Through her butler (George Rose), Mrs. Frankweiler arranges for the kids to go undetected as they spend a week living in the museum. No attempt was made to contact the parents, which makes me question the adult's judgment.

Though the innocuous film does no harm to the runaway kids, I was not too thrilled with it and was bored by its questionable story–a story that makes light of the dangers kids face as runaways and of its failure to elicit much humor (except for the scene with Madeline Kahn as a tour guide).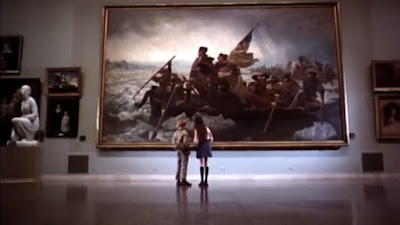 REVIEWED ON 7/13/2023  GRADE: B-