FRIENDLY PERSUASION
(director: William Wyler; screenwriters: book by Jessamyn West, Michael Wilson; cinematographer: Ellsworth Fredericks; editors: Robert Swink/Edward A. Biery/Robert Belcher; music:Dimitri Tiomkin; cast: Gary Cooper(Jess Birdwell), Anthony Perkins (Josh Birdwell), Marjorie Main (The Widow Hudspeth), Phyllis Love (Mattie Birdwell), Peter Mark Richmond (Gard Jordan), Richard Eyer (Little Jess Birdwell), Robert Middleton (Sam Jordan), Dorothy McGuire (Eliza Birdwell); Runtime: 139; MPAA Rating: NR; producer; William Wyler: Allied Artists Pictures/Warner Home Video; 1956)
"I did not find it entertaining, but it was a morally worthy film."
Reviewed by Dennis Schwartz

William Wyler ("Funny Girl "/"Ben-Hur") amiably directs a Western type of story about a family of Quakers caught in the middle of the American Civil War at its onset. It's based on the book by Jessamyn West and is written by Michael Wilson (who was uncredited because he was blacklisted by the Un-American Activities Committee–but was credited in 2002). I did not find it entertaining, but it was a morally worthy film and one that was well-acted and well-told.

In southern Indiana in 1862, the Birdwell family live on their prosperous farm, that's threatened by Confederate raiders. The patriarch is Jess (Gary Cooper), his wife is Eliza (Dorothy McGuire) –an ordained minister. They are a pacifist family troubled by the war. The oldest son is Josh (Anthony Perkins), the youngest is Little Jess (Richard Eyer) and their teen sister Mattie (Phyllis Love) is dating a Union soldier (Peter Mark Richmond).

Josh is conflicted about the war, afraid of being called a coward and he thereby goes against his family's beliefs to join up in the fight on the Union side while trying to abide by his family's pacifist principles.

Sentimental and not too engrossing, it nevertheless serves as a thoughtful Hollywood film with an able director and cast.

Pat Boone sing's the title song.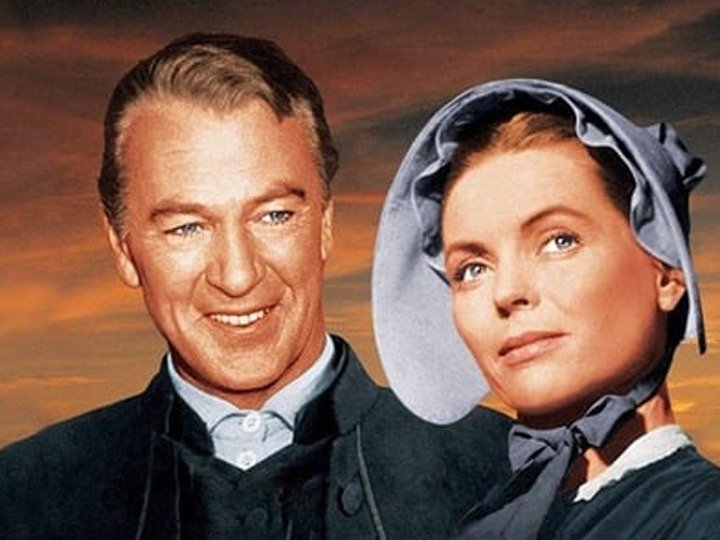 REVIEWED ON 3/30/2022 GRADE: B-