FREUD'S LAST SESSION
(director/writer: Matthew Brown; screenwriters: Mark St. Germain, based on the play by Mark St. Germain; cinematographer: Ben Smithard; editor: Paul Tothill; music: Coby Brown; cast: Anthony Hopkins (Sigmund Freud), Matthew Goode (C.S. Lewis), Liv Lisa Fries (Anna Freud), Jodi Balfour (Dorothy Burlingham), Orla Brady (Janie Moore), Stephen Campbell Moore (J.R.R. Tolkien), George Andrew Clarke (Paddy), Rhys Mannion (Lewis at 19); Runtime: 122; MPAA Rating: NR; producers: Alan Greisman, Hannah Leader, Tristan Orpen Lynch, Rick Nicita, Robert Stillman, Meg Thomson, Matthew Brown; Sony Pictures Classics; 2023-UK/USA)
"I would have liked more debate by the two stars and less diversions."
Reviewed by Dennis Schwartz

Matthew Brown ("The Man Who Knew Infinity") directs this two-handed drama on the celebrated psychoanalyst Sigmund Freud (Anthony Hopkins) and his possible fictional debate in London, in September of 1939, two days after the Germans invaded Poland at the dawn of World War II, with the iconic author C. S. Lewis (Matthew Goode) on the question if there is a God. Freud was at the time dying of cancer.

It's co-written by Brown and Mark St. Germain. It's based on St. Germain's play. Meanwhile the play is based on the book "The Question of God" by Armand Nicholi.

The talented actors make the film fulfilling, but the director fumbles the ball by offering too many asides–like the one about Lewis's war experiences during WWI and his romance with the mother (Orla Brady) of a fellow soldier (George Andrew-Clarke) who was killed in battle. There's also the flashbacks of Freud as a child with his weak-willed father, and his heavy relationship with his daughter Anna (Liv Lisa Fries).

Freud is an atheist, while Lewis is the non-believer young Oxford professor, a literary scholar, who has just found Jesus, and will soon write his master work "The Chronicles of Narnia." He travels in the same circles of contemporaries like J.R.R. Tolkien (Stephen Campbell Moore).

The filmmaker couldn't prevent it from being too talky or stagey, and not cinematic enough. But I still felt stimulated by the intellectual debate. Only I would have liked more debate by the two stars and less diversions from the  backstories.
 
It played at the AFI Fest.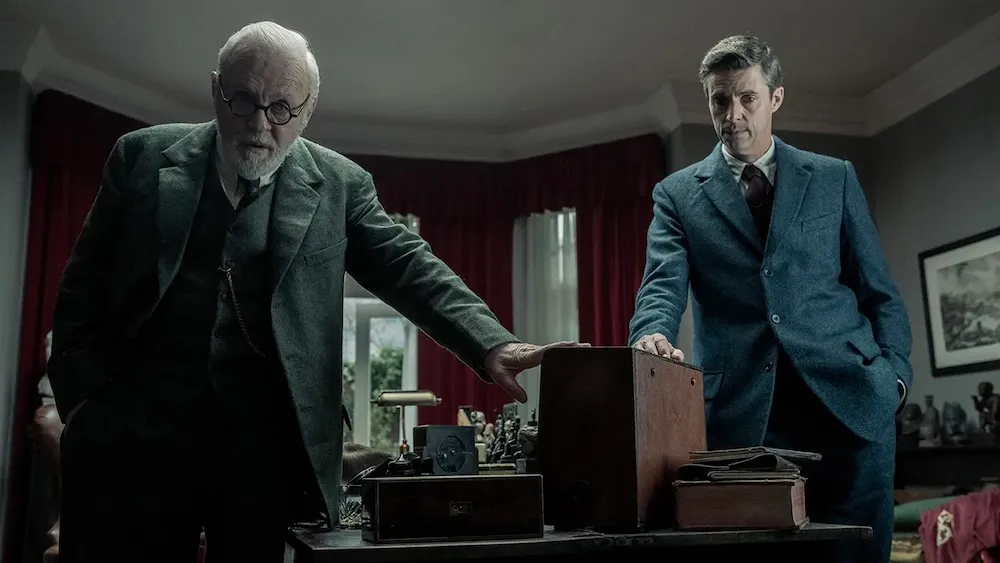 REVIEWED ON 11/6/2023 GRADE: B-