FAREWELL, THE
(director/writer: Lulu Wang; cinematographer: Anna Franquesa Solano; editors: Michael Taylor, Matthew Friedman; music: Alex Weston; cast: Diana Lin (Jian), Tzi Ma (Haiyan), Aoi Mizuhara (Aiko), Chen Han (Hao Hao), Awkwafina (Billi), Chen Han (Hao Hao), Jiang Yongbo (Haibin), Lu Hong (Little Nai Nai), Zhao Shuzhen (Nai Nai); Runtime: 100; MPAA Rating: PG; producers: Daniele Melia, Peter Saraf, Marc Turtletaub, Andrew Miano, Chris Weitz, Jane Zheng, Lulu Wang, Anita Gou; A24; 2019-English & Mandarin)
"A pleasing, witty and mature film."
Reviewed By Dennis Schwartz
The semi-autobigraphical bittersweet comedy-drama by LuluWang ("Posthumous") is a pleasing, witty and mature film. It's a perfectly cast and a keenly observed film on the dynamics of a traditional Chinese-American family. It also relates in a universal way to the immigrant cultural experience of balancing traditional life with modern-life. The emotionally fictionalized account of the Wang family's experiences we are told during the intro is "based on an actual lie," which seems to be hardly the way to present a true story.

It begins with Billi (Awkwafina), an unemployed woman writer living in New York City, who moved to the US with her parents–her mother Jian (Diana Lin) and father Haiyan (Tzi Ma)–when she was six, leaving behind their extended family in Changchun, China. She regularly speaks on the phone with her beloved grandmother Nai Nai (Shuzhen Zhou), and is deeply upset when her parents tell her that grandmother has been diagnosed with terminal lung cancer and has only a few months to live. It further upsets Billi that the family decides to keep that from her and instead plan to say their farewells by throwing a wedding in Changchun attending by the entire family. It's the rushed wedding of family member Hao Hao (Chen Han) and his Japanese girlfriend Aiko (Aoi Mizuhara) that will be used as the cover story.

The family explains that the way they are handling the bad news is not an uncommon practice in China. Meanwhile on the China visit, Billi is forced to come to terms with being a stranger in a country where she was born. Wang, instead of going full-blast for culture clash comedy, seriously looks at how Billi navigates both the guilt of living so far from family and what the concept of home really means for her.

Wang told her story before on an episode of NPR's This American Life called "In Defense of Ignorance," but here doubles down and gives more details. The touching film should hit home with all kinds of immigrants. Besides being well-executed and telling an intelligent story, there's the Oscar worthy heartfelt performance by Awkwafina. The Farewell is one of the better family dramas; it blends together a good mixture of humanity, comedy and drama.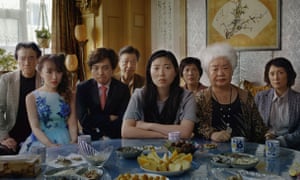 REVIEWED ON 7/25/2019       GRADE: A- https://dennisschwartzreviews.com/